We love a box of dirt around here, and there is so much learning that can take place with a box of dirt. Whether outdoors or inside, add a box of dirt and make learning more fun!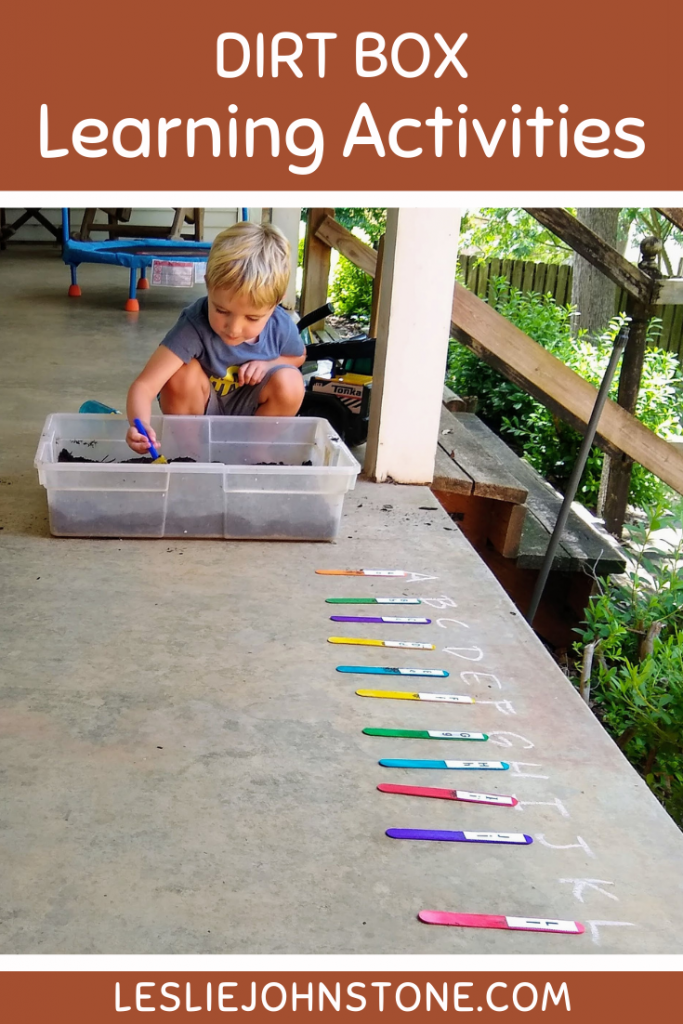 As an Experience Early Learning (EEL) Blogger, I receive the EEL Preschool Curriculum in exchange for my honest opinions and authentic stories about our experiences using the curriculum. All opinions and thoughts are completely my own.
During our Dirt Adventure week with our EcoVenture box from Experience Early Learning, we had some fantastic learning adventures for my preschooler while digging in the dirt. Both activities were perfect for him to learn and do on his own while I worked nearby with my 2nd grade daughter.
Setting Up "Digging for Letters"
Experience Early Learning sent us 26 popsicle sticks along with alphabet letter strips that were the perfect size for the sticks. Once I had glued all the letters on the sticks, I buried them in a box of potting soil and added a foam brush to brush away the dirt. I wanted my son to match the sticks to the letters to make the game last longer, so with a piece of chalk I wrote all the letters down our porch.
Dig Time
After writing the alphabet, it was time for my 3 year old to start digging. I was on the back porch as well if he needed help, but this was a great activity for him to do by himself. He was so excited when he unearthed an alphabet stick. This activity took him well over 20 minutes to do, so it was perfect while I worked with my girl on her grammar lesson.
Digging without the Dirt
Sometimes we want to dig inside, but bringing a box of dirt inside the house gives me the heebie-jeebies. A sensory box of beans makes a perfect indoor dirt box. Each month Experience Early Learning sends us a puzzle that matches the book of the month which is also from EEL. I took the 16 puzzle pieces, buried them in box of beans and let my son work on his puzzle while I worked with his older sister on her math lesson.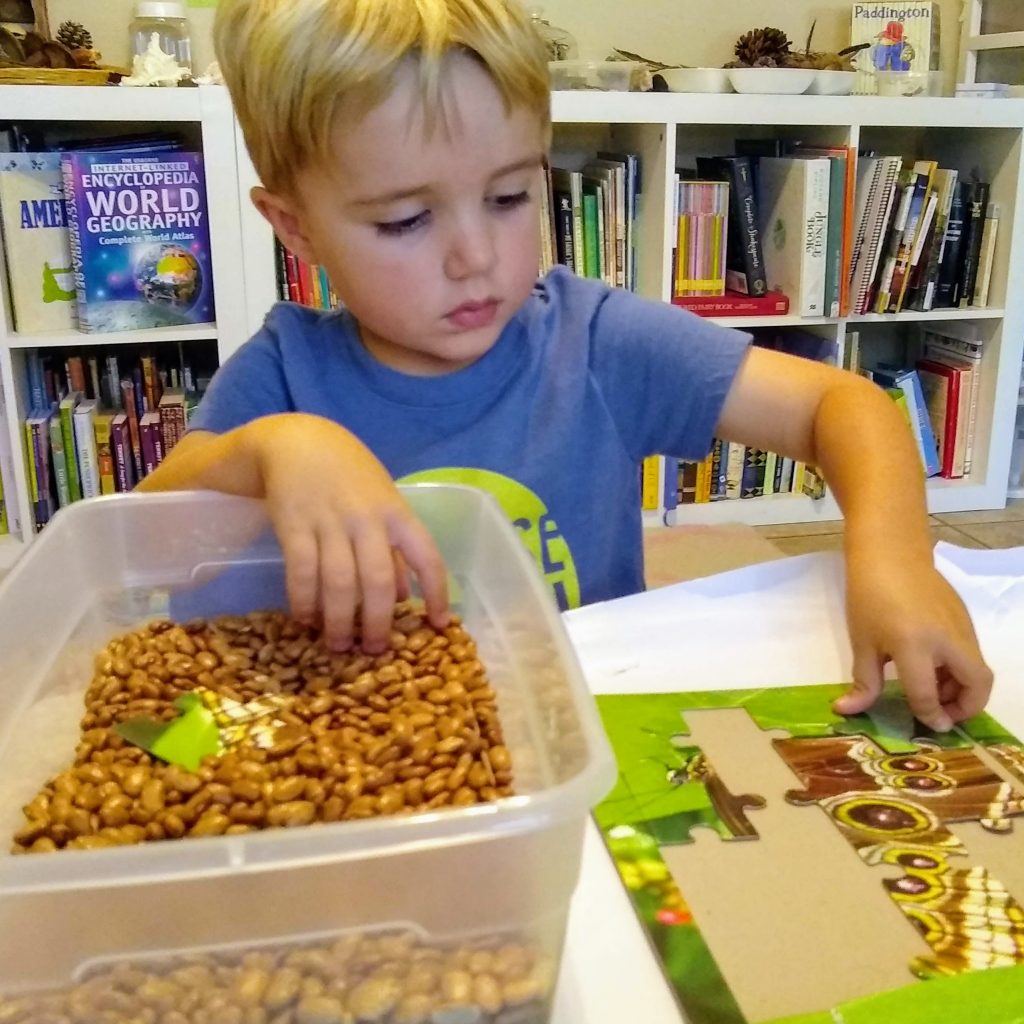 I love how they were both working on math at their own personal level. I was close nearby to help my 3 year old if he needed it, but this activity also gave me the ability to work one on one with my daughter while he was engrossed in finding his puzzle pieces in the "dirt" and putting the puzzle together. The puzzle matched a picture from our storybook of the month, so I opened his book to the page to help him with his puzzle.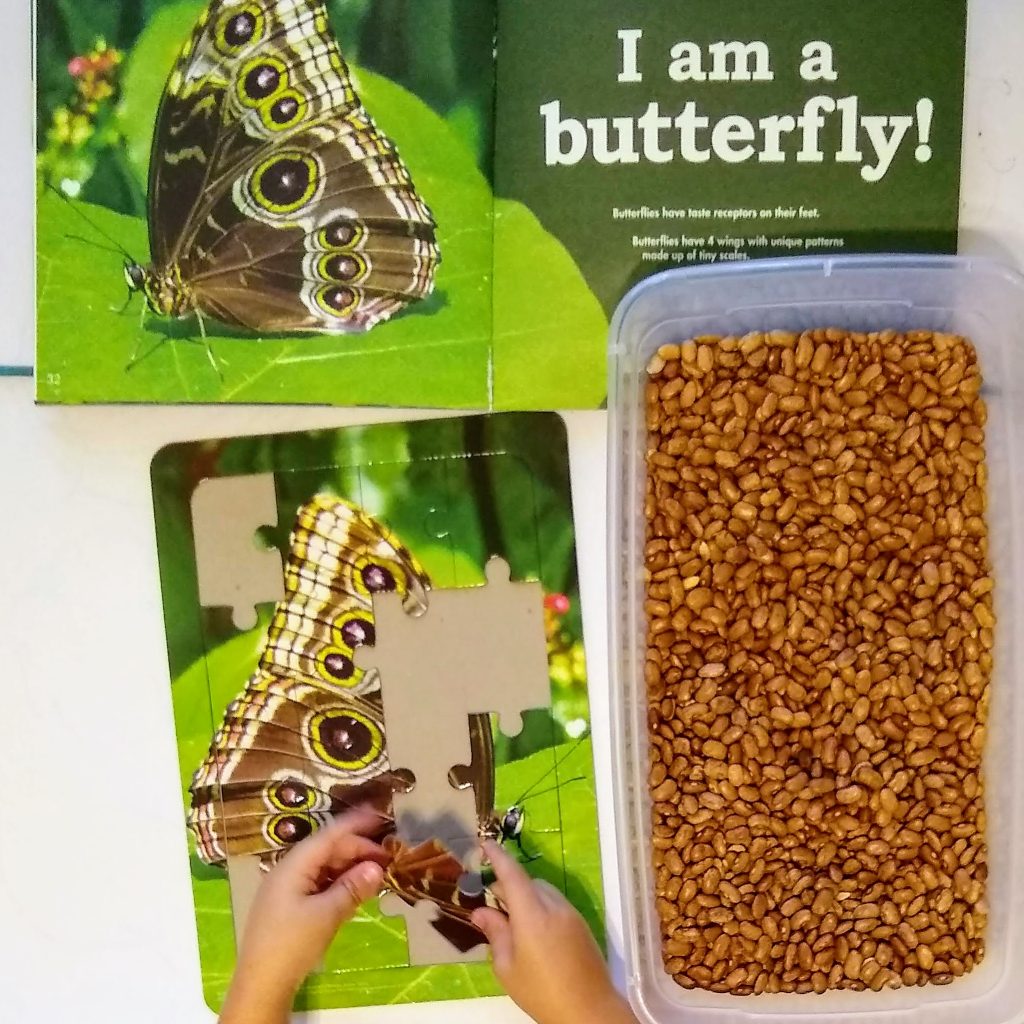 More Dirt Box Fun
We play in the dirt all the time. Check out these posts for more dirt box learning fun, whether outdoors or in!
Next Month
We are about to dive into our next box themed Folktales and Fables. We've been through it once (3 years ago), and this past year we read 2 Aesop's Fables each week with our Year 1 Ambleside Online curriculum. Be sure to come back and see our learning adventures but until then check out these blast from the past posts about Folktales and Fables.
Paul Bunyan Fun for Preschoolers