** This post contains affiliate links.**
Three years ago I introduced dinos using our Dinosaur box from Experience Early Learning, to my then 3.5 year old little girl and she has been smitten with these "terrible lizards" ever since! So much so, she even asked for a Rainbow Dinosaur 4th birthday party!
Fast forward 3 years later, and we are visiting old memories and making new ones with our Dino Land box from Experience Early Learning. This time, it's not just me and my girl, but her 3 year old little brother learning as well and our Excavation Site Day was so much fun!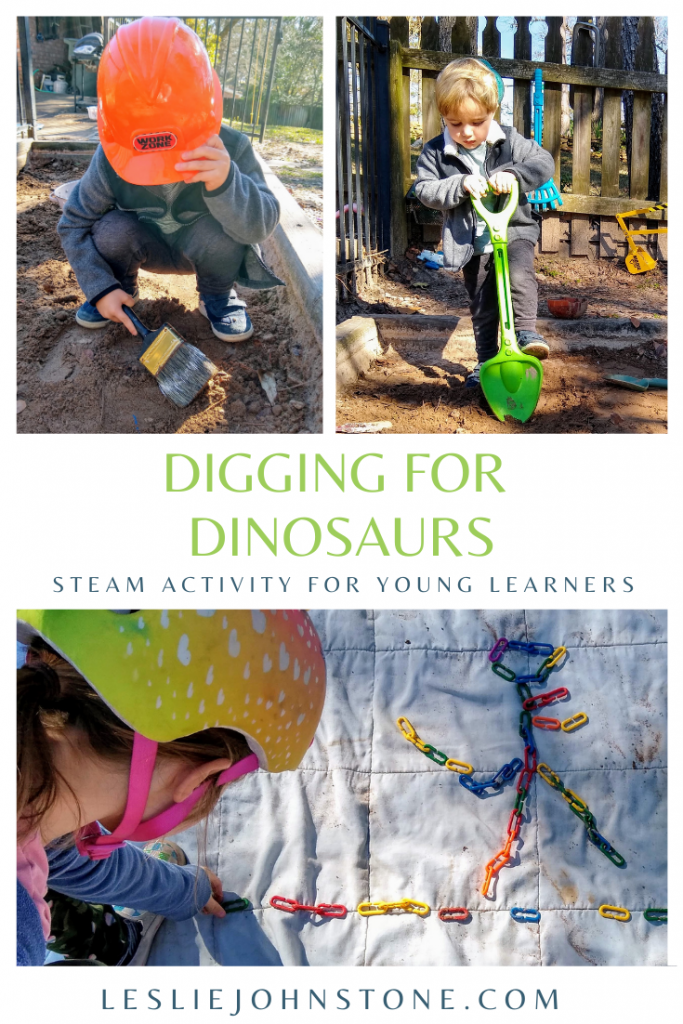 As an Experience Early Learning (EEL) Blogger, I receive the EEL Preschool Curriculum in exchange for my honest opinions and authentic stories about our experiences using the curriculum. All opinions and thoughts are completely my own.
My Teacher Guide from Experience Early Learning gave me a STEAM idea for setting up an Excavating Zone. They suggested using sticks painted white for our bones, but I used the links they sent us in our box as bones instead. Our beloved dirt box has been all things, and today I turned it into our Excavation Site.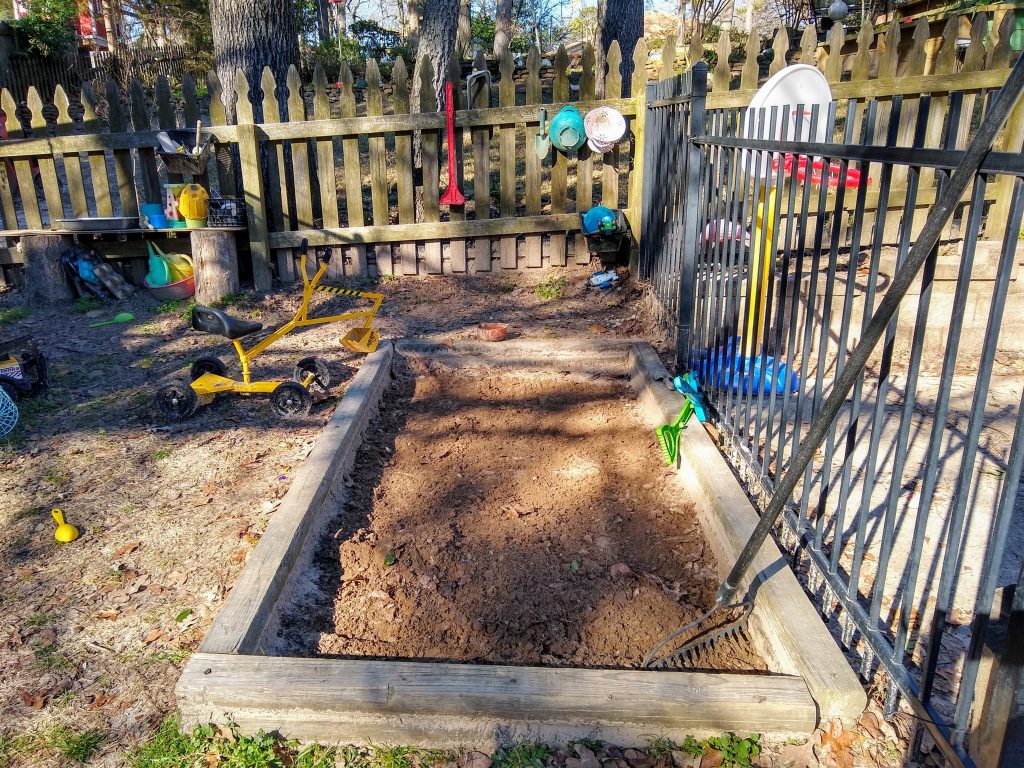 After burying the "bones," I set out all the tools they might need for excavating the dinosaur bones including old paintbrushes, a sifter, and shovels. I then set out a blanket near the box as a spot to place the bones and rebuild the dinosaur that they found. It was time to grab my little paleontologists.
I welcomed them to the Excavation Site, told them that dinosaur bones were thought to be in the area, and their job was to use the tools to find the bones and recreate the dinosaur on the blanket. They were quick to start digging!
Seriously though, the best part was when my son put on that Batman mask to find the bones! I just could not stop giggling. They dug and dug and called out, "Look I found some bones!" They worked as a team well too! My son was all about excavating the dino bones while my daughter was the one working to put them back together at the blanket.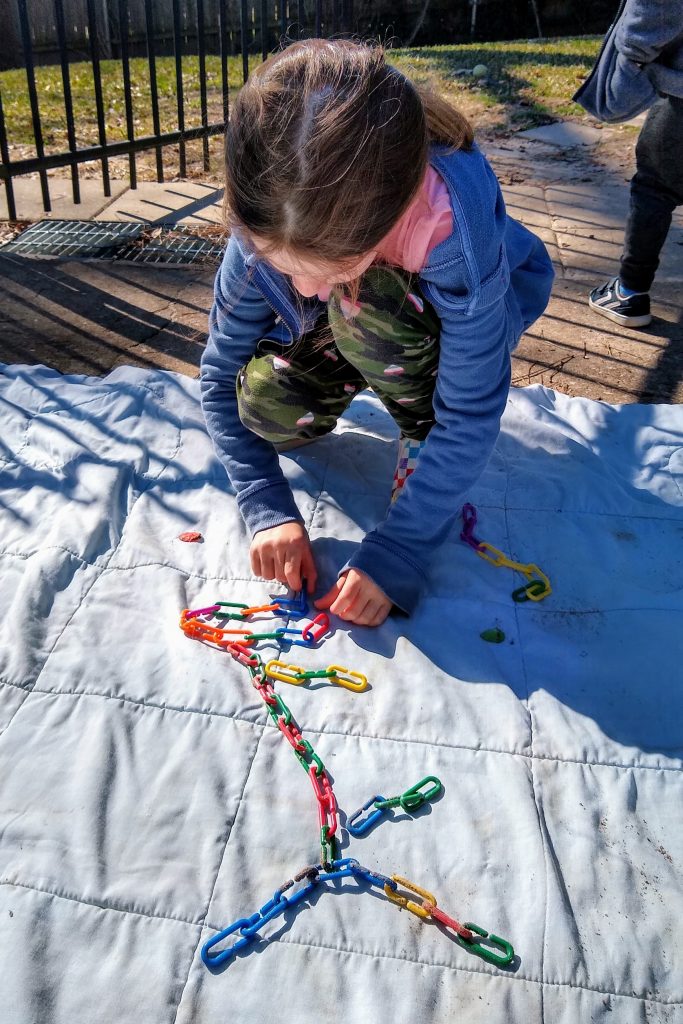 Once they found all the bones, they wanted to do it again! So I added even more link bones, buried them, and then called them to come search. This is when they decided to bring out the Excavator! My son received this for his 3rd birthday as a gift from his grandparents. He is so into big machines and digging for dinos definitely called for big machines!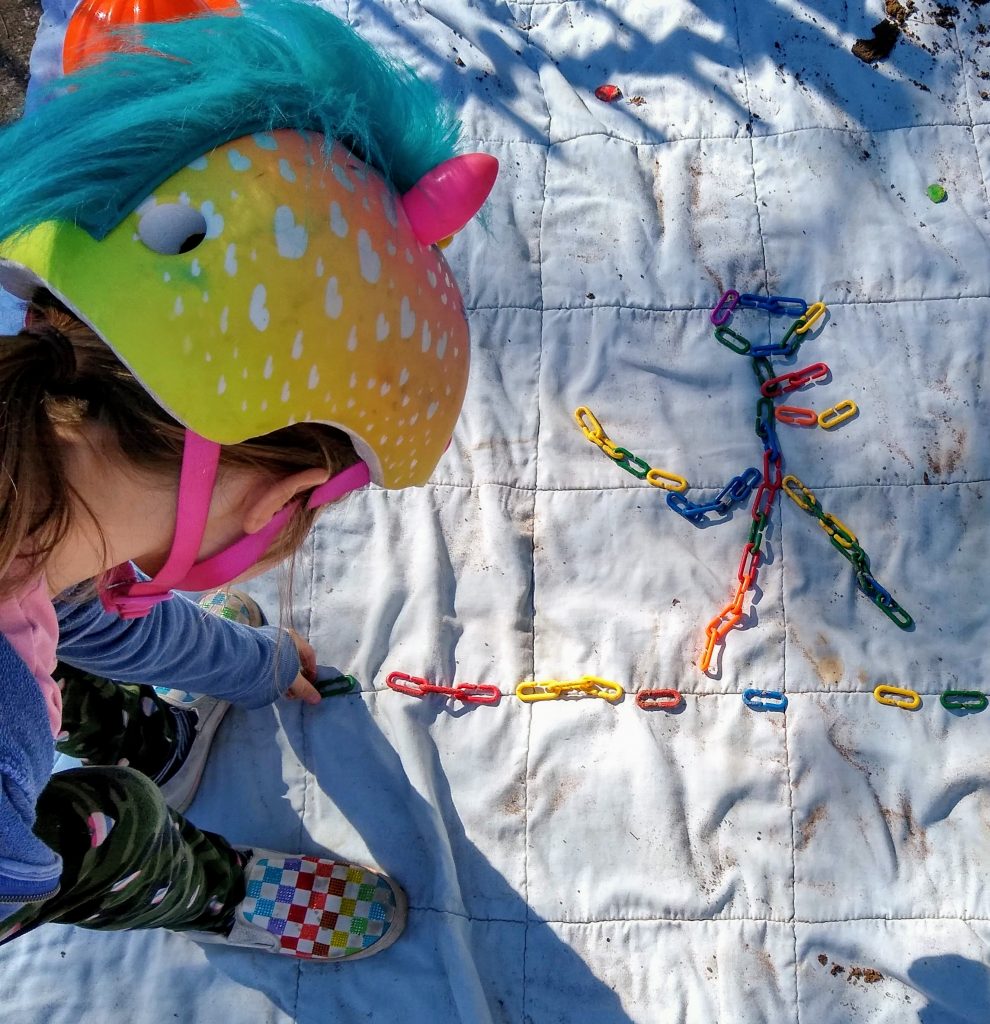 "Mom! Look, it's a Tyrannosaurus Rex that got stuck in the mud. That's how he died and how we found him here!" I love how she came up with a story about how she found the bones. She wanted to make sure the links displayed that thought, too.
They absolutely loved this activity! I know that this dirt box will be an Excavation Zone for a long time to come. I loved hearing their conversations and the words they chose to say. Children learn through play. They use the words they have heard, recall the stories they have read, and role play to understand what they have learned. This one activity captured all of that!