** This post contains affiliate links.**
Yall! This week we received the coolest (literally) blessing here in Texas… SNOW! It was glorious and my 6 year old kept on saying it was "a wonderland" and how the snow "sparkled like glitter," It was simply breathtaking. Although we celebrated Monday with a snow day, we went right back to our Dinoland Discovery box from Experience Early Learning on Tuesday and learned all about the Tyrannosaurus Rex!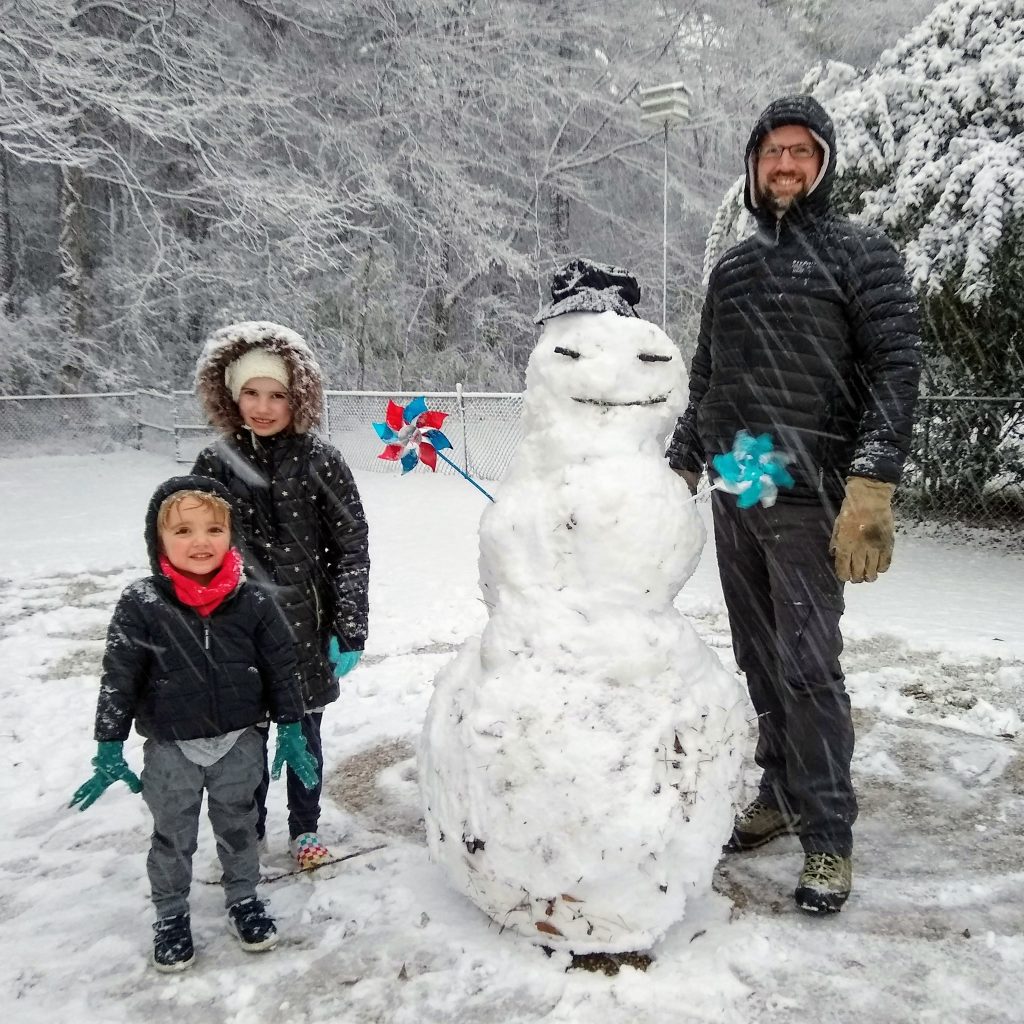 I love Experience Early Learning for all sorts of reasons, but two of my top ones are the great books they suggest and how the learning experiences center on a true hands on experience. They really give great ideas to make learning come alive and not just information on a worksheet. With our T-Rex day, measurement and size become concrete when math becomes hands-on.
We haven't been to a dinosaur museum in about a year and with COVID, I'm not sure when we will be able to go again. However, Experience Early Learning gave some amazing ideas for us to truly see how a T-Rex actually measured up.
T-Rex Foot Size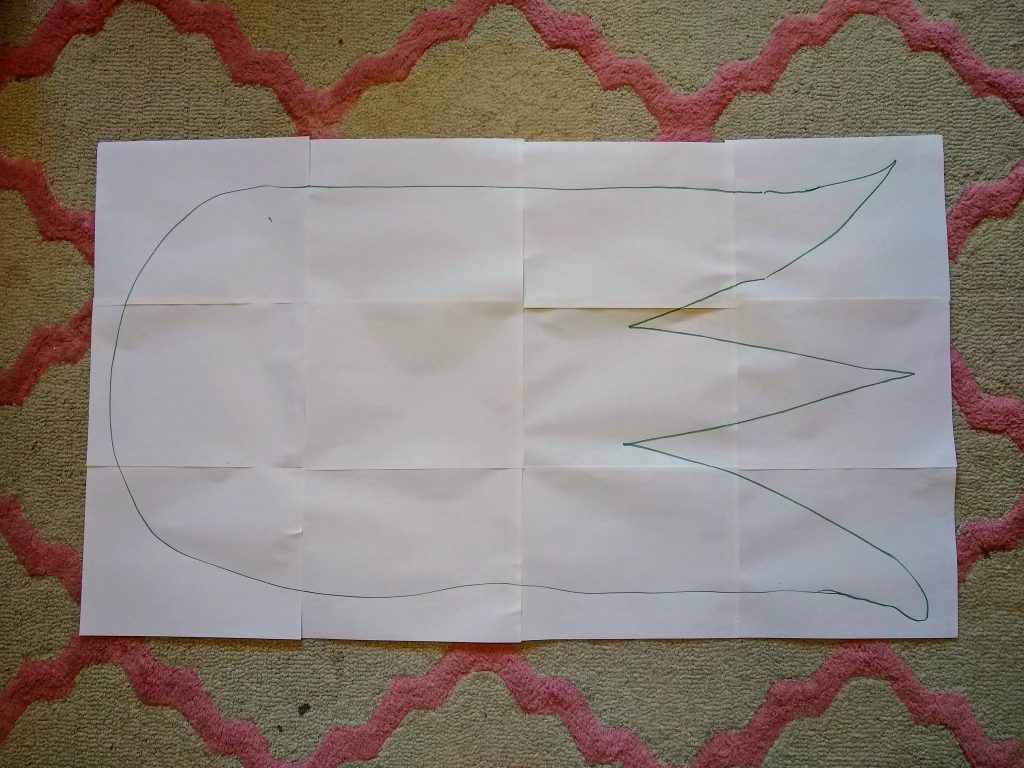 Set Up
Tape together 12 sheets of paper to create one large rectangle (4×3). Cut or draw around the edges to make it look like a T-Rex foot. Ask kids what they think could fit inside the footprint. How do their feet compare?
My kids ended up laying on the paper to see how they compared to the T-Rex footprint. It was pretty hilarious, and scary, that my 3 year old actually fit pretty perfectly in the footprint.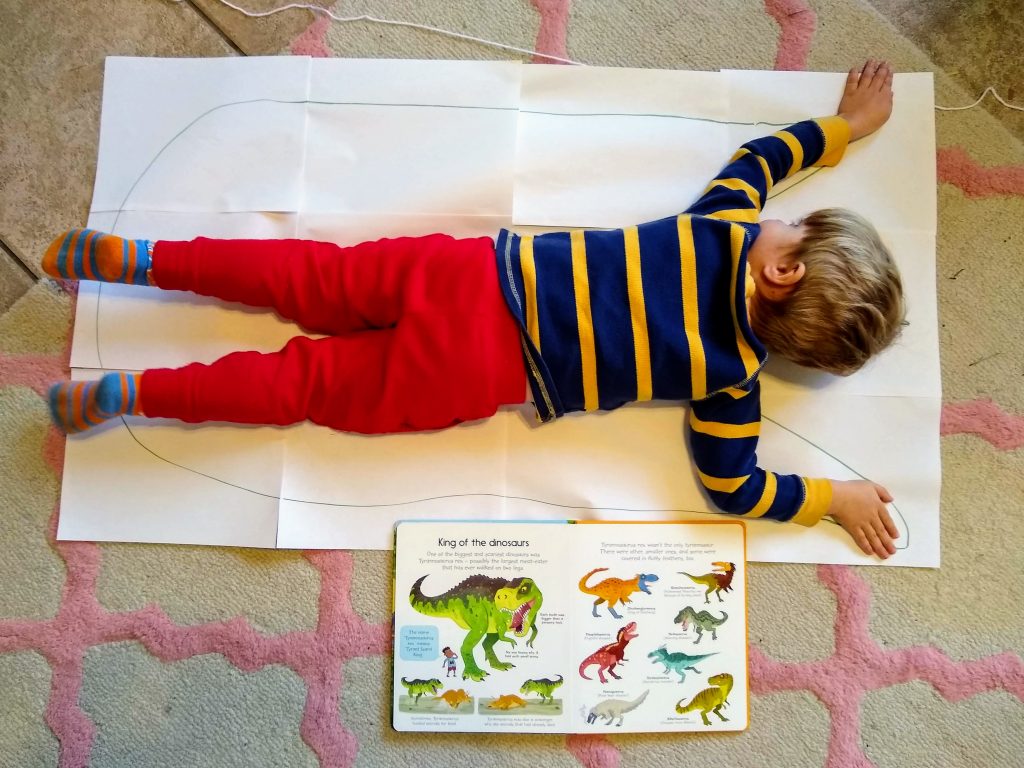 STEAM: 40- Foot Tyrannosaurus Rex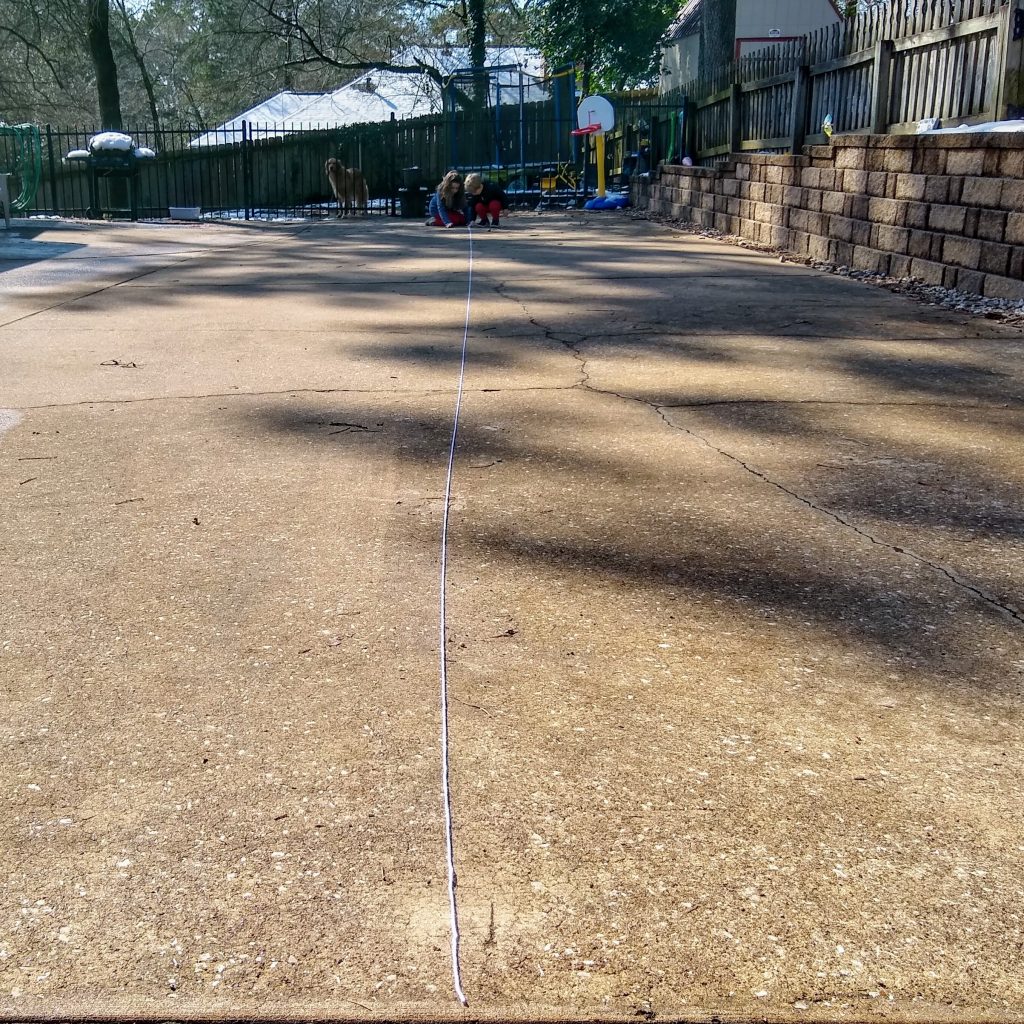 Set Up
Create a clothesline from a piece of yarn 40 feet long. Compare self and different objects to the length of a T-Rex. Use non-standard forms of measurement.
We took this activity outside for 3 reasons:
1- We have no where in our home that is straight 40 feet.
2- There is still snow on the ground that must be enjoyed before it all melts!
3- Charlotte Mason says, "Never be within doors when you can rightly be without." So outdoor learning it was!
We laid out the 40 foot piece of yarn. I quickly traced it with a piece of chalk knowing that my 3 year old was chomping at the bit to take this 40 foot string on a running adventure through the yard. Then we measured it different ways. The kids stepped heel-to-toe, hopped, and took the biggest steps they could to compare to the length of a T-Rex.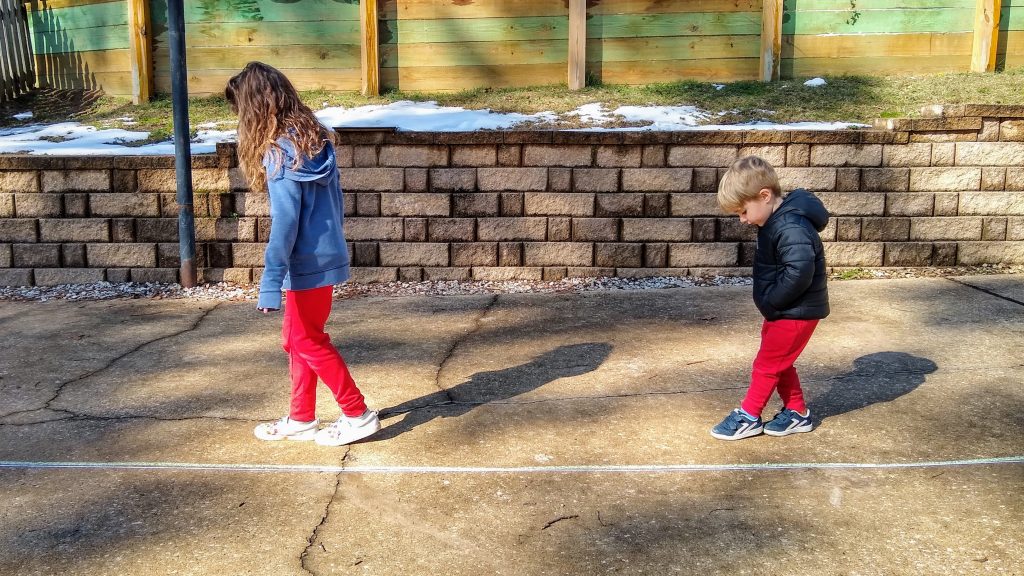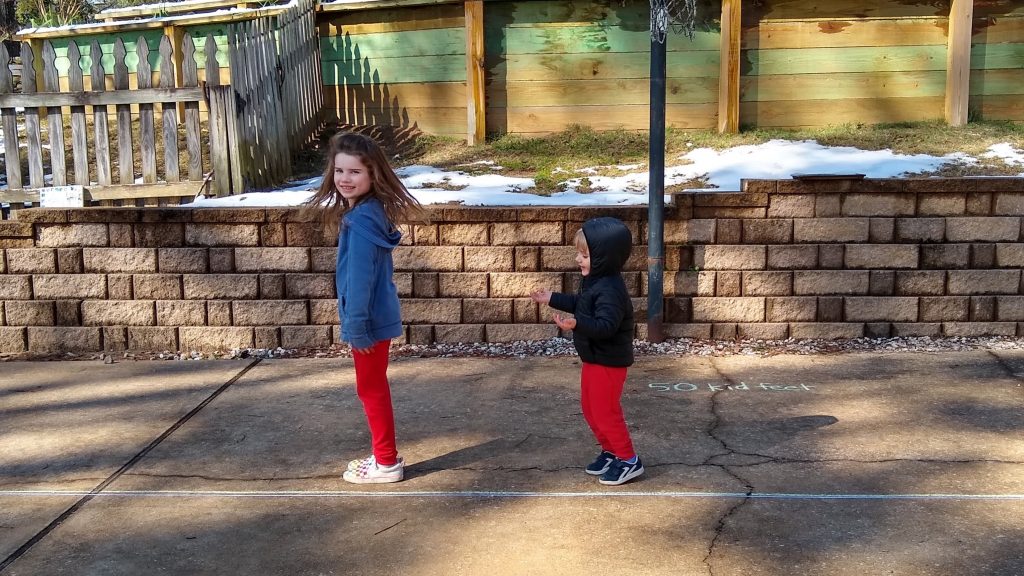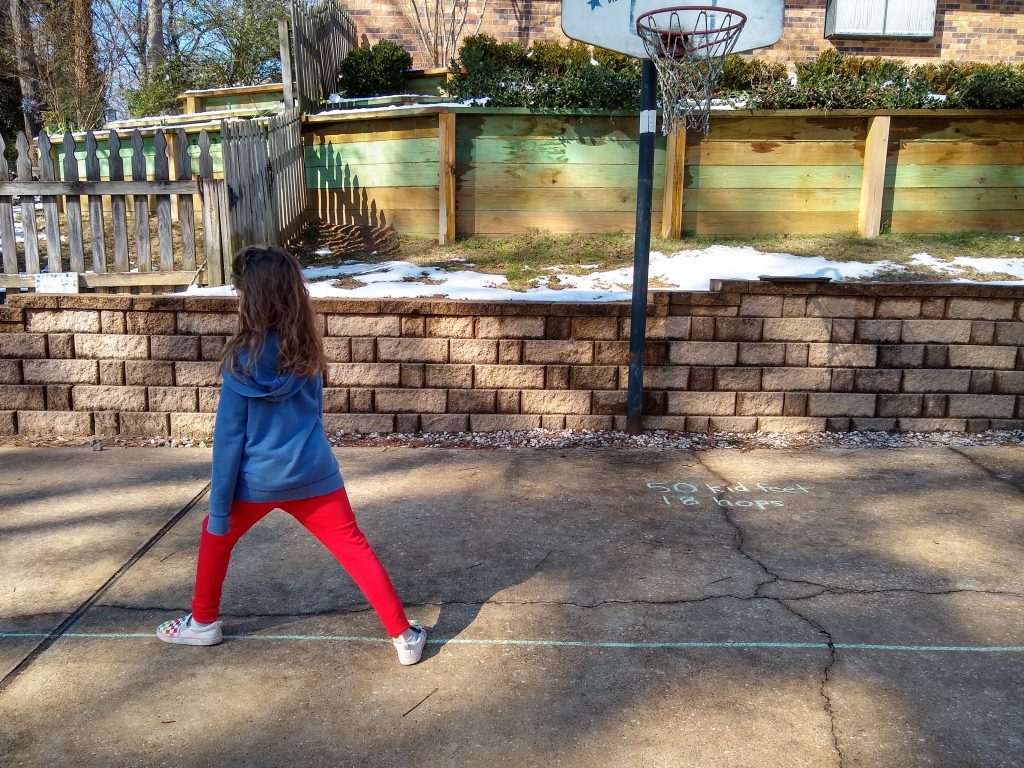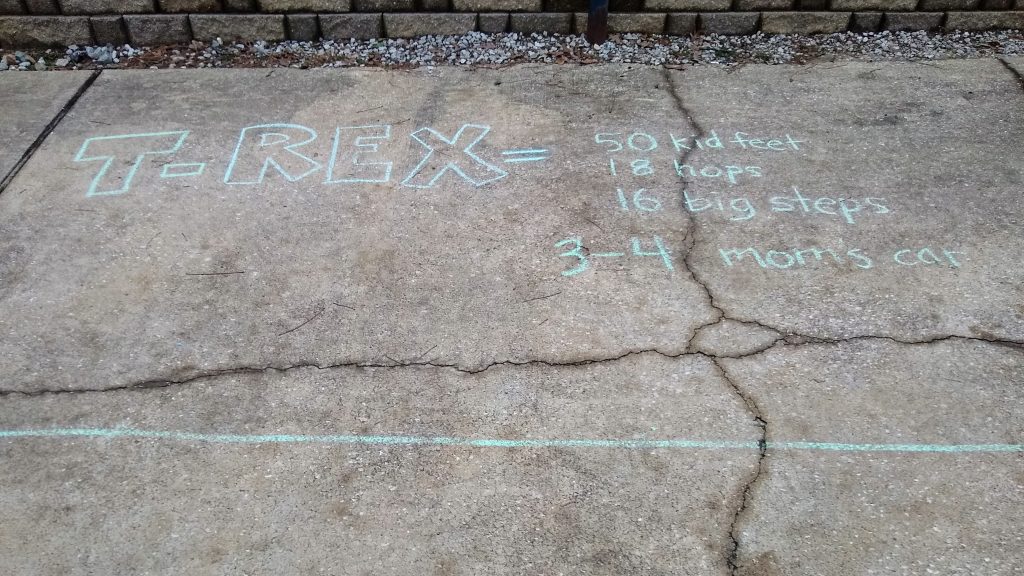 Each round was great practice in counting and great for gross motor skills! My 3 year old was counting and having the time of life hopping down the size of a T-Rex. We estimated how many of my cars would be equivalent to the 40 foot T-Rex. Yall…. I am so glad these terrible lizards are extinct. Can you even imagine?!?!
The kids couldn't wait to tell Daddy all they learned when he came home for lunch. They made him lay down on the T-rex footprint and go outside to see what they had done. The learning has stuck. They narrated and taught it all back to their Daddy. You can't ask for more than that. So grateful for these hands on learning experiences from our beloved Experience Early Learning box!