This month we are studying all things transportation related as we explore our On the Go theme box from Experience Early Learning.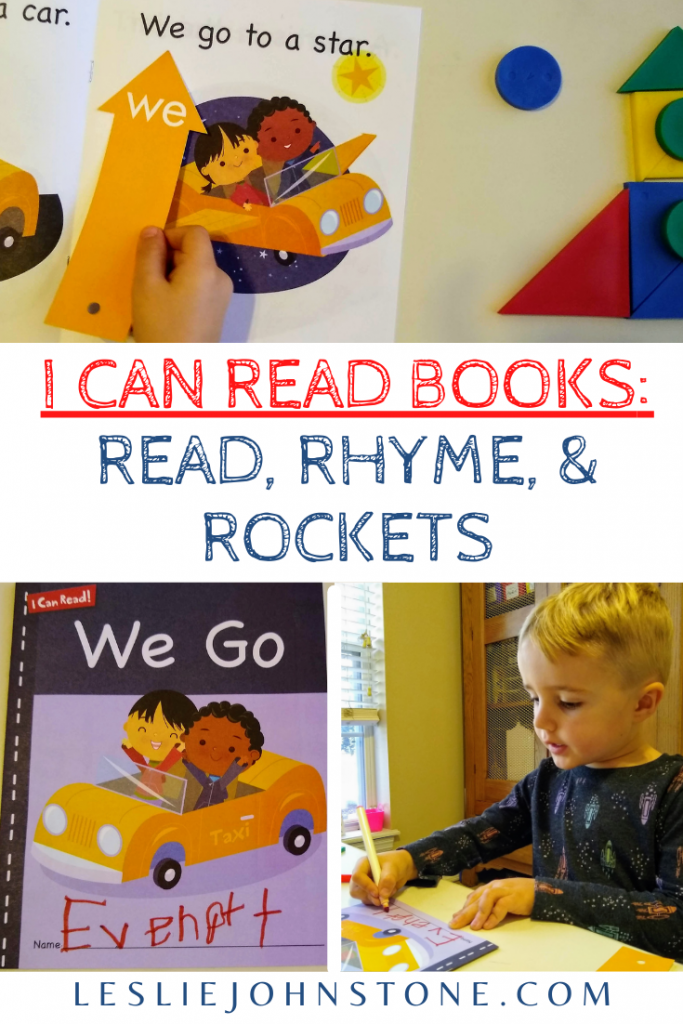 We are literacy lovers in this house, and each month we receive 3 books in our little Experience Preschool box: a Story book, a Character Education book, and an I Can Read book. I love the little I Can Read books because there is so much we can do with them!
Prepare to Read
Activating the imagination before reading allows children to start channeling their thoughts about what the book might be about. Asking guiding questions before reading is fantastic! It could be about the cover, the title, or even looking at few illustrations in the book. Get their minds wondering and engaged.
I love the suggestions in our Teacher guide: "What transportation would you take to the stars?"
[A rocket!]
Exactly! Can you build a rocket out of the shapes?
[Child builds rocket]
Awesome! Let's blast off into this book, called "We Go." [the car turns into a rocket in this book which adds even more fun since they just built one]
Recognizing words
I love how Experience Early Learning helps kids recognize sight words in these little books. Each month we receive 3 sight word pointers that go with the I Can Read book along with little words that you can add some magnetic tape to the back and add to your magnetic board. Read more about what you can do with sight words here and here.
TIP: The sight word pointers can easily be attached to a jump ring to make it easy to flip to all sorts of words throughout the year.  
On the first page of the book, 3 rhyming words were depicted: car, star, and jar. This book is too young for my 7 year old, but there are things I can do to bring it to her level. She quickly noticed that the words rhymed. I asked her why and she knew it was because they all ended in the /ar/ sound. I asked her to list any other /ar/ rhyming words, which she wrote in her book.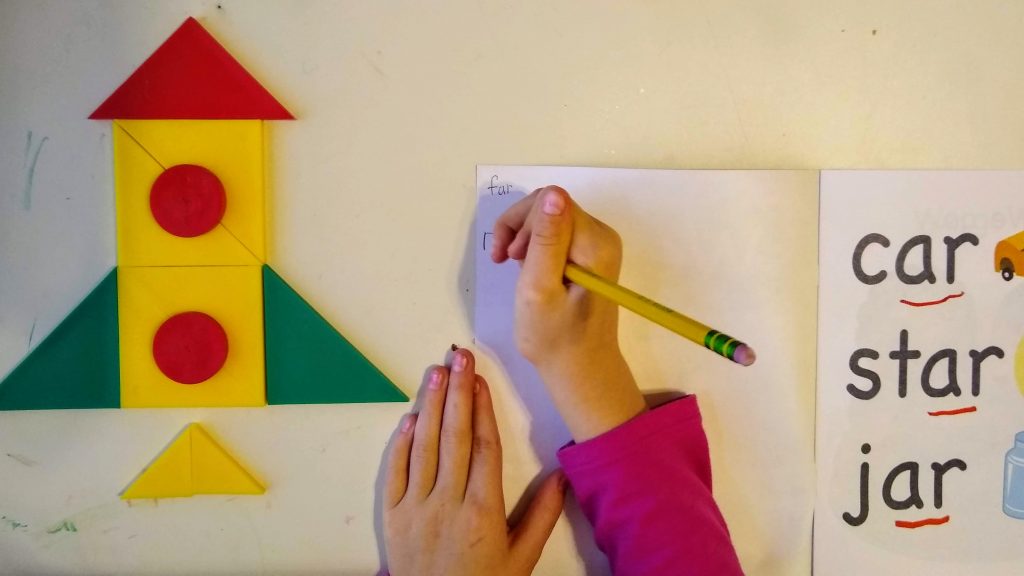 While she worked on adding "far, bar, and tar," my son and I looked at the first page and I slowly sounded out the words and pointed to the letters and picture while he mimicked.
Read Together
After activating our imagination, exposing ourselves to the words we would see, it was now time to read! This was a perfect opportunity for my 7 year old to teach her 3 year old brother. She read aloud while he followed along pointing to the words as she read. After reading the book, I gave him the sight word pointer and had him find the word "we."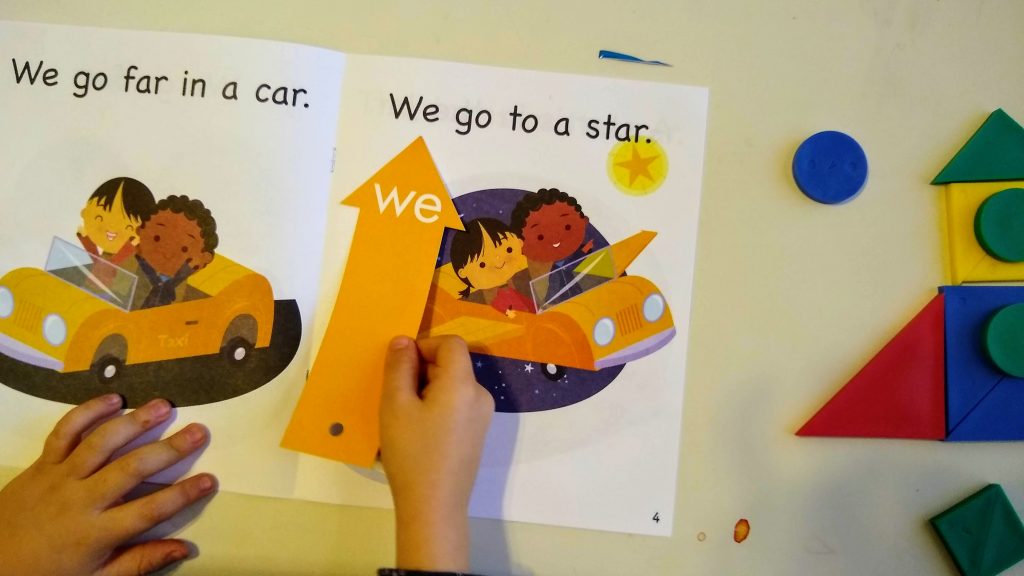 Taking it a step further
To challenge my learners I gave them 2 separate tasks. The Experience Early Learning teacher guide suggested for preschoolers to circle all the periods throughout the book, so that is what my 3 year old did. I asked my 7 year old to highlight all the -ar words along with finding all the punctuation. This brought about a conversation on question marks as the last page asks the child a question. She knew what a question mark was, but we were able to talk about voice inflection and how when we see a question mark, the way we make our voice sound changes.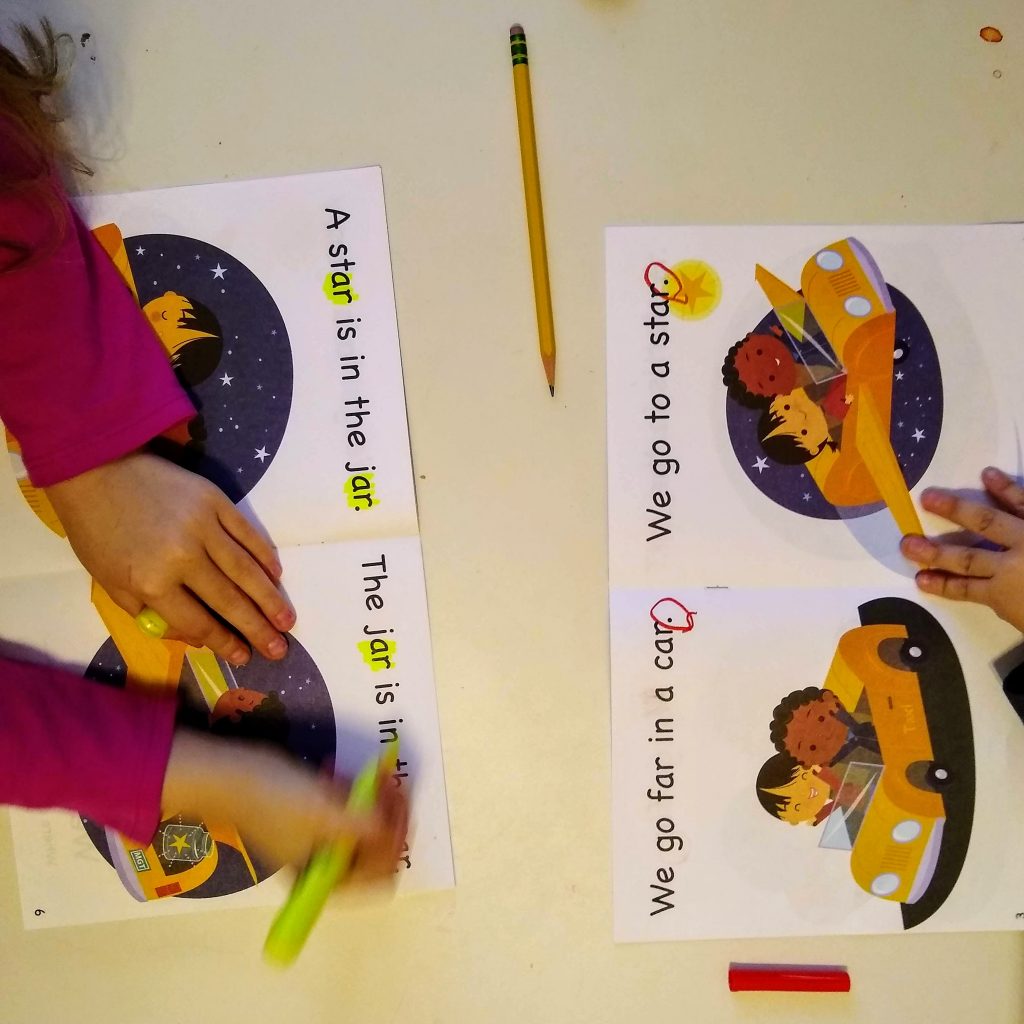 Now the books are in our book bin ready to be practiced again and again all the while helping my preschooler fall in love with reading.