Grab those passports and maps because we are about to set off for a Global Adventure with this month's Experience Early Learning box! This week was all about travel tools such as suitcases, cameras, currency, and of course maps. You can't have a global adventure if you don't know where you are going!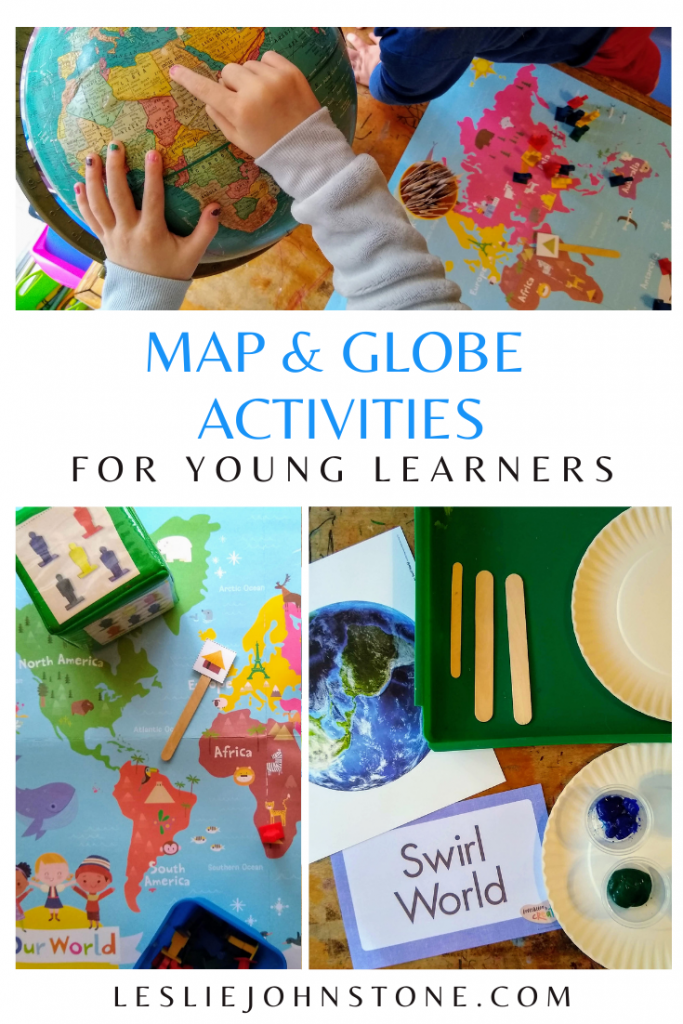 As an Experience Early Learning (EEL) Blogger, I receive the EEL Preschool Curriculum in exchange for my honest opinions and authentic stories about our experiences using the curriculum. All opinions and thoughts are completely my own.
I absolutely love that both my 6.5 year old and my 3 year old can have so many great learning experiences TOGETHER with our Experience Early Learning boxes. Today's activities were all about Globes and Maps and both of them had a blast!
Me on the Map Game
Each month we receive some manipulatives in our Experience Early Learning box. This month our box contained little people in blue, green, yellow and red. They were perfect for our Me on the Map Game and reviewing our colors in Spanish.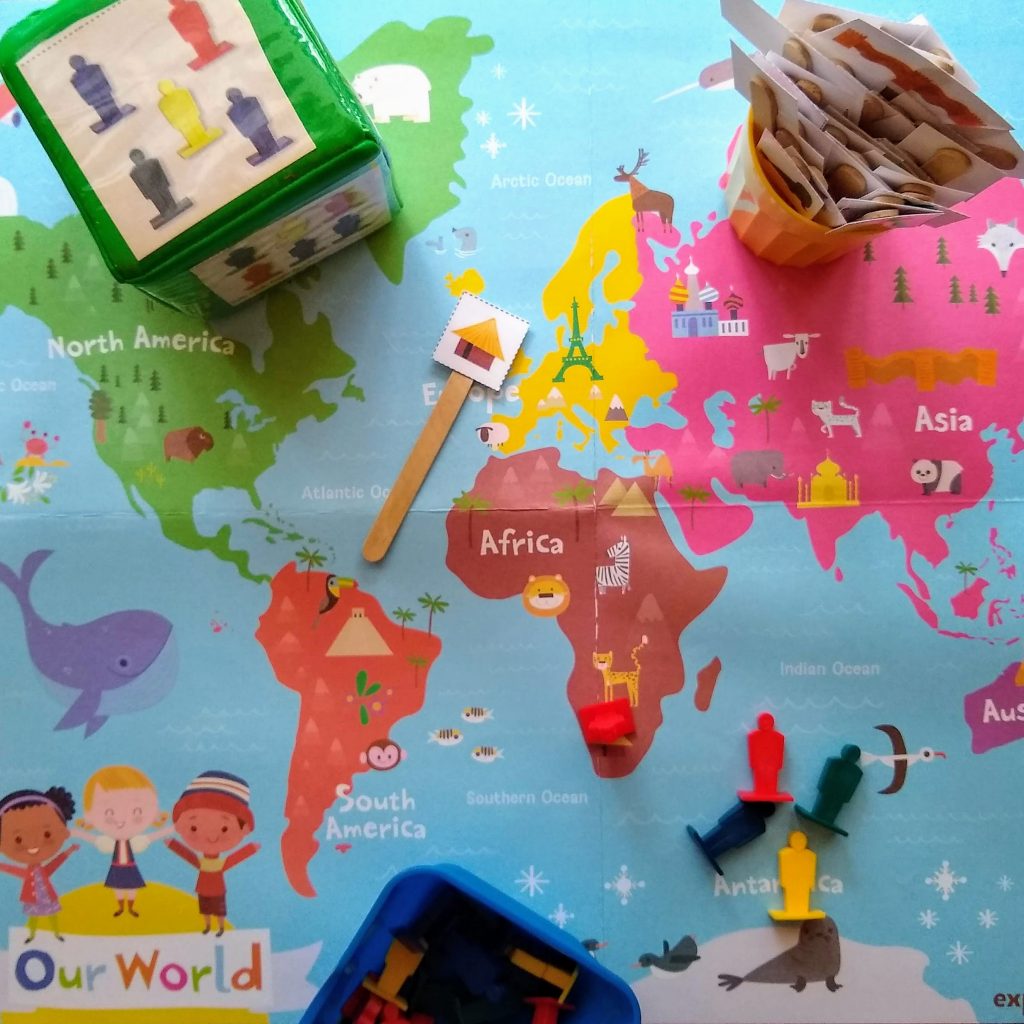 Directions:
EEL sent us a map, people counters, people counters cube cards, and a pocket cube (this was in my Sept box) to make this game.
I wanted to make it a little more challenging for my 6 year old, so I pulled out our popsicle stick map graphics from our Interactive Continents File Folder Game. I had the kids roll the pocket cube with the people counters. We counted the number of people in Spanish and said how many and what color was needed (also in Spanish.) The kiddo then grabbed a popsicle map graphic and matched it to the map. My 6 year old took it a step further by saying what continent that graphic was on. My 3 year old just is not there yet. Then they placed their counters on that specific place.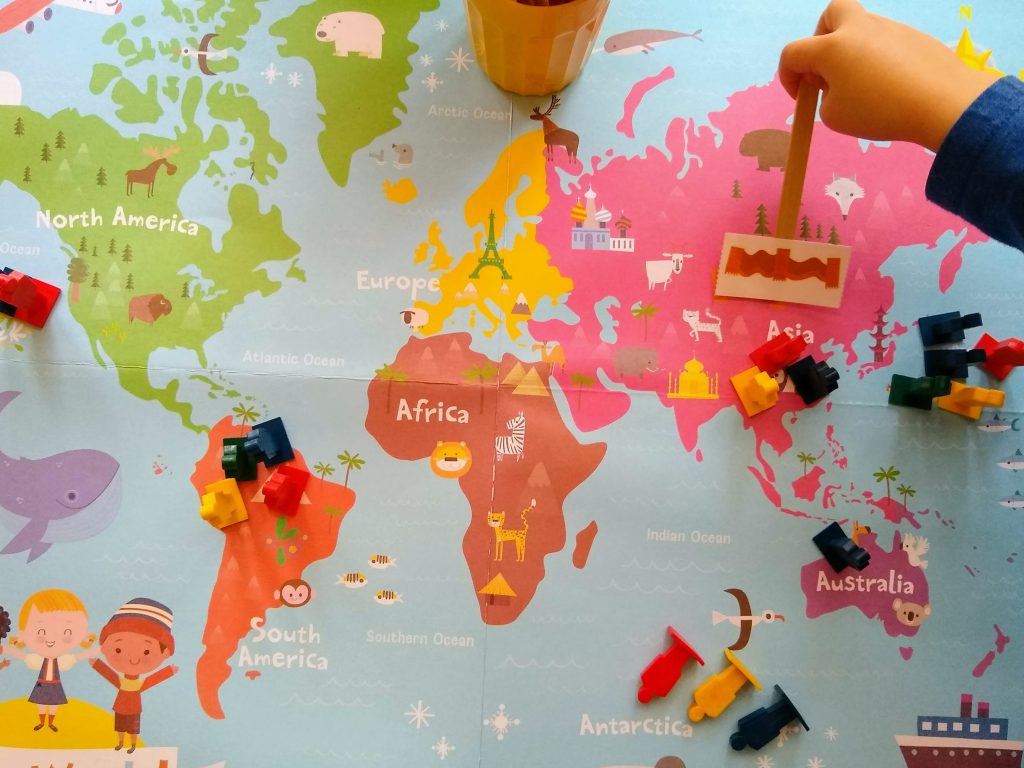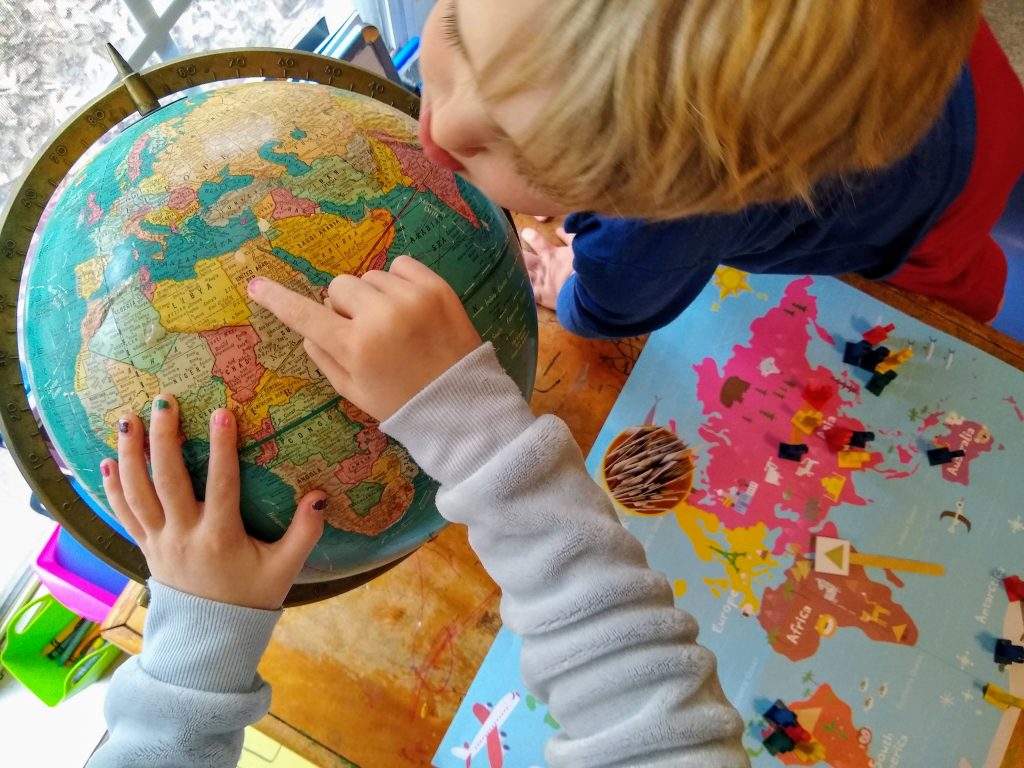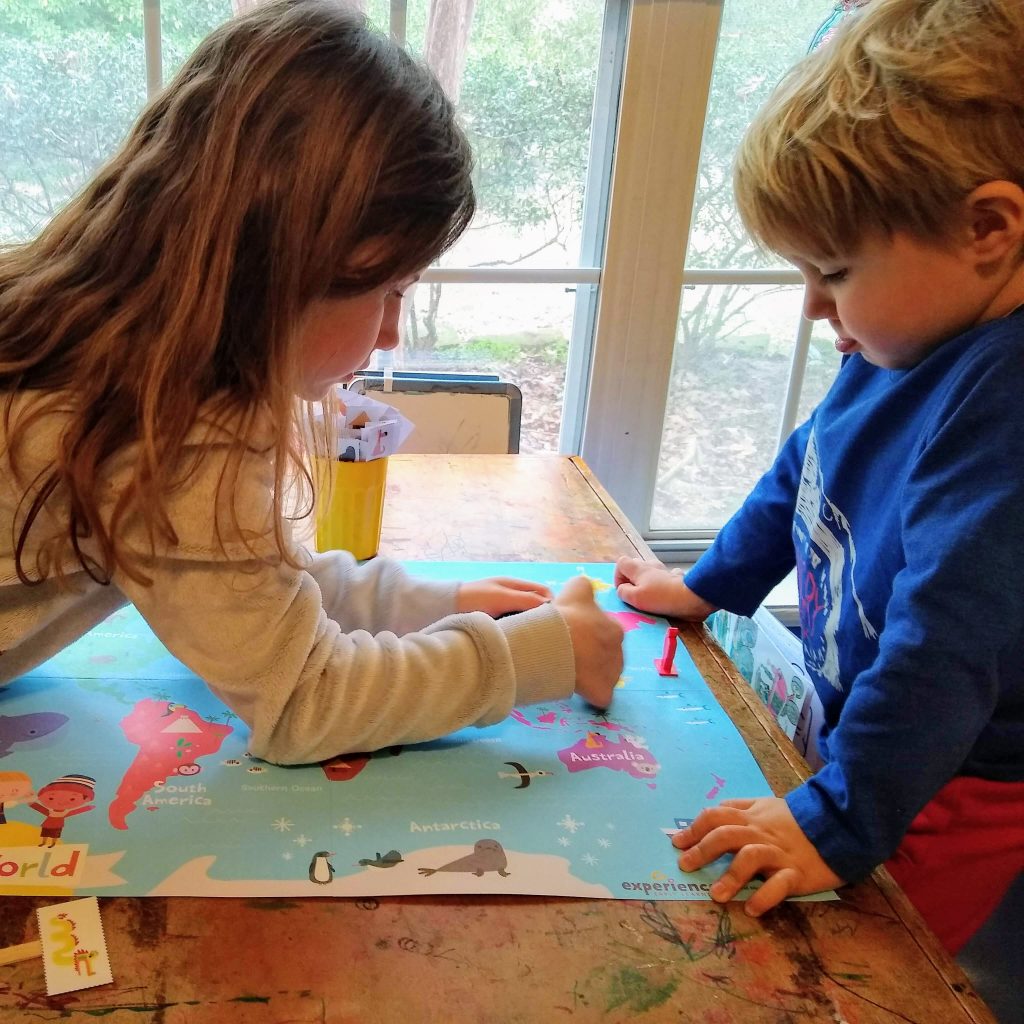 Taking our Learning Further…
The game was fantastic! A great review of our Spanish, a perfect math matching activity for my 3 year old, and a geography review for my 6 year old. I couldn't believe all she knew about certain places!
However I wanted to take it further in math for her, so we created a T Chart. We looked at each place (some of our people ended up in the ocean) and counted the number of people counters that were in that particular continent or body of water. She then labeled which ones had the most with an "M" and the least with an "L."
Process Art: Swirl World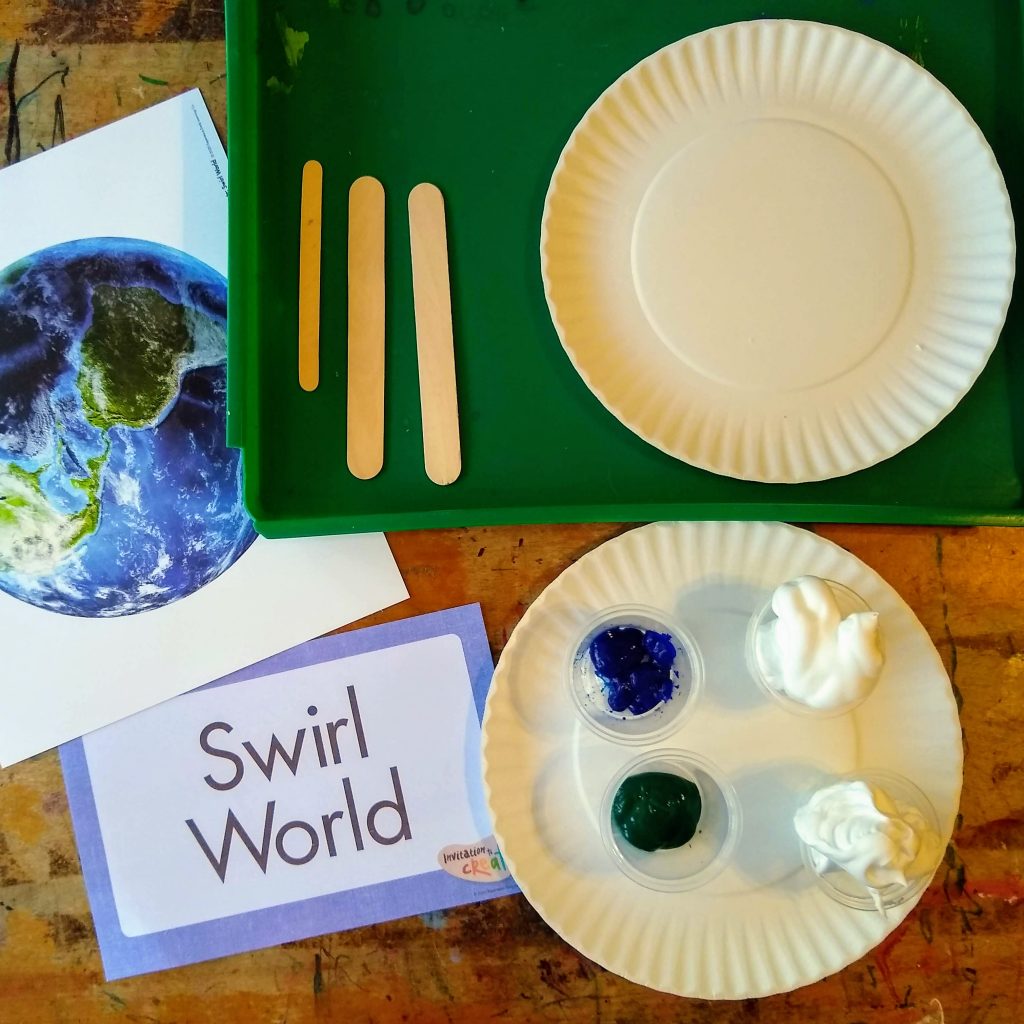 "Momma, I know who took a picture like that- an astronaut. They're the only ones who could our planet like that besides God." Love her thinking.
We have been doing Invitations to Create for over 4 years now, and I am really seeing the fruit of it all in my 6 year old. She is not afraid of the materials, has confidence in what she can do, and creates things she is really proud of that are truly inspired by what is presented in front of her.
Directions:
Using a paper plate, green and blue paint, shaving cream, and some kind of utensil, have children create their own "Swirl World" inspired from a picture of Earth seen from outer space.
My kids took one swipe with their popsicle stick utensil and asked if they could use their fingers. My instant thought was, "Yes! Finger painting will definitely give more of that swirl world look."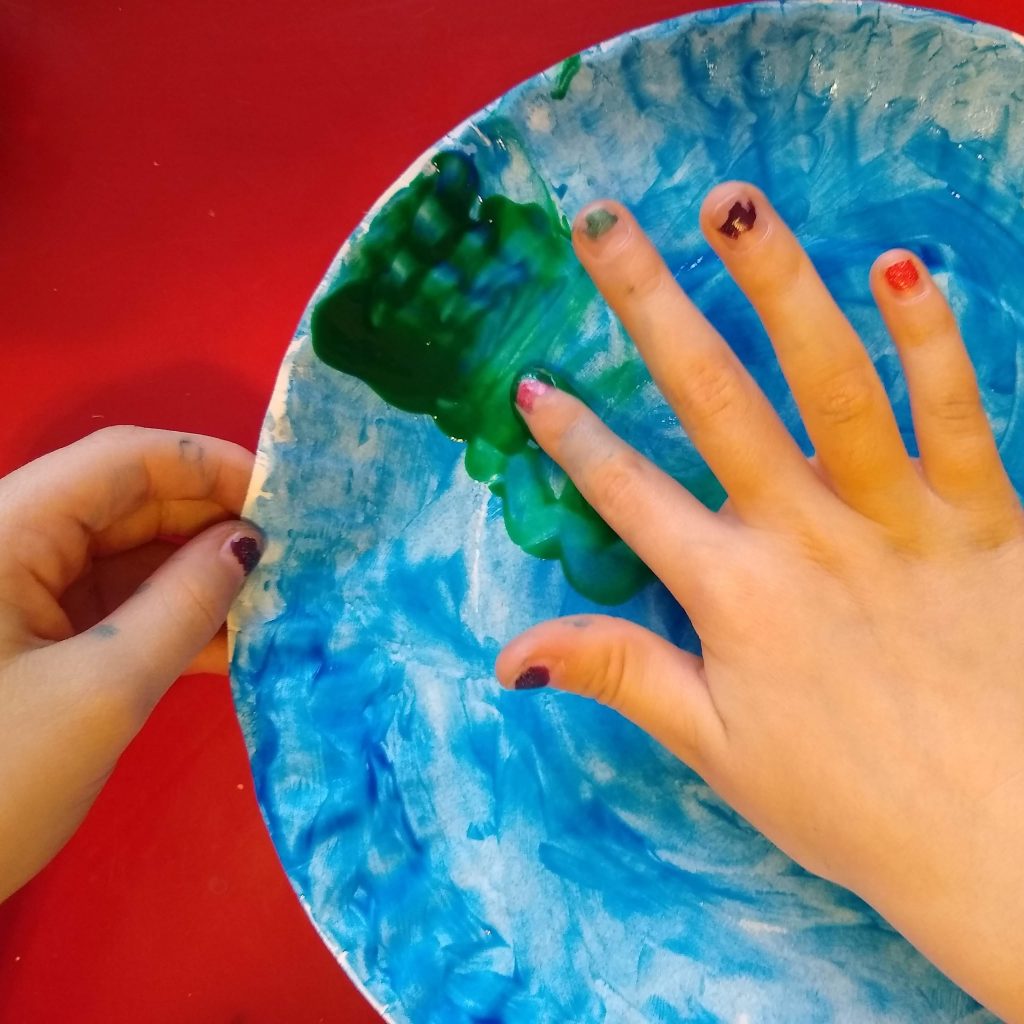 Taking Her Art Further…
"Mom. This is Italy, you know the one that looks like a boot, and it's kicking that little country we read about the other week. " She was referring to Sicily from our reading of A Winter's Tale from Tales from Shakespeare by Charles and Mary Lamb.
"And this is North Africa right below Italy. You know- where Augustine went to school." She was narrating to me about our church history reading through her process art. I was pretty speechless just thinking about all the knowledge my children are soaking in and here- through their art- she is retelling her stories better than right after I read them to her.
Her process art is helping her process her learning across curriculum and that is what brings so much joy to learning!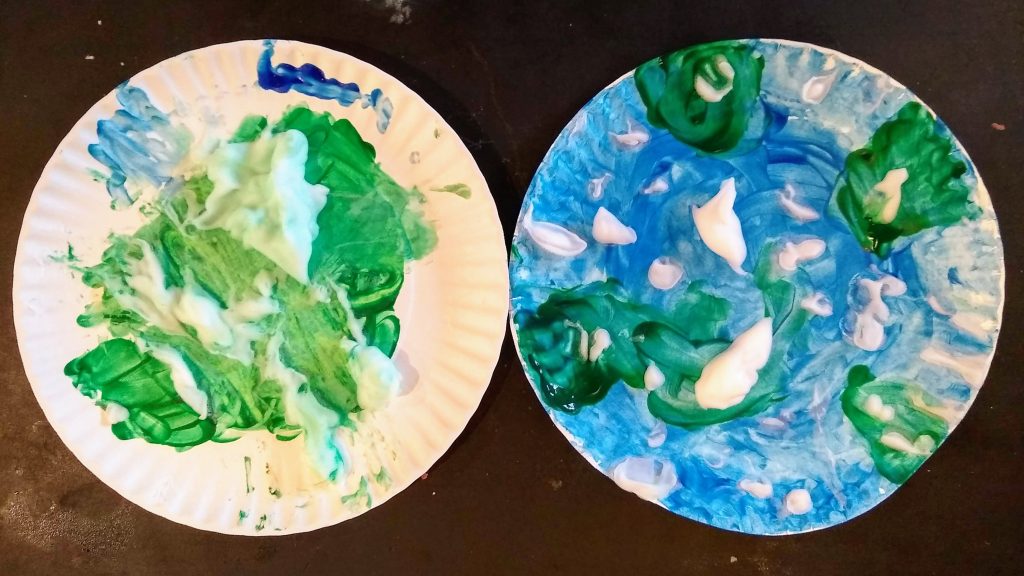 Our box may be geared more toward my 3 year old, but there is so much learning that our little box brings to my first grader. So excited to go on this learning and global adventure with my kiddos.