It's Autumn and a cold front is blowing through here in Texas. It's the perfect time to study Seasons and Weather with your little learners! We just finished our STEAM Cloud Study from Experience Preschool and, I had to share it with yall!
As an Experience Early Learning (EEL) Blogger, I receive the EEL Preschool Curriculum in exchange for my honest opinions and authentic stories about our experiences using the curriculum. All opinions and thoughts are completely my own.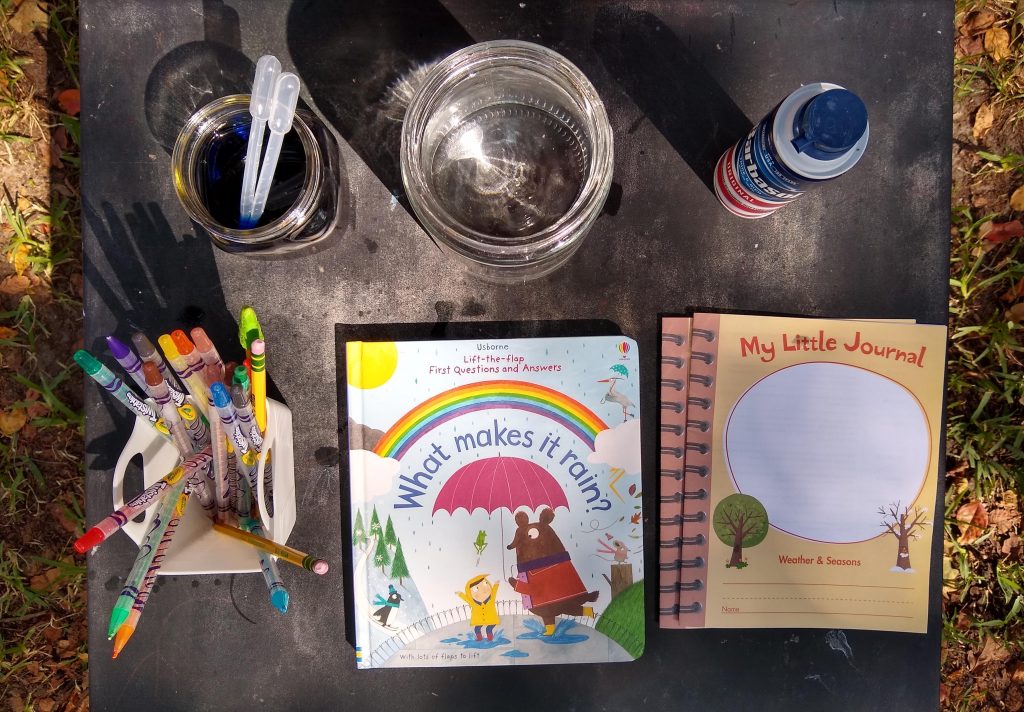 First of all, set this up outside! Not only is it messy, but if we are going to learn about clouds and weather, what better place to learn than outside?
Experience Preschool sent us some beautiful pictures of clouds and the Big Question to explore during this Steam Station:
How do clouds rain?
Engage:
I read our rainy day picture from our Usborne What Makes It Rain? book. This is one of my ultimate favorite Usborne books. The kids love to lift the flaps and look at all the dynamic illustrations.
I asked the kids, "What are clouds made out of?" My 6 year old remembered and said "Water." Then I asked our Big Question: "How do clouds rain?" and the kids gave some suggestions. I told them we were going to explore that question and find out the answer.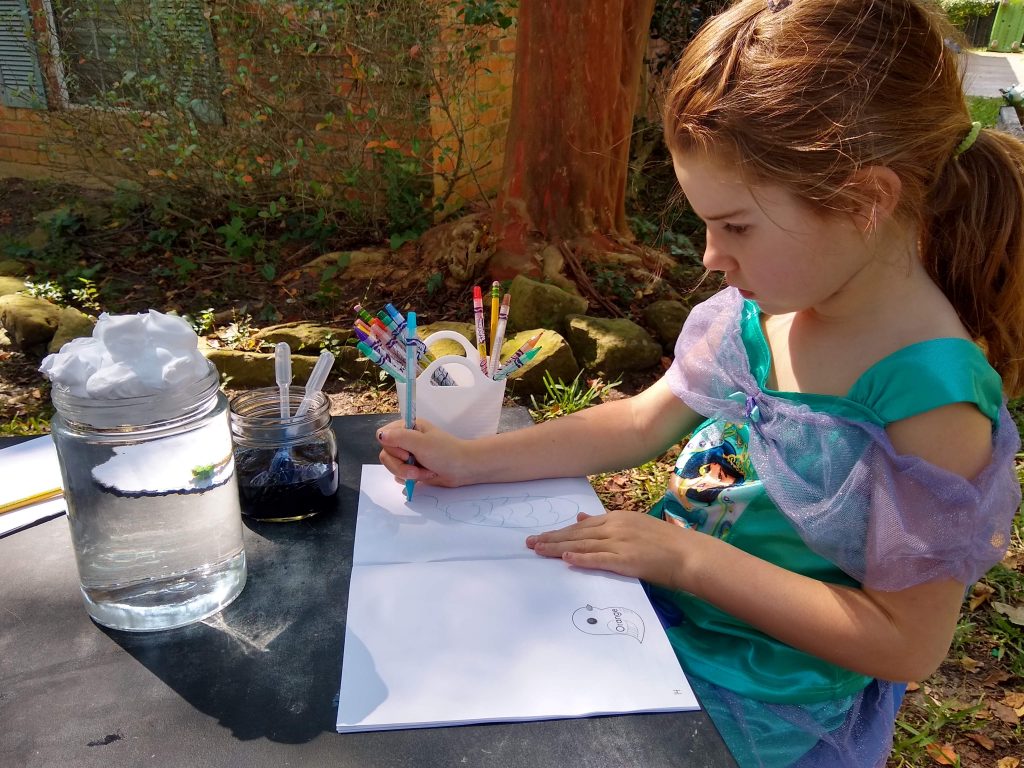 Explore:
Supplies you need:
Shaving Cream
Clear bowl or jar
Eyedroppers
Watered down paint or colored water
Paper to write on (we used our Journals from Experience Preschool)
Writing utensils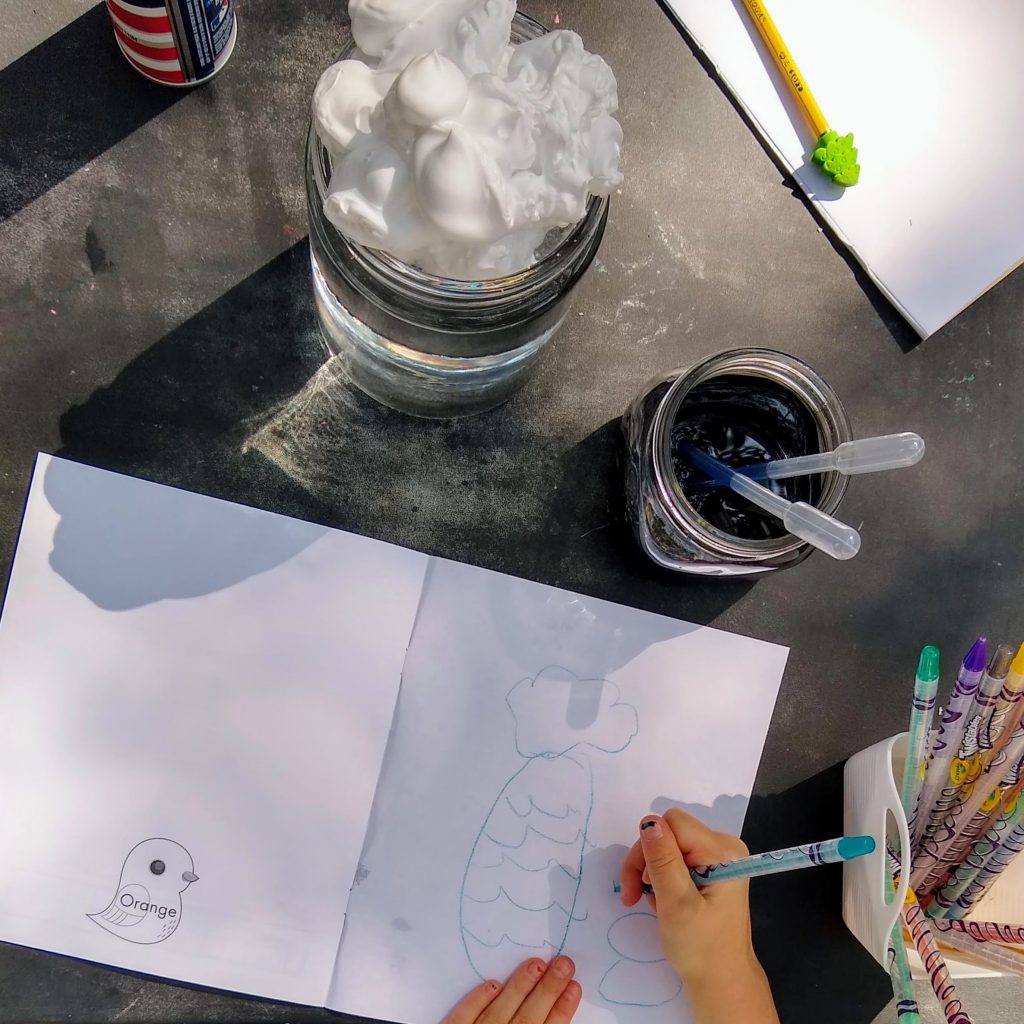 Steps:
Put shaving cream on top of the water in a clear jar. Draw and label your set up in your science journal or paper. Then use an eyedropper to drip watery paint or colored water into the shaving cream. Do this slowly and make observations after you disperse each eyedropper of colored water. What happens? What changes are taking place? Draw and label your observations.
Explain:
Have your kiddos explain what happened and why. How was this experiment like a real cloud? So how do clouds rain? When they can explain it in their own words, you know they have it down!
After all the fun learning, you then have to let them get their hands all up in that shaving cream! You're outside, so it's okay!
Have fun studying clouds and trying out this experiment with your littles!