Maybe it's the teacher in me, but I've always loved setting up my classroom. Even when it was in the kitchen/ breakfast room, I just loved seeing our space come together.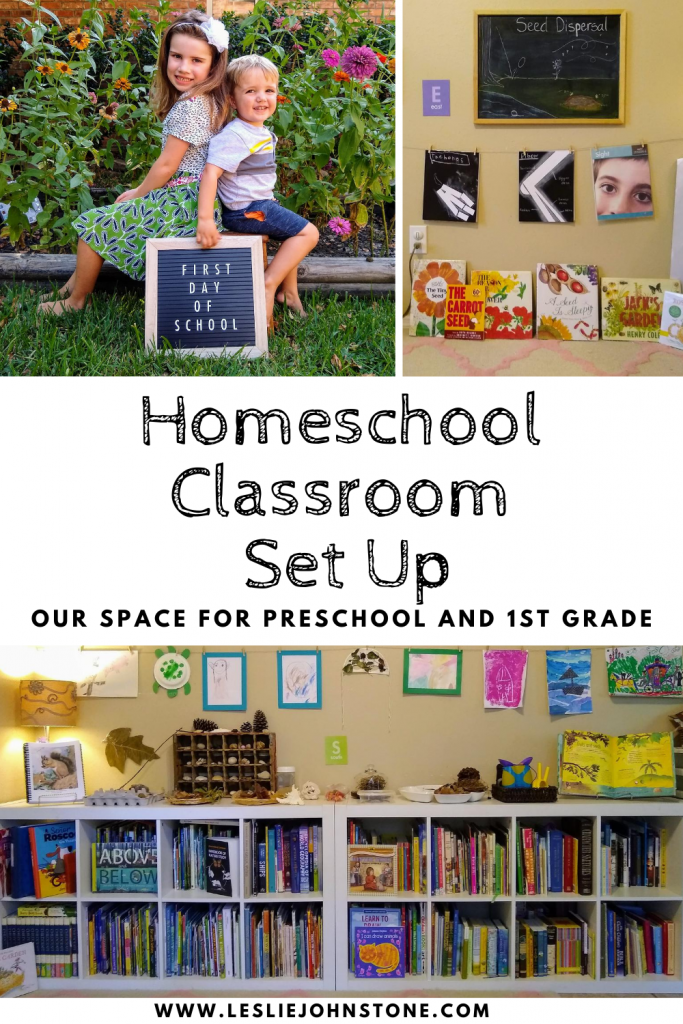 As an Experience Early Learning (EEL) Blogger, I receive the EEL Preschool Curriculum in exchange for my honest opinions and authentic stories about our experiences using the curriculum. All opinions and thoughts are completely my own.
We are blessed to have a formal living room in our house that easily converted into a homeschool space when my girl was about 3 years old. You can see our starting space, and how it has grown here and here
This year I am using Ambleside Online for my 6 year old daughter's first grade year and Experience Preschool for my 2.5 year old son. My girl has loved Experience Preschool (formerly Mother Goose Time) since she was 2, and she will also do many of the Experience Preschool activities, but I will bump them up a notch for her. You can see lots of my ideas on how I do that on our Facebook page.
All that to say, our space has grown and adapted as my kids needs have changed. So without further ado, welcome to our school room…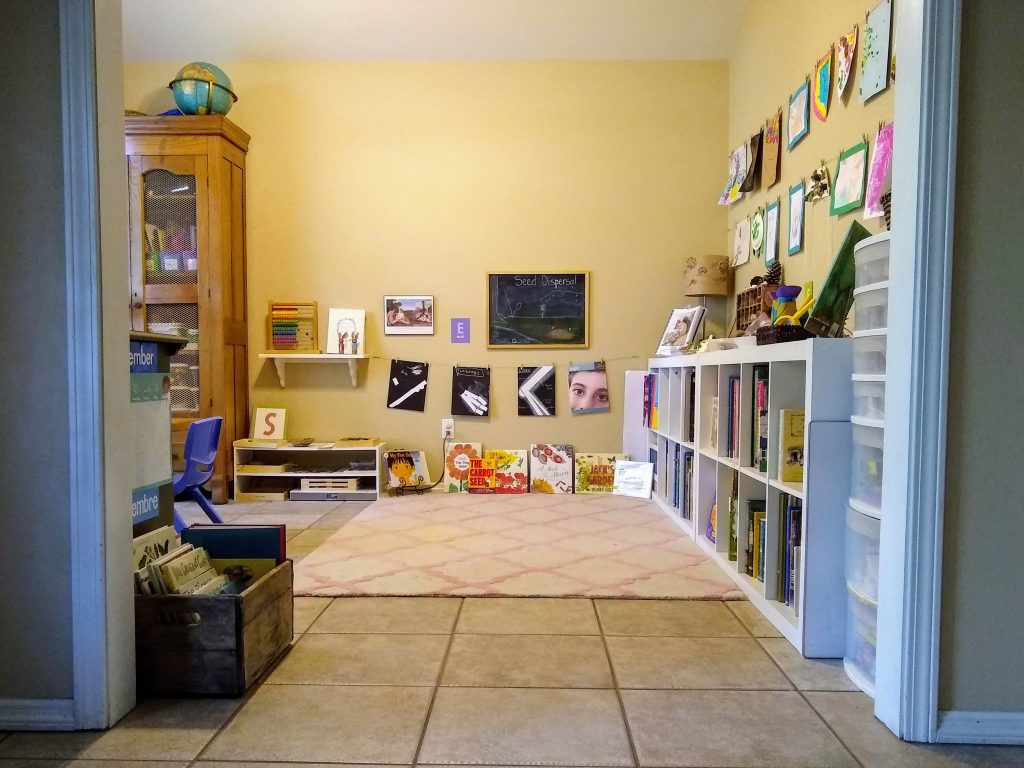 Our entrance to our school room is directly left of the front door. It has no doors, so I try my best to keep it tidy. We have a "Bless the Mess" time after dinner each night where the kids go around the house and clean up any messes. I got that idea from Farmhouse Schoolhouse. Love her and that blog.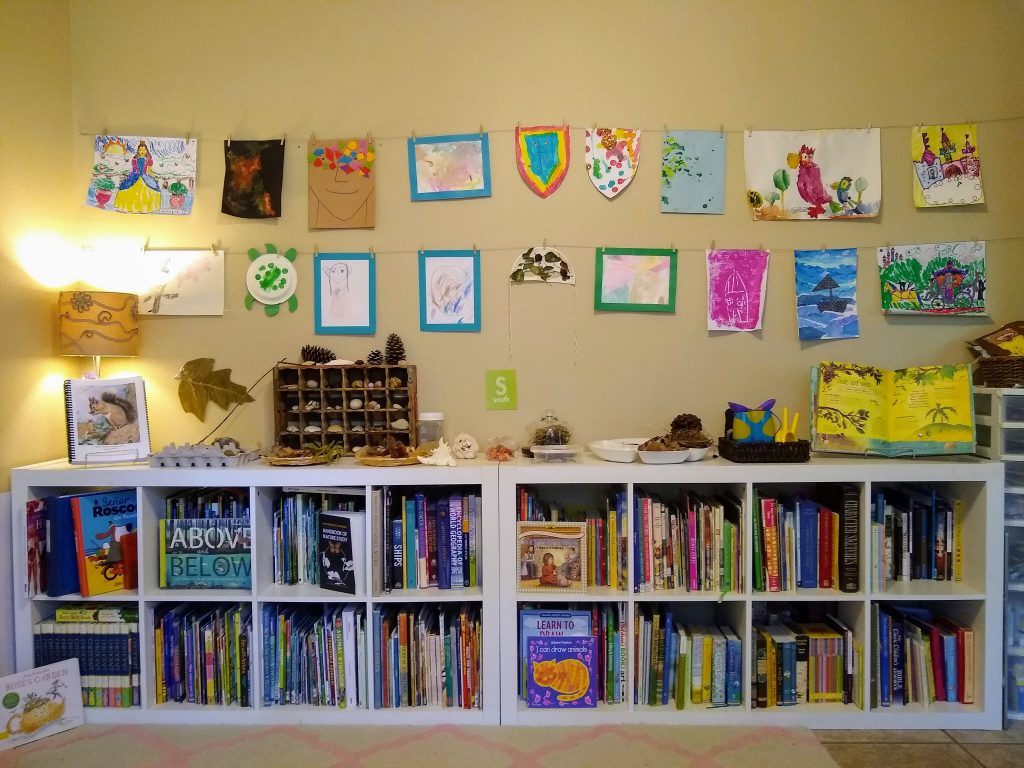 Our bookshelves are perfect the perfect home for all our non-fiction books and some classics. Our house is littered with books, but this houses many of them. To make the art display, we put in 3 picture eye hooks in each row and hung picture wire across to make an art display. Adding small clothespins makes it easy to change out their masterpieces.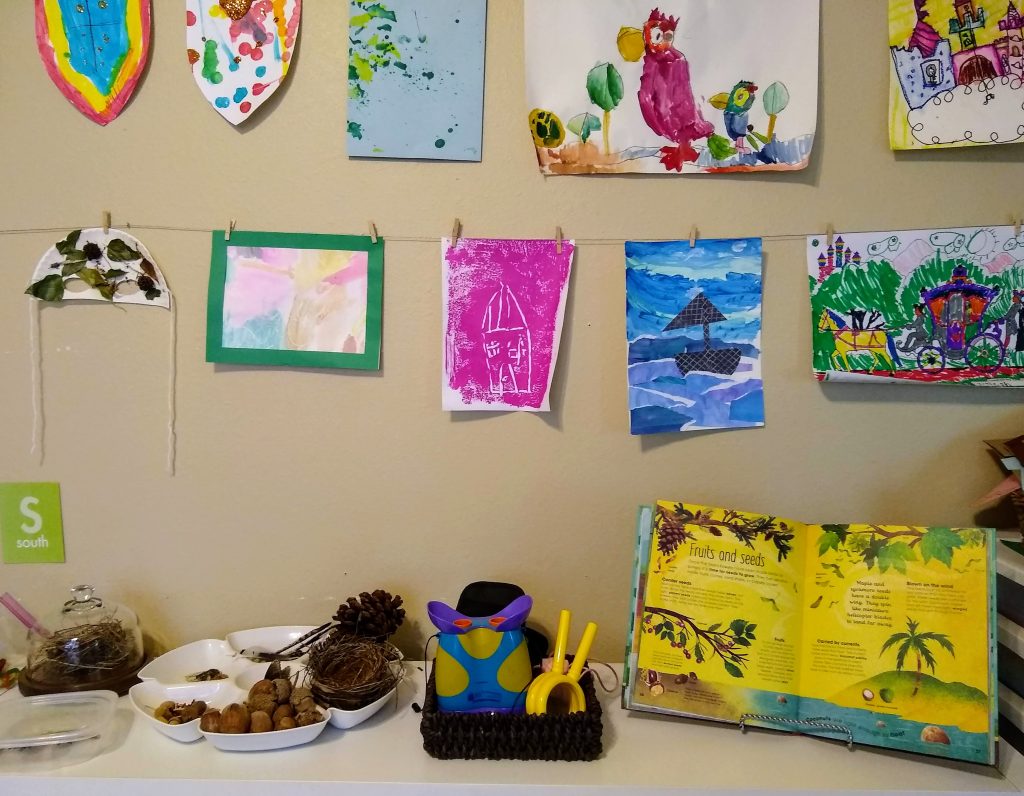 The top of the bookcases is our Nature Study Display. We have seeds, insect bodies, mushrooms, an assortment of rocks and so much more displayed here. We use Exploring Nature with Children (highly recommend),and this week is Seeds week, so I displayed the seed section of this book on the top our shelf.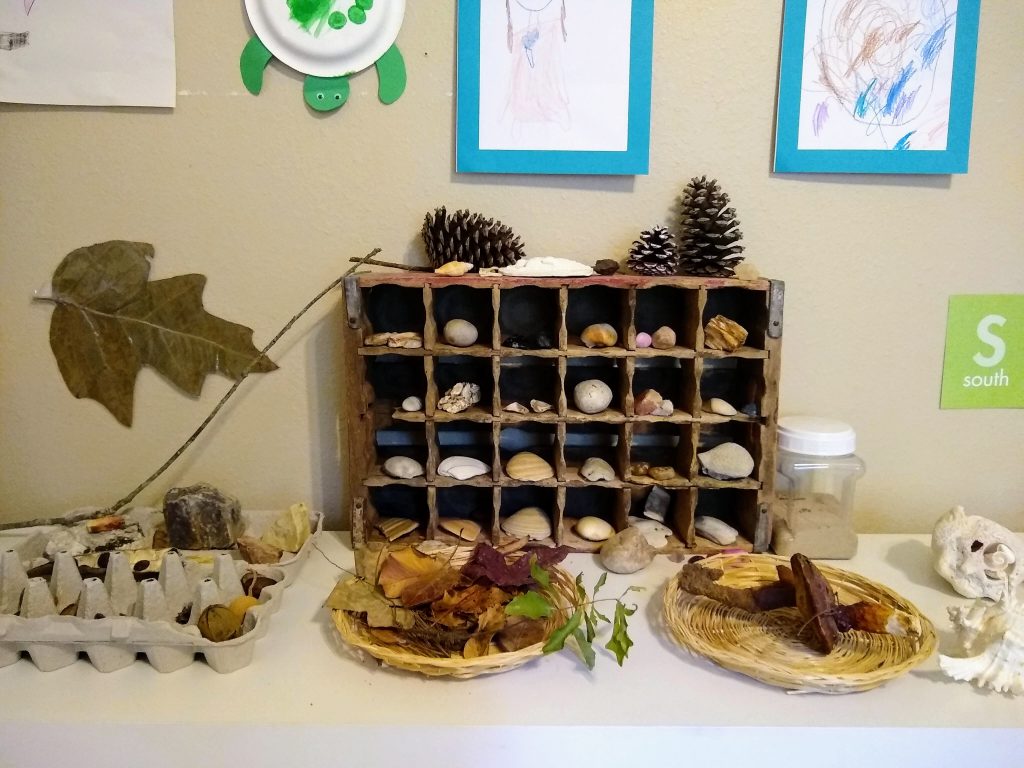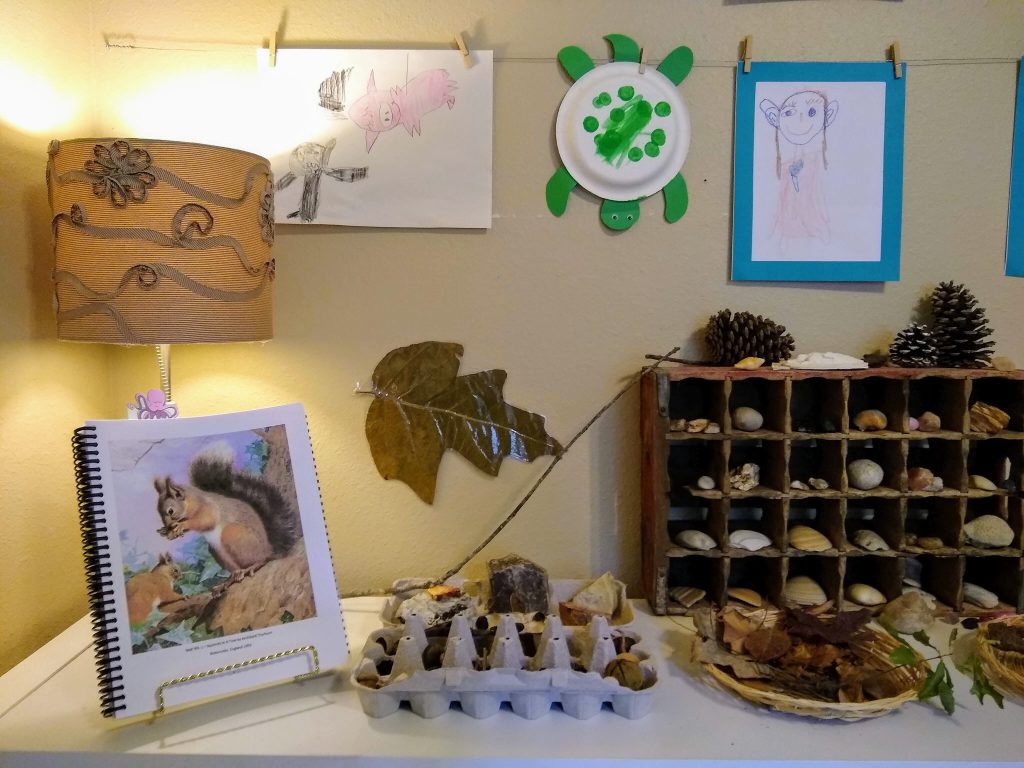 Below is our Circle Time area. We had to move the calendar (it's pictured towards the end of this post), but this is where we meet, talk about our topic from Experience Preschool (this week we are exploring our senses), read books, play games, and do all the floor activities we need to do. I also hung picture wire here to display our art for the day (we did bones last week).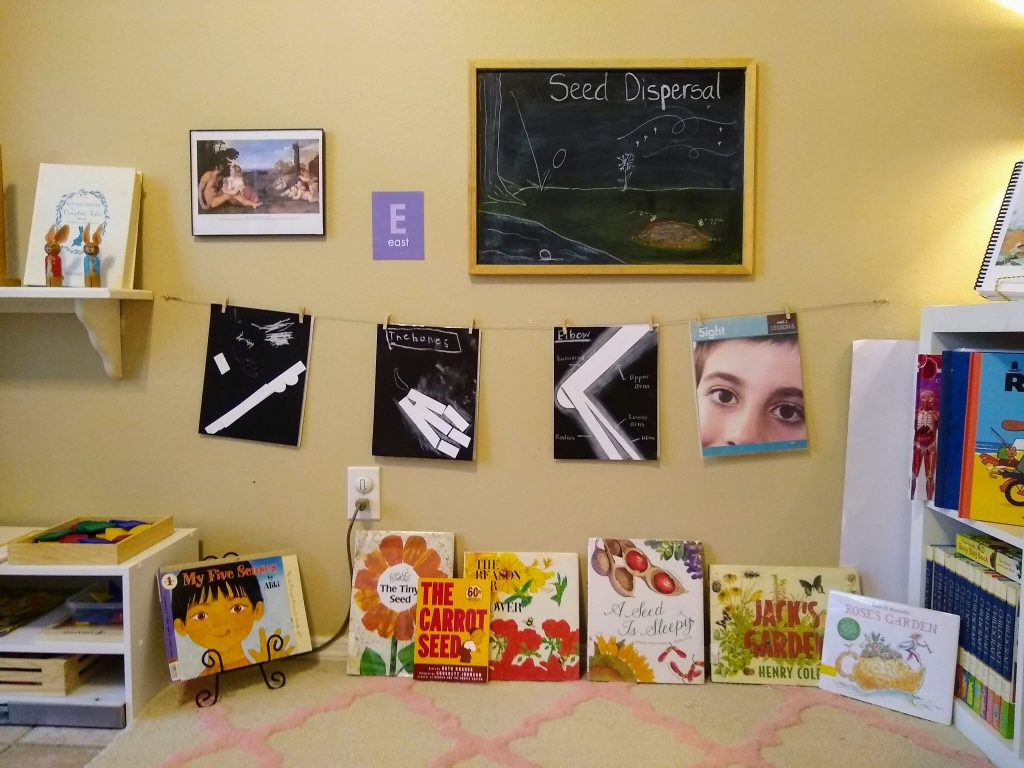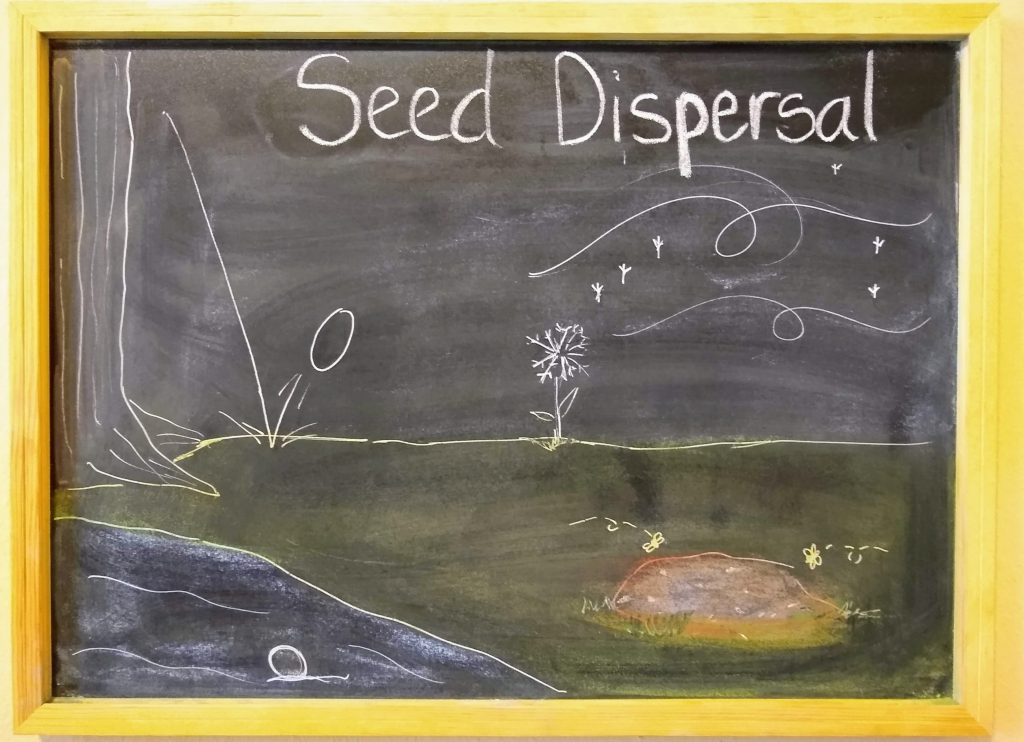 My toddler has his own little area for his games and manipulatives that I can easily grab while I am working with his big sister. A shoe rack from Lowes was the perfect size for him.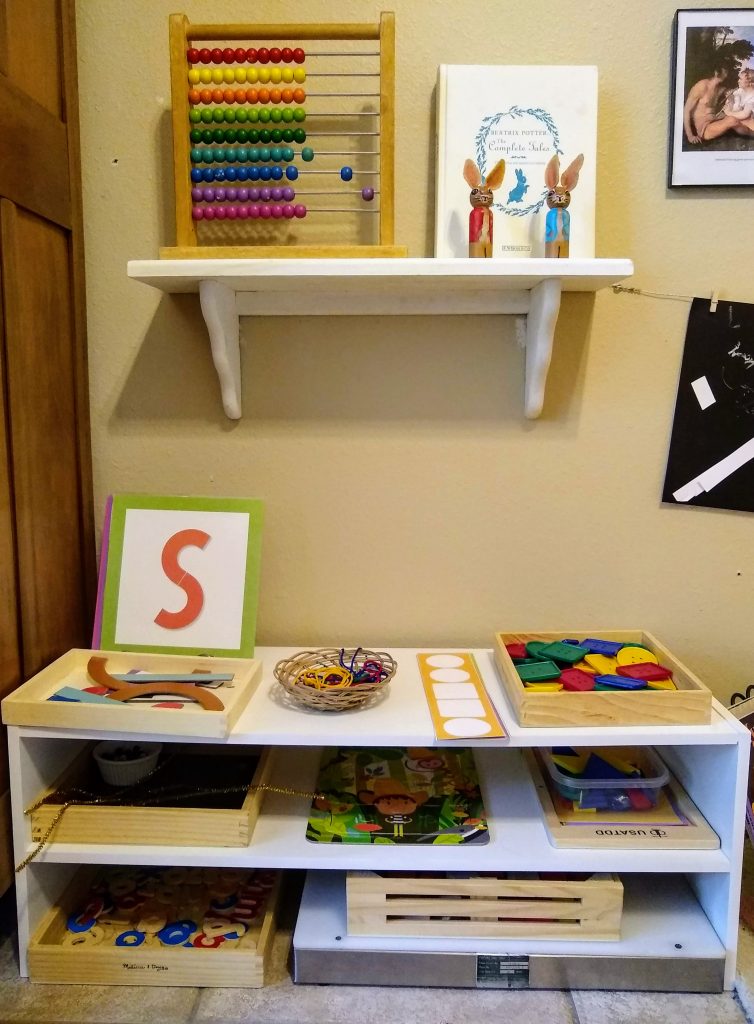 I've loved our space, but one thing I did notice is it became really cluttered fast. Even though I had cleaned the space, it just became overwhelming to where I wasn't wanting to spend as much time in there. I've been following The Minimal Mom for a few years now on YouTube. I love her too! She totally helped me master my laundry– no joke! Anyway, I have come to realize that I also needed a cabinet instead of an open bookshelf for my teacher supply area. We bought this BEAUTIFUL piece at an Estate sale in our town. It's perfect for our needs and space.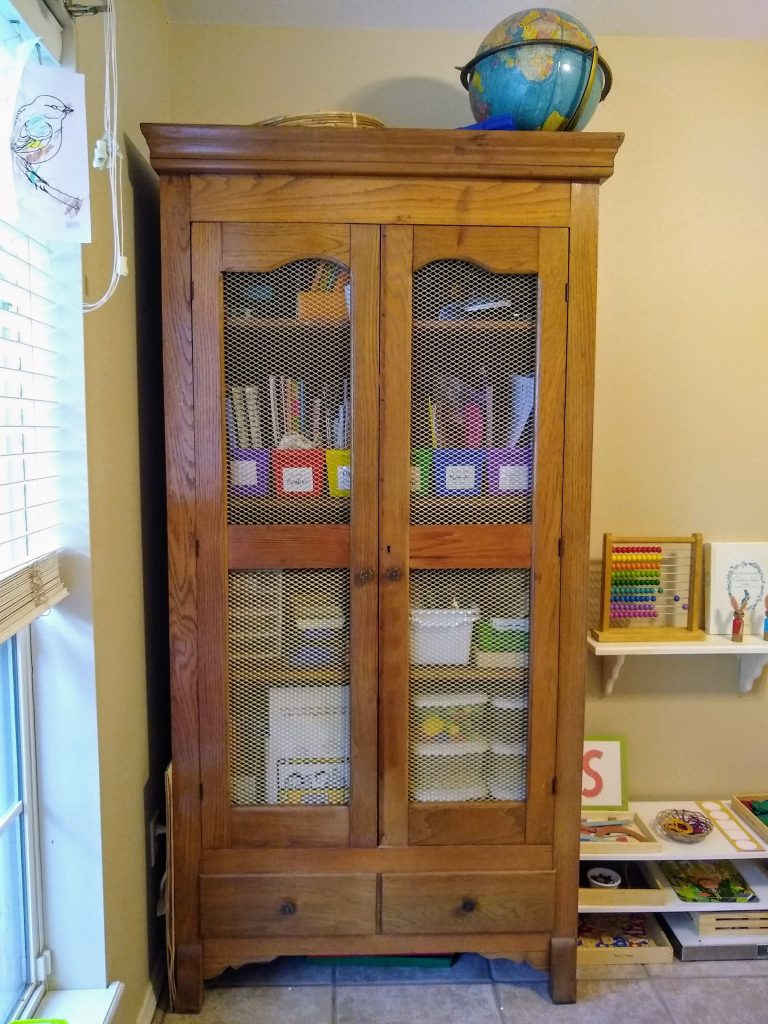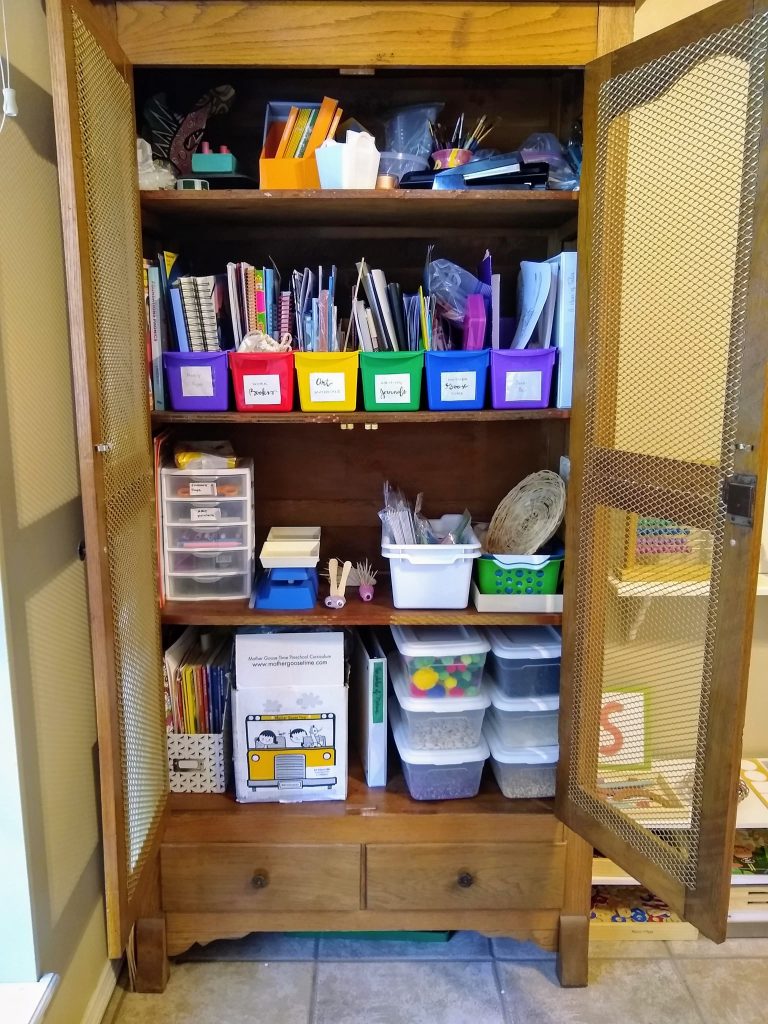 Last year, a local preschool was going out of business, so I bought this little table for $25 and it has been perfect for my little learners. I sit in a little blue chair too, but I don't mind. This is their classroom too. Also, I moved that box of library books after taking this picture.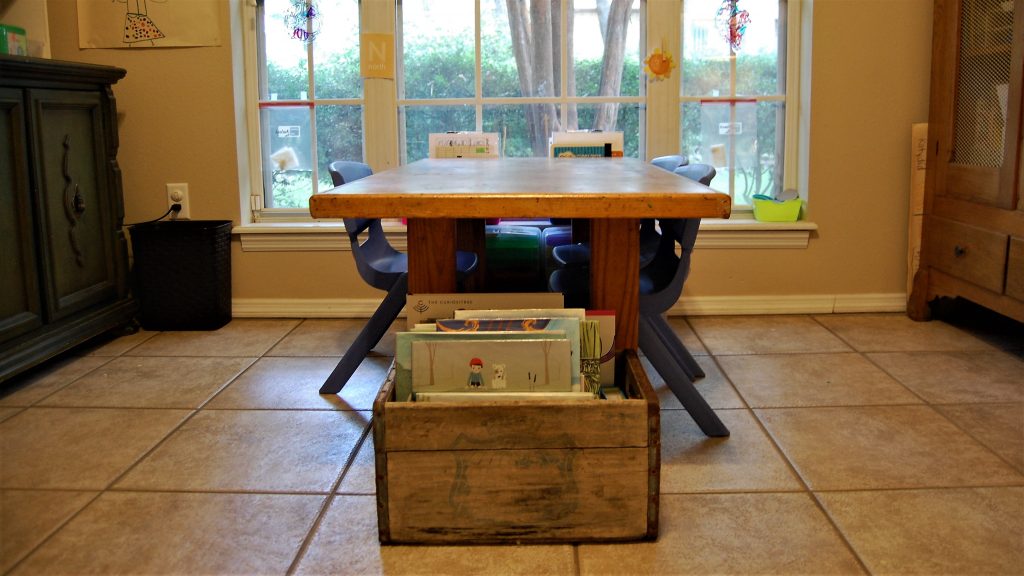 This old buffet that has been around for 20+ years is still holding strong, and holding more school stuff inside. A lazy susan from Walmart with white pails from Dollar Tree houses a bunch of our supplies, and the dry erase board has our monthly and daily learning listed on it.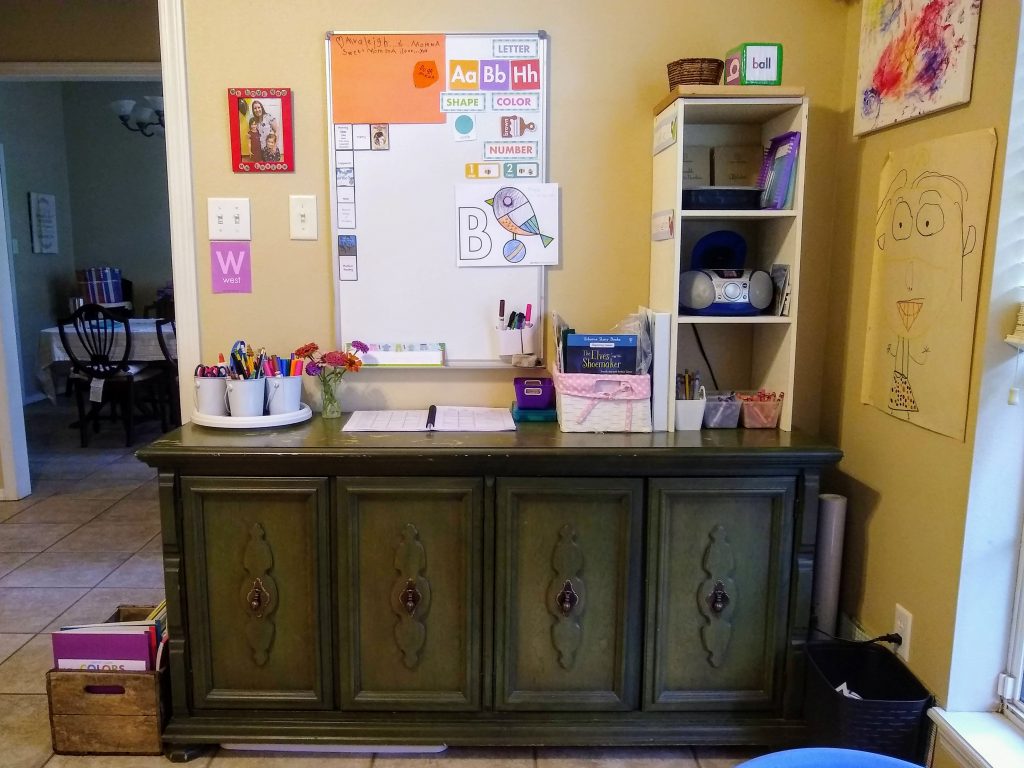 I told you we would see that calendar again! We love these from Experience Preschool and get a new one each month. Our library books are housed below in a wooden crate my friend was getting rid of. And now my friend, we have now come full circle back to the entrance of the room.
Thanks for taking a tour of our space! I hope that your school year is filled with love, hugs, beautiful memories, and lots of homeschooling adventures.