There is a time for work and a time for play.
That's a hard lesson for little kids who just want to play all day long. Teaching them through story is a fantastic way to help them understand this concept and the famous Aesop fable of "The Grasshopper and the Ants" teaches this concept beautifully.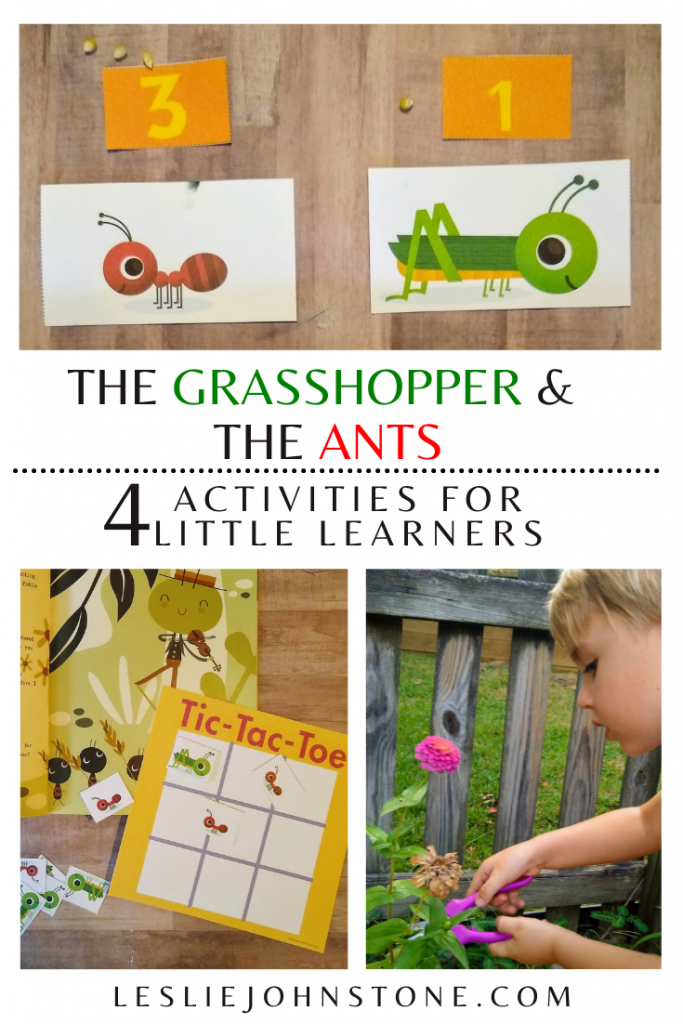 My son and I had some special one on one time this week and he loves games. I pulled out The Ant and the Grasshopper lesson from Experience Early Learning which had 2 different games for the day and he has played them even more throughout this week.
Math: Counting Corn
Experience Early Learning sent us Counting Cards and an Ant and Grasshopper card. I cut these out and hid them under some corn kernels. We dug out one of the insects and that was who we were. Then we drew a number card (1-10) out of the kernels, placed it over our insect, counted out that amount of kernels, and compared who had more. Whoever had the larger number, received ALL the kernels. Then we did it again until there were not more number cards. At the end of the game, we counted all the kernels we had won and then we played again and again.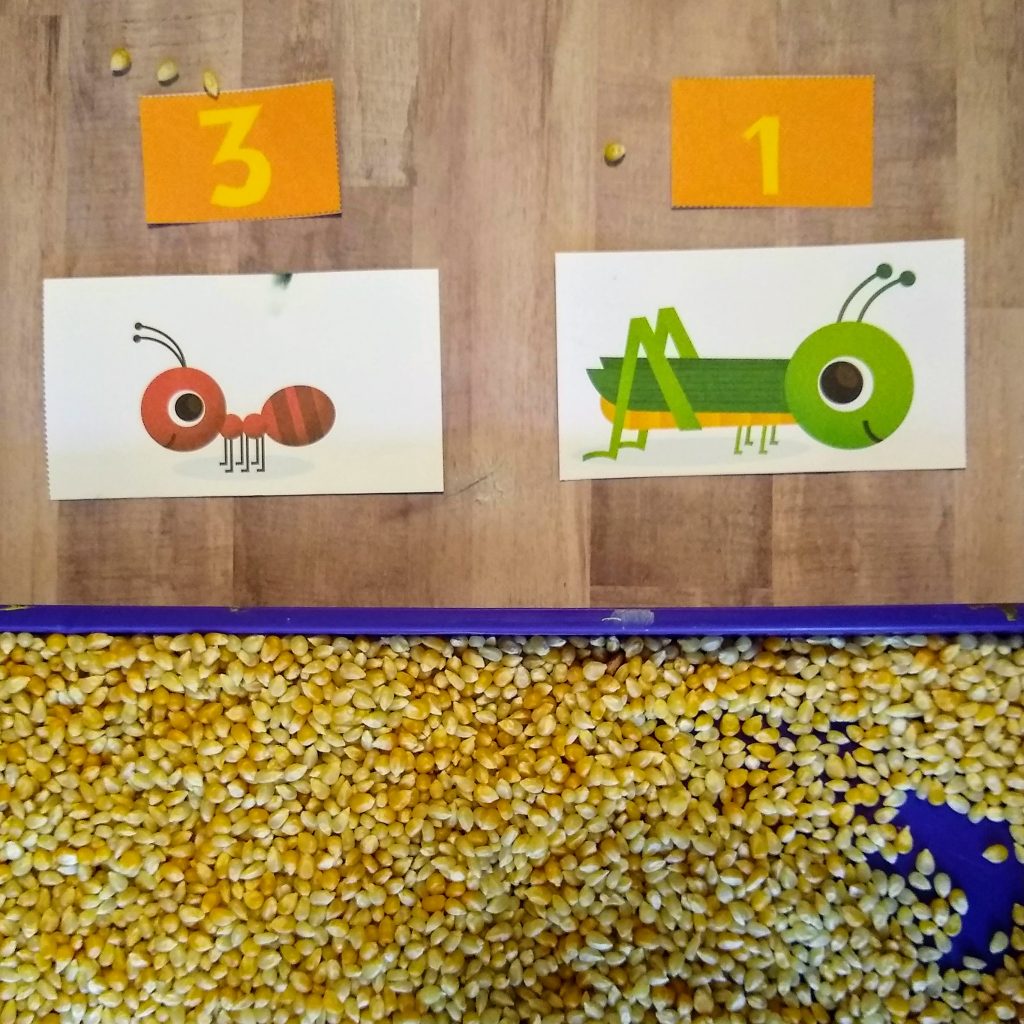 Literacy: Tic-Tac-Toe
Also in our daily discovery bag from Experience Early Learning, was a game of Tic-Tac- Toe but grasshoppers and ants were used instead of X's and O's. At first glance, a game of Tic-Tac-Toe seems to be more of a math concept with logic and reasoning; however when children on prompted to share their ideas on why they placed their pieces somewhere, the game not only covers math but literacy as well. Communicating, sharing ideas, and expressing oneself is hard for some kiddos, but others thrive in it. My extroverted son is one who thrives in communicating himself. I hear all these thoughts of his while playing:
"Oh I am going to block you!"
"Look out! I'm about to have a tic-tac-toe!"
"Momma, this is so much fun!! Let's play again!"
"Cat's game… I don't like the cats's game. I want to win!" LOL.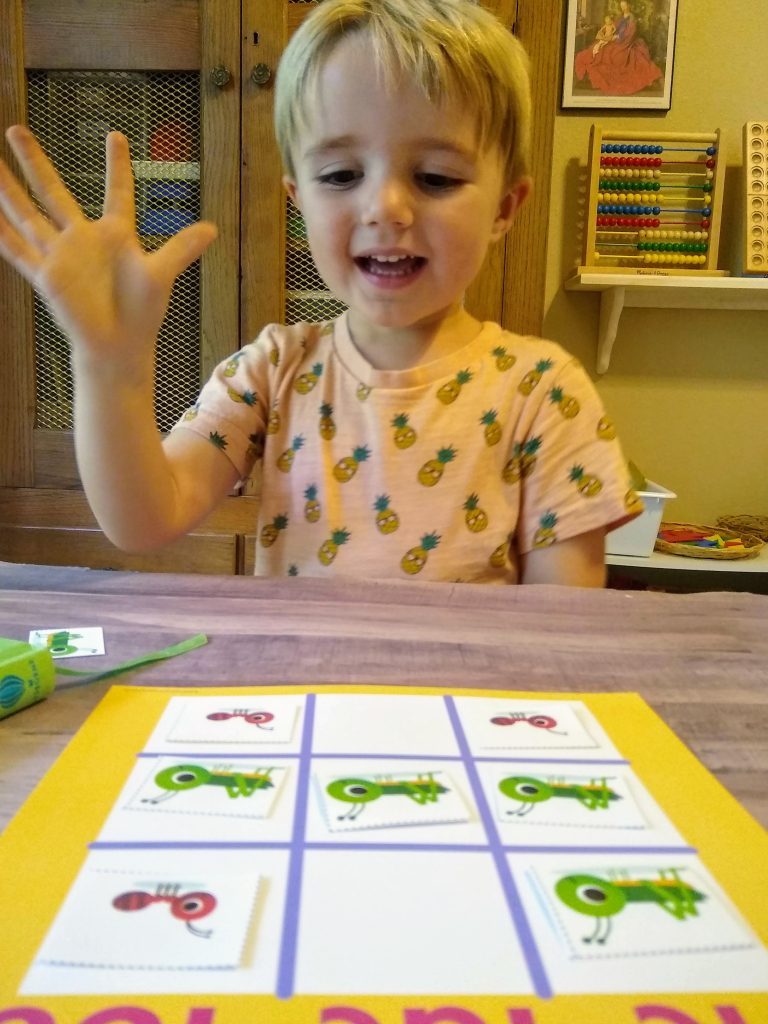 STEAM: Collecting Seeds
The ants prepared for the future by collecting all their grain and seeds during the summer months. Each year we love to plant zinnias around our driveway. There are so many different insects we have observed on these flowers, including grasshoppers! In order to prepare to plant more next year, my son acted like the ants and gathered seeds from our zinnias. He had to practice using cutters (which he loves) and then he rubbed the dried out seed heads to release the seeds. I stored them in a ziploc and we will replant them next spring and have flowers from May- October.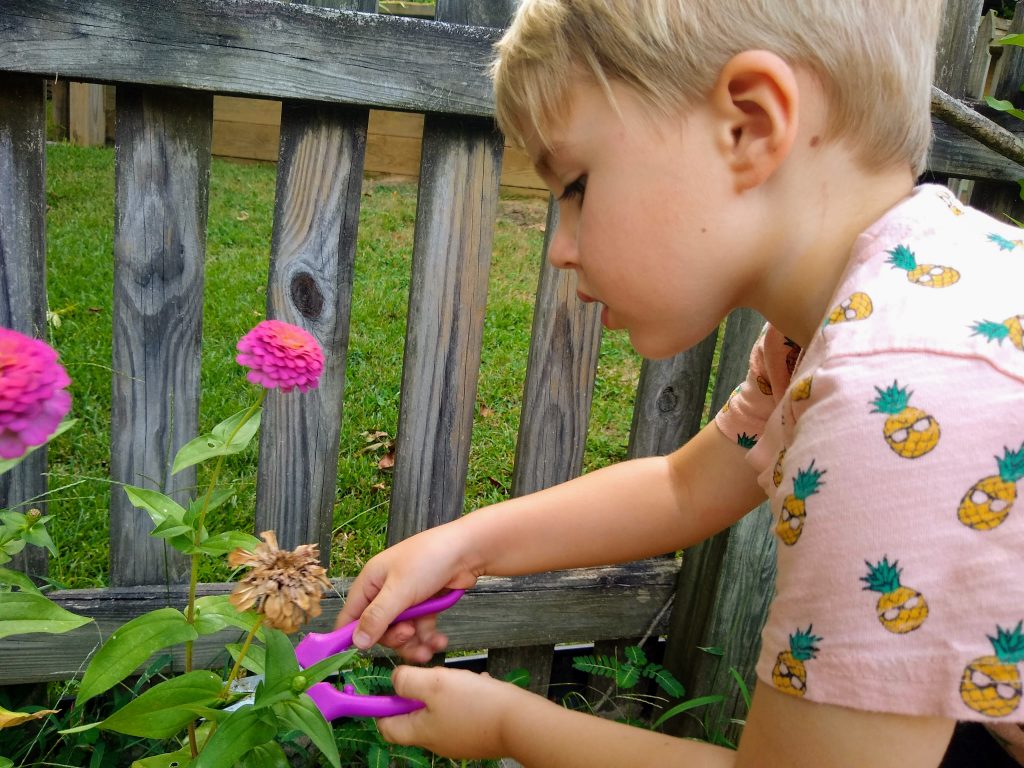 Creative Art: A is for Ant
Experience Early Learning sent us a large A coloring sheet. My son practiced moving his fingers along the path of the letter A, then using markers he traced the lines and colored some areas. He then added in some stamped fingerprints to create ants and drew on their legs. He loved stamping his fingers on this sheet.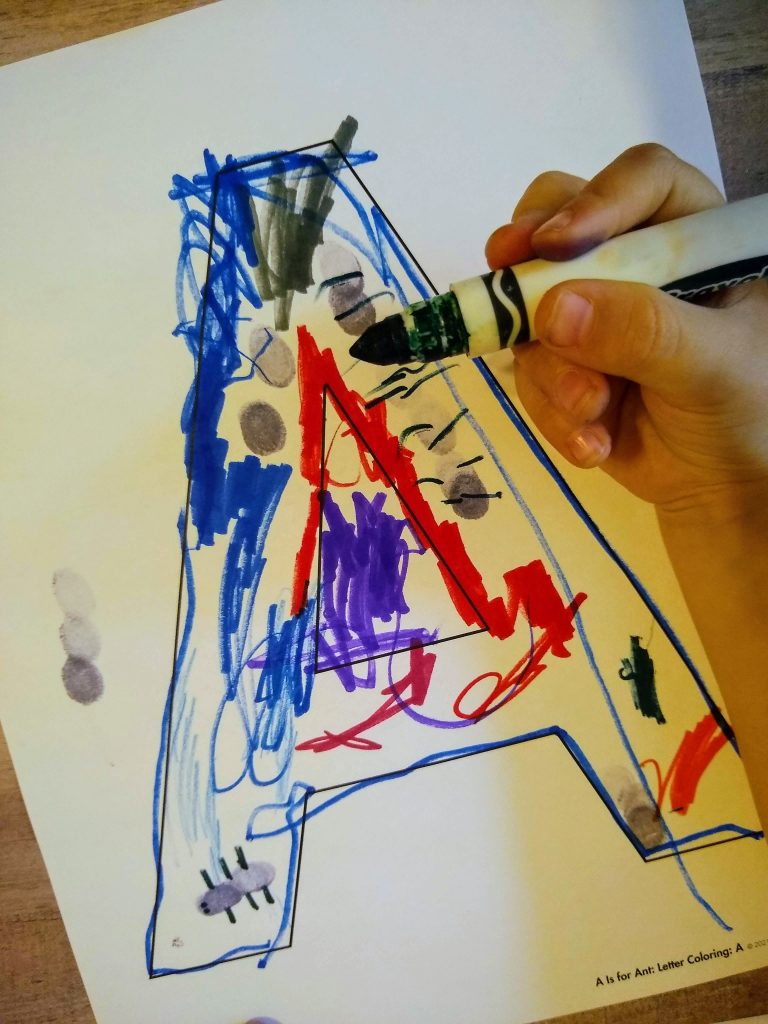 When sister and daddy returned home later that day, my son was anxious to share all his fun learning with them. He took out the games and taught his sister how to play the Counting Corn game, and throughout this past week, I can not tell you how many games of tic-tac- toe we've played.
Thankful for our Experience Early Learning box and all the memories we make with it.