This month is all about Folktales & Fables with our learning box from Experience Early Learning. We spent the last 2 weeks playing and learning life lessons from some of Aesop's most famous fables like The Crow and the Pitcher and The Ant and the Grasshopper. This week we moved into one of the biggest Tall Tales of America- Paul Bunyan!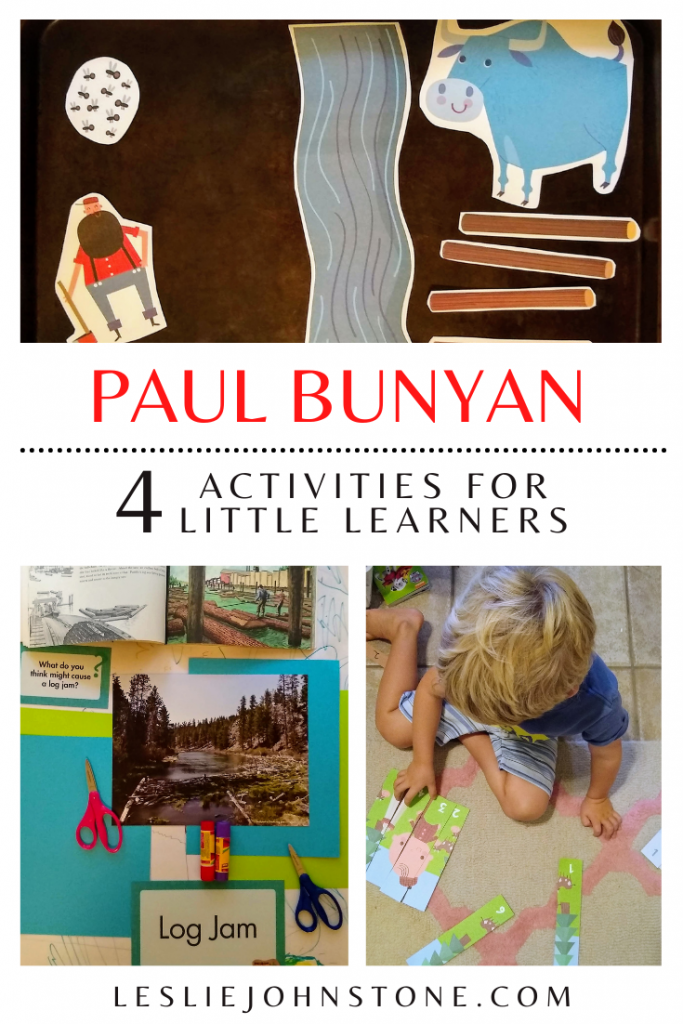 Literacy: Narration
Narration is the ability to tell back what you have learned in your own words. It is one of the most important methods in a Charlotte Mason education which is what I am trying to implement in my homeschool.
Each day this week, we have unpacked a little piece of the legend of Paul Bunyan. Experience Early Learning sent us a short story with cardstock puppets. After cutting them out, I added some magnetic tape to the puppets and placed them on a well loved cookie sheet. The kids practiced narrating the story back to me and had some much fun with the little puppets. After they narrated, they created their own stories using the puppets which was a delight to see as well.
Math: Number Recognition and Puzzles
My 7 year old led a game for my 3 year old and it was perfect while I prepped our Creative Art activity. In our story of Paul Bunyan and the Log Jam, a bunch of logs become jammed in the river. With the help of Babe's swishing tail, the logs get straightened out and the river flows once again.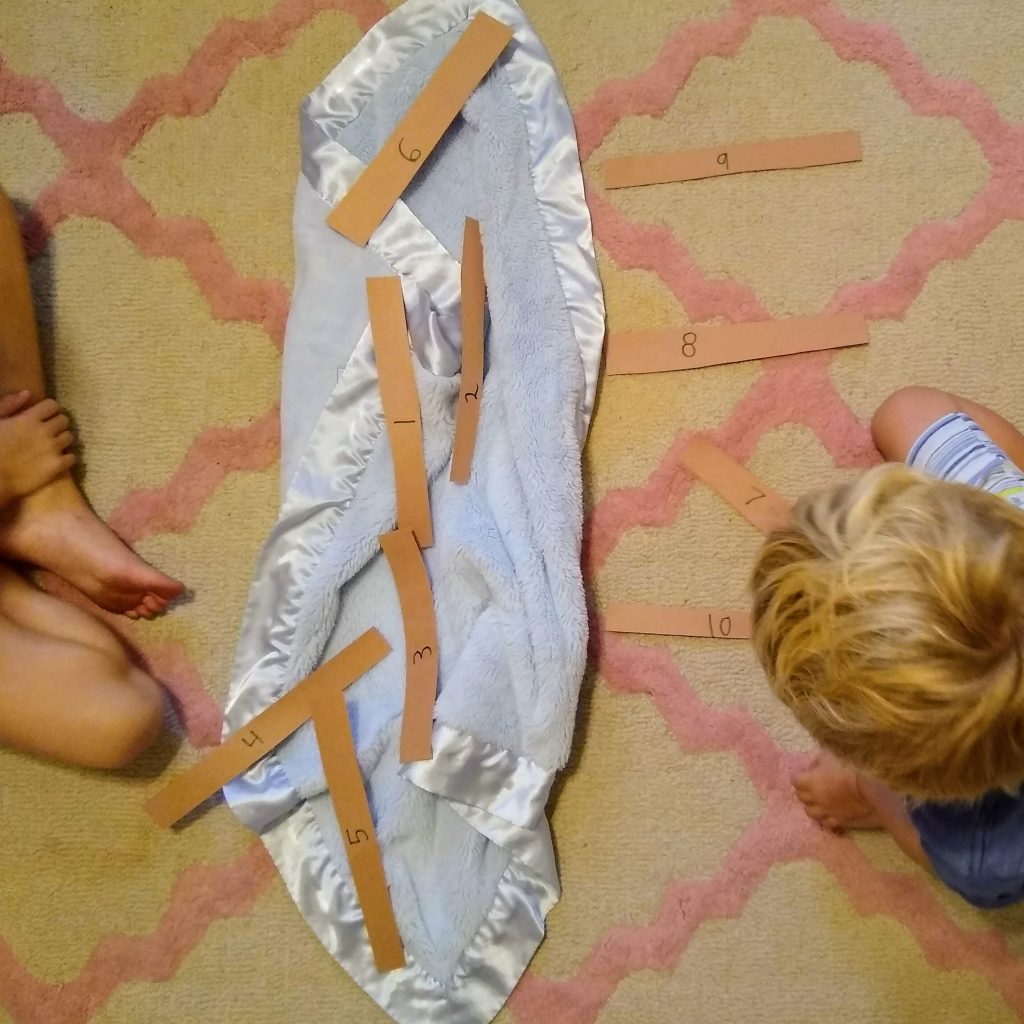 Using a blue blanket and some construction paper strips, my 7 year old set up this game for her brother under my direction (thanks to my EEL Teacher's Guide!). She cut strips of brown paper for logs, numbered them 1-10, and set them out of order in front of her 3 year old brother. Then she called out a number and my son had to find that log and place it in the river. They played this several times and saved it for later after picking it up.
Experience Early Learning also sent us 4 number strip puzzles about Paul Bunyan. They were perfect to set up as a math activity on the floor for my preschooler. My son could work individually while I helped my daughter with some of her Math-U-See work.
Creative Art: Log Jam Collage
"What do you think might cause a log jam?" I asked my learners.
"Beavers," was my daughter's quick response. She loves all things animals, and when she saw the inspiration photo Experience Early Learning sent us, her mind reconnected to the story of Paddle-to-the-Sea which we read last year. The kids retold about the beavers building their lodge in the river, and then they remembered that the logs did jam in the river near the sawmill. I took out Paddle-to-the-Sea and we looked through some of pictures before starting our Invitation to Create.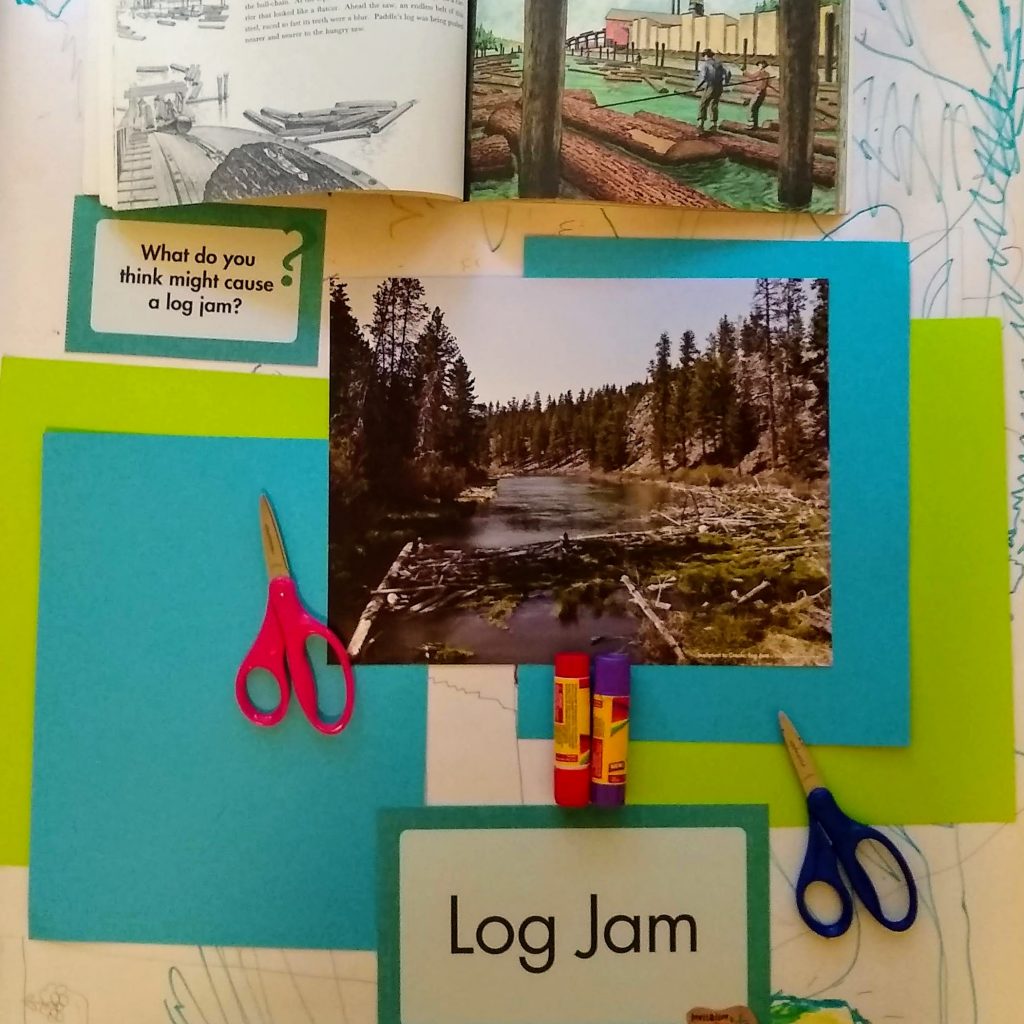 To start, I asked a few more questions:
What colors do you see in the photo?
Do you see any vertical or horizontal lines? (we had just had a drawing lesson on vertical and horizontal lines using Under the Home)
Will you draw any animals in your picture?
What nature items do you think you will need to make a log jam?
Will you tear the paper or cut it?
They decided to cut their blue paper for their river and after gluing it down, we ventured outdoors to collect nature items. They picked out their own nature items to use in their artwork including bark, sticks, and pine needles. My son worked on his motor skills and practicing "one dot does a lot," while my daughter worked on actually creating a picture that told a story.
My favorite part of this activity was watching my girl narrate through her drawing on her Log Jam collage. We have been reading the Burgess Animal Book with our Ambleside Online Year 2 curriculum and as she created her river, she was reminded of Peter Rabbit and when Reddy Fox chased after him. She drew them on the right hand side of her collage and on the left side she added the Rock Squirrel that we had learned about that morning. She also drew a beaver in her river.
The story of Paul Bunyan resonated so much with my 3 year old. He was so excited to tell his daddy all about Paul Bunyan when he came home. My daughter's mind made connections to all sorts of learning when we started this log jam adventure. It reminded me of Charlotte Mason's quote:
"We spread an abundant and delicate feast in the programmes and each small guest assimilates what he can."

Charlotte Mason, Volume 6, page 183
My job is not to build connections for them, but to spread the feast- to spread out the learning, the true, good, and beautiful, and let their minds do the work. Each takes what they need. My 3 year old gains something different than my 7 year old and that is perfect- they are "born persons" each with their own mind and intellect. I love how our little box can be used with both of them 4 years apart and they each get what they need from it.
Happy Learning friends.