As a Experience Early Learning (EEL) Blogger, I receive the EEL Preschool Curriculum in exchange for my honest opinions and authentic stories about our experiences using the curriculum. All opinions and thoughts are completely my own
We've always spent time outdoors, but this year is different. I find myself not just going outside to be outside, but actually exploring and observing God's creation around me. I want my children to explore nature, and see Him in it, and that starts with me. This week, our Pond Study from Experience Early Learning (EEL) also coincides with our Exploring Nature with Children curriculum's weekly study on Ponds! What do you do when that happens? You take a Family Field Trip to the Pond!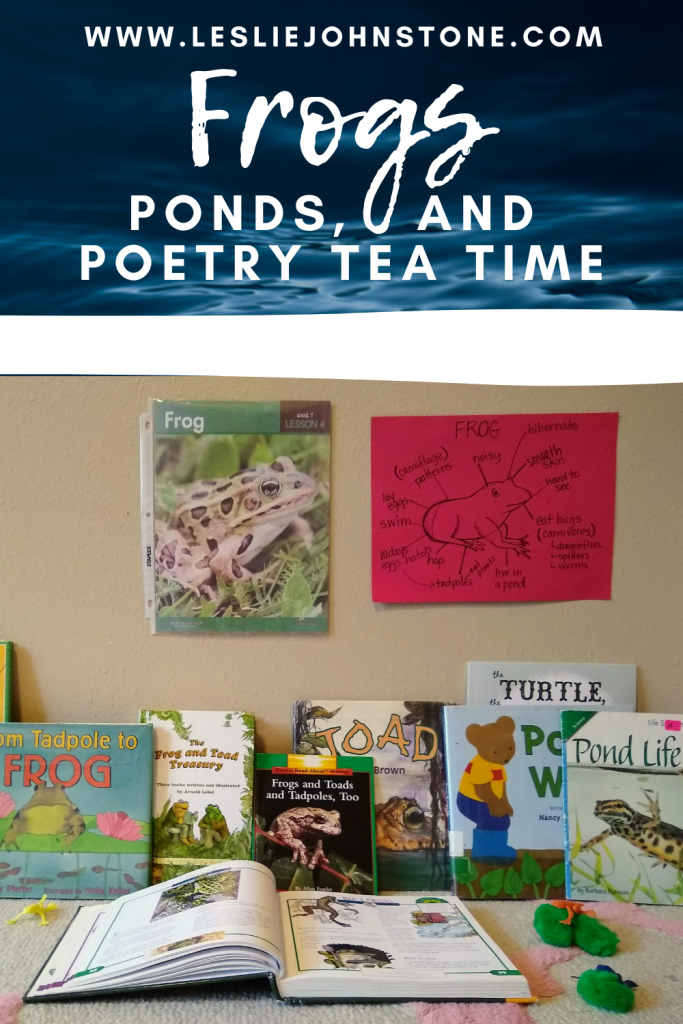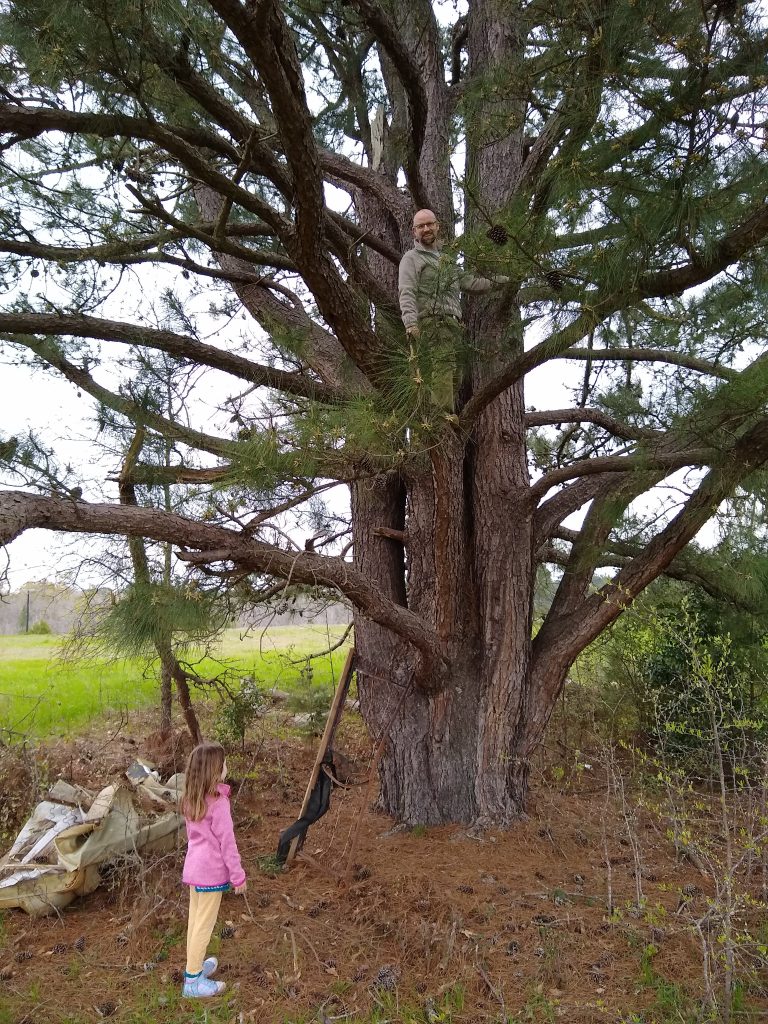 The more I explore nature around me, the more thankful I am for living where I do. We have a pond not far from our home; although we were on the lookout for frogs, we didn't find any. We did however find an enormous pine tree that looked like it was 4-5 pines in one tree (of course, daddy had to climb it)! Even though we could hear the frogs, we couldn't find them, but we did come across deer tracks!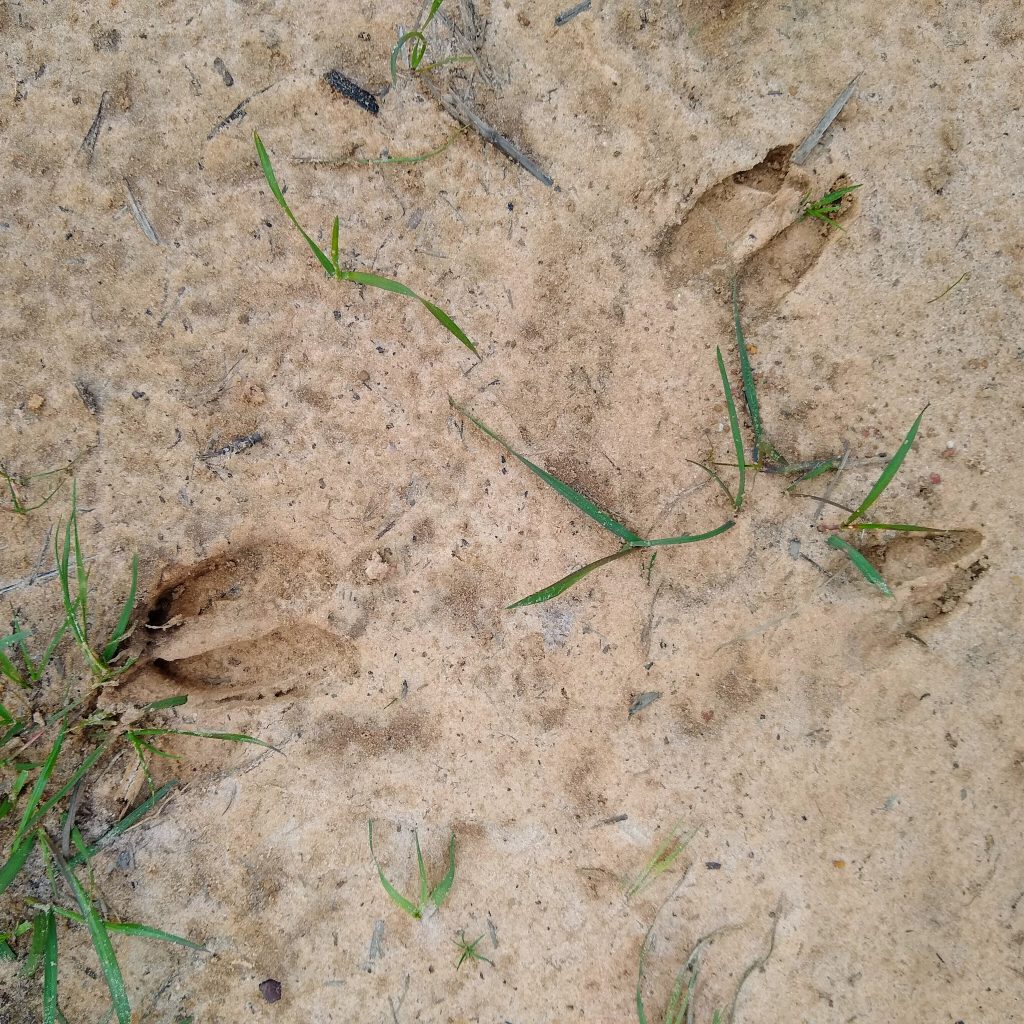 Doing this little field trip over the weekend, set the tone as we explored frogs later in the week with our EEL curriculum. Our days always start with calendar time and a book on our topic. Lately, I've been drawing the animal we are studying and my daughter tells me all she knows. As we read, we add to the diagram. This particular morning I read From Tadpole to Frog.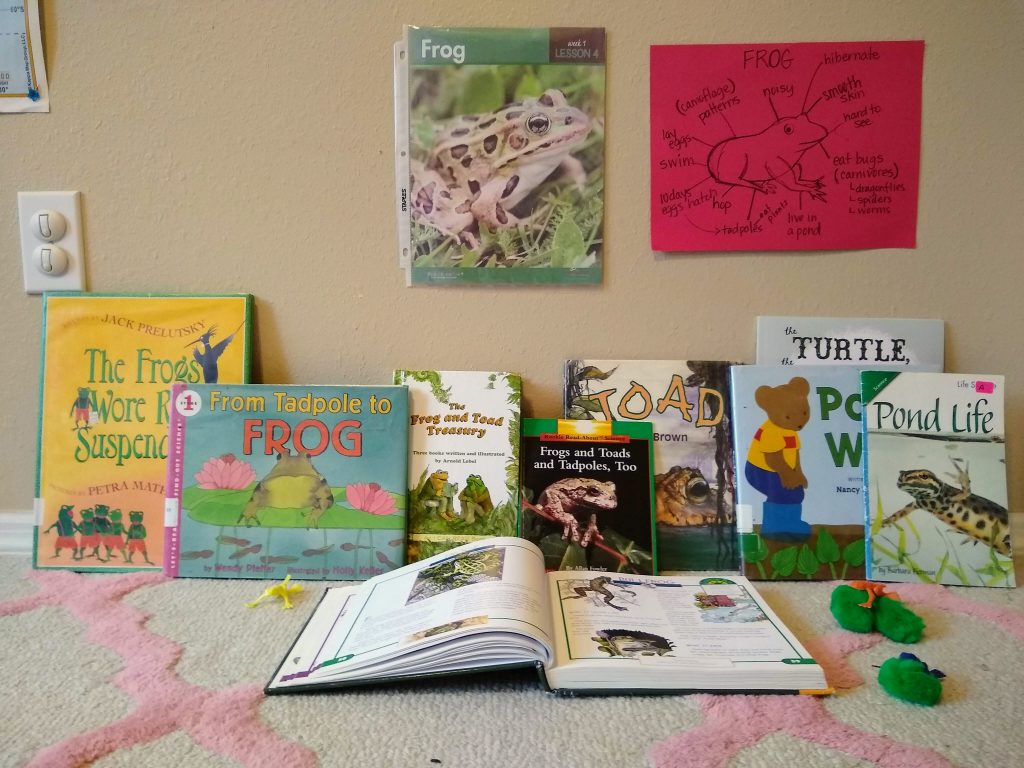 After sitting for a bit, it's always good to get up and move, so I looked up how far a frog can jump in one leap, and measured it out. We then tested how many hops it took us to jump that distance. I didn't get pics of that, but it took my girl 5 good jumps, me 3, and my son is just learning how to hop so his jumps were just fun to watch. After some movement, it was time to Hop to the Letter N.
My kiddos love these coloring sheets from EEL! I gave them their little magnifying glass and we found all the N pictures. Then they colored it. With my 2 year old, I modified it by asking him to "color the net," or "can you color the nut?" He did great! These sheets have been so great in having my girl practice coloring in the lines. She has improved so much!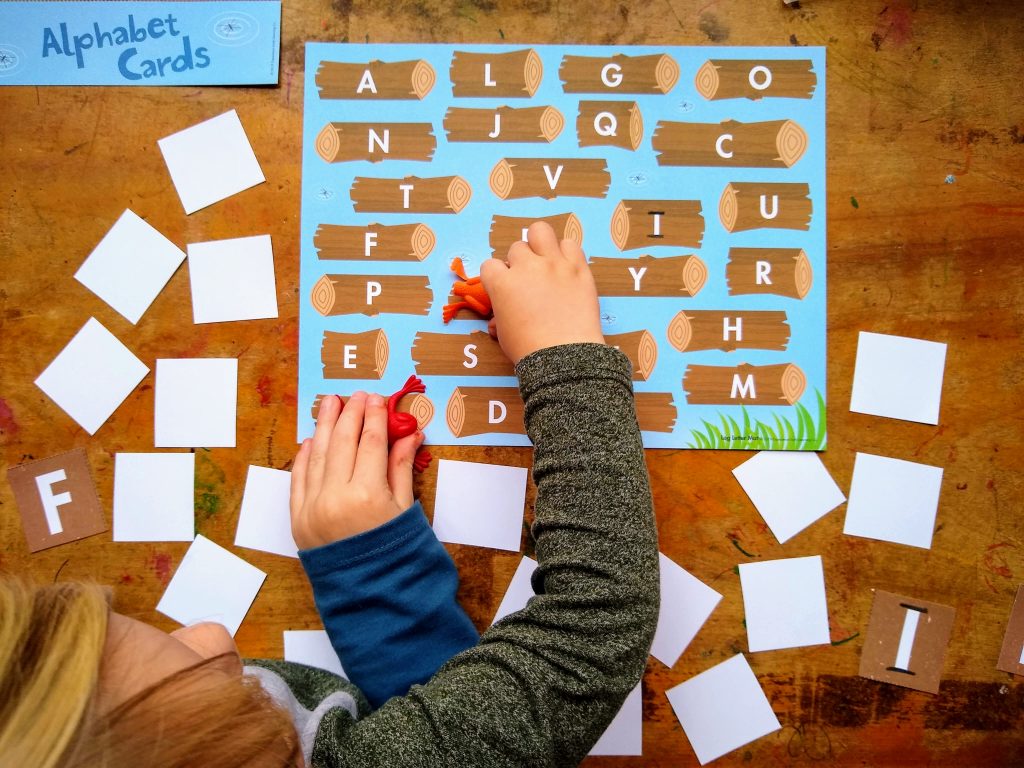 Time for a game! We played Hop the Alphabet, a game that was in our EEL Frog Discovery bag. It even came with plastic jumping frogs! My kids turned over letter cards and made their frog hop to that particular letter. I think it could have been better if the cards were lowercase letters or if the logs were lowercase, that way kids could match the lower to the upper case letters. However I know that might be really challenging for the 2-3 year olds.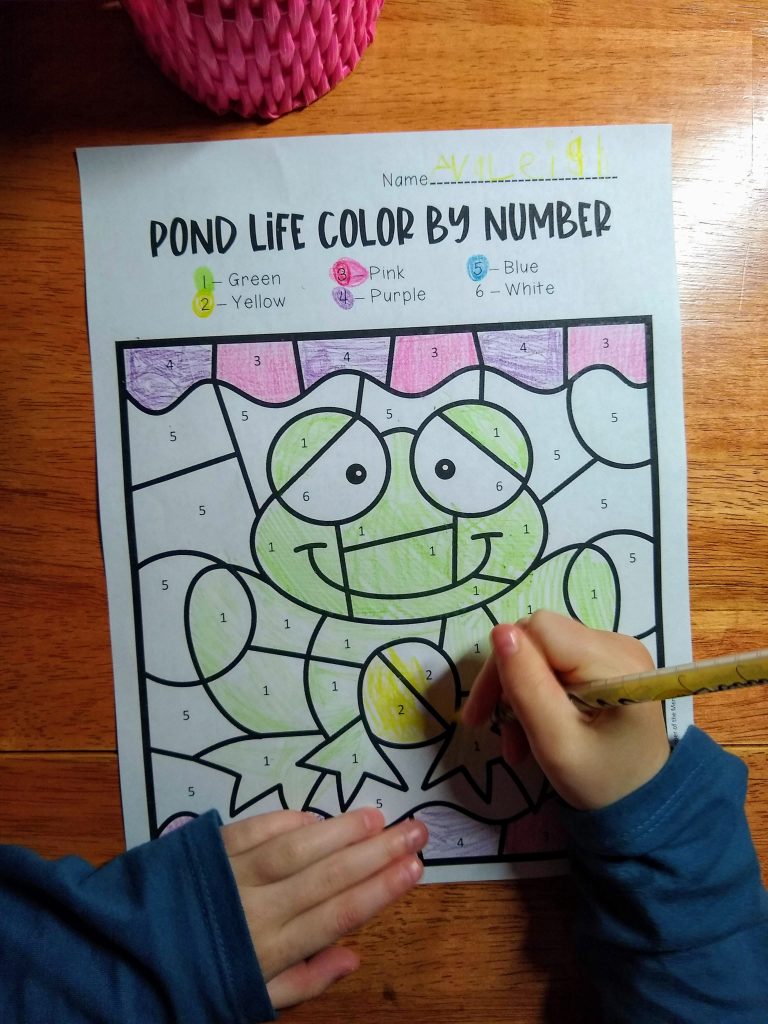 Nap time for my son means Quiet Time for my girl. During Quiet Time, she listens to audio books (podcasts and librivox), puts together puzzles (we did this one) and colors. My friend Cristi at Keeper of the Memories has these awesome pond coloring sheets that you see above! My girl is always so excited to get a new sheet.
While my daughter had quiet time, I set up a little Poetry Tea Party all about Frogs! I recently found Poetry Tea Time. Even if you don't homeschool, check it out! It is something you could easily do after school or on the weekends. Here's a whole site devoted to Poetry Tea Time.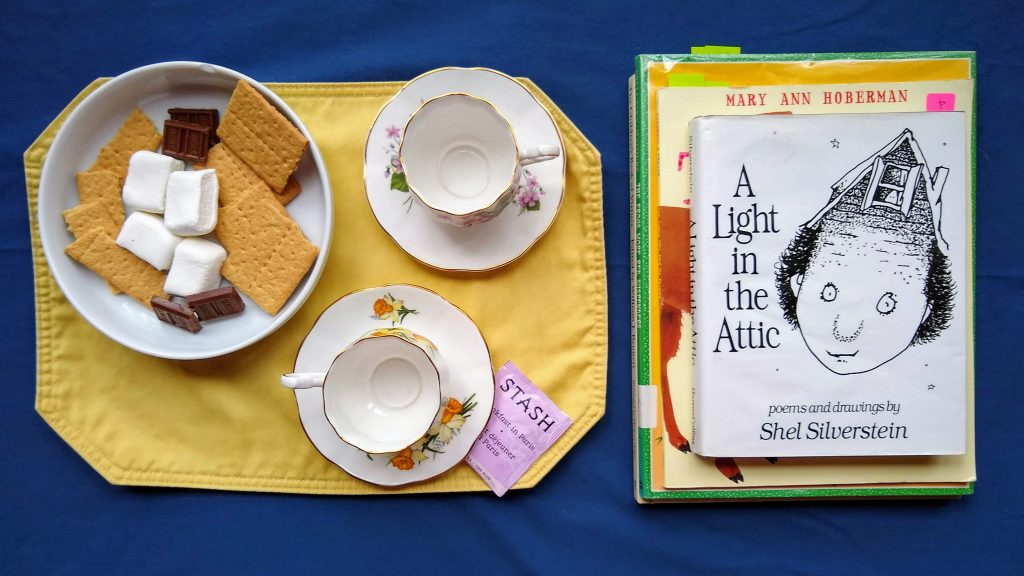 When we do poetry tea time, I try to make special snacks (most of the time it's just crackers and lemonade), so today I put out the items to make microwave smores. Have you microwaved a marshmello? It takes NO TIME yall. Quick and delicious snack. Although I had tea, my kids had lemonde, but my girl drank hers out of a tea cup. It really makes it special. My son drank out of his normal plastic cup. He's just learning how to use a plastic cup.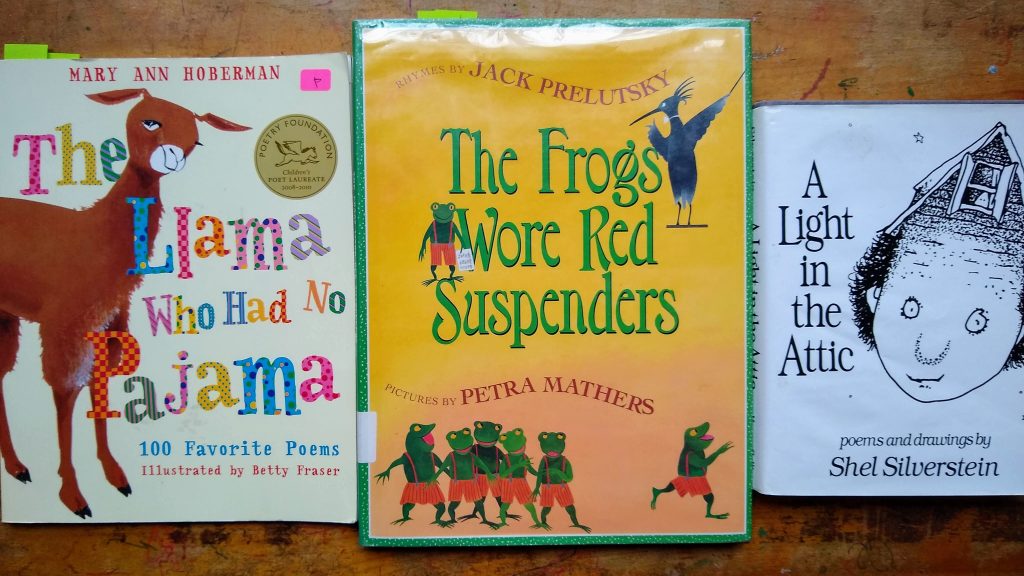 I grabbed some of the poetry books off my shelf, like The Llama Who Had No Pajama and A Light in the Attic and threw in a poetry book from the library perfectly titled, The Frogs Wore Red Suspenders. I also grabbed our Frog and Toad Treasury book because Frog and Toad are some of our most favorite stories, especially the one titled Cookies.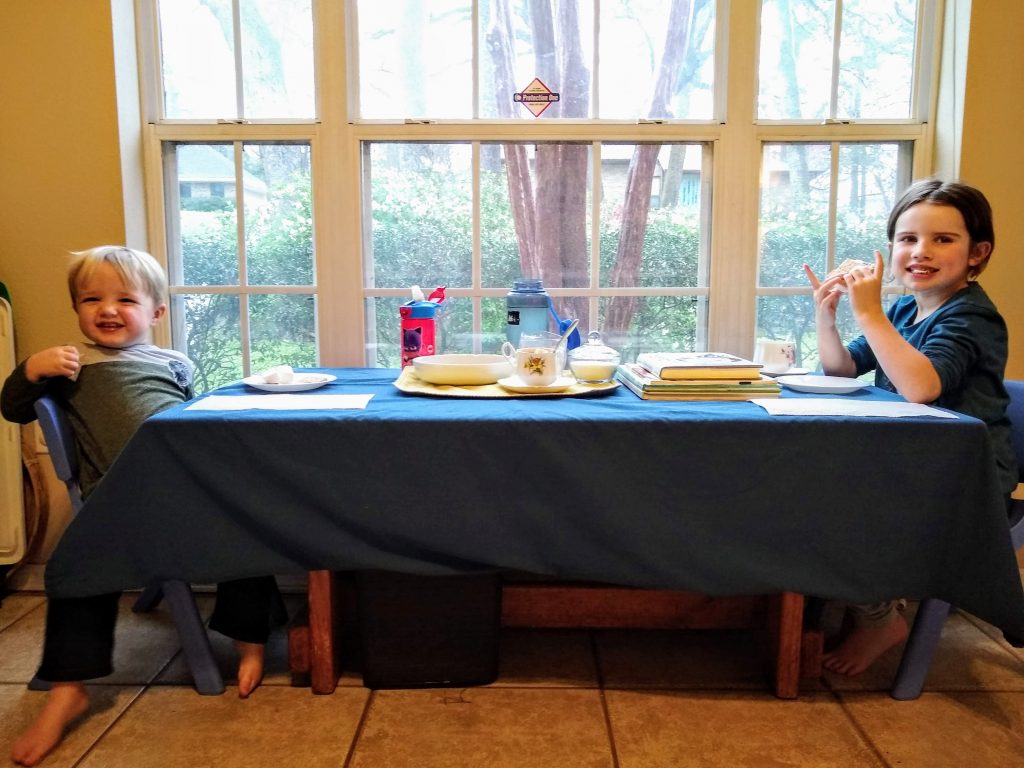 As you can see, I used our beloved blue sheet as a tablecloth. I've used this sheet for more caves, table cloths, water, and all things learning rather than an actual sheet on the bed, lol!
Memories have been made, family fun has taken place, good books have been shared, and learning has occurred. I love homeschooling.