As a Experience Early Learning (EEL) Blogger, I receive the EEL Preschool Curriculum in exchange for my honest opinions and authentic stories about our experiences using the curriculum. All opinions and thoughts are completely my own
This entire school year we have been using the Exploring Nature with Children curriculum and this month is coincides with our Experience Early Learning box on Ponds! It's been so much fun intertwining the two and as we have become more homebound homeschoolers due to the COVID virus, having these two curriculums have made our days interesting and filled with learning. Here's how our adventure with Snails went…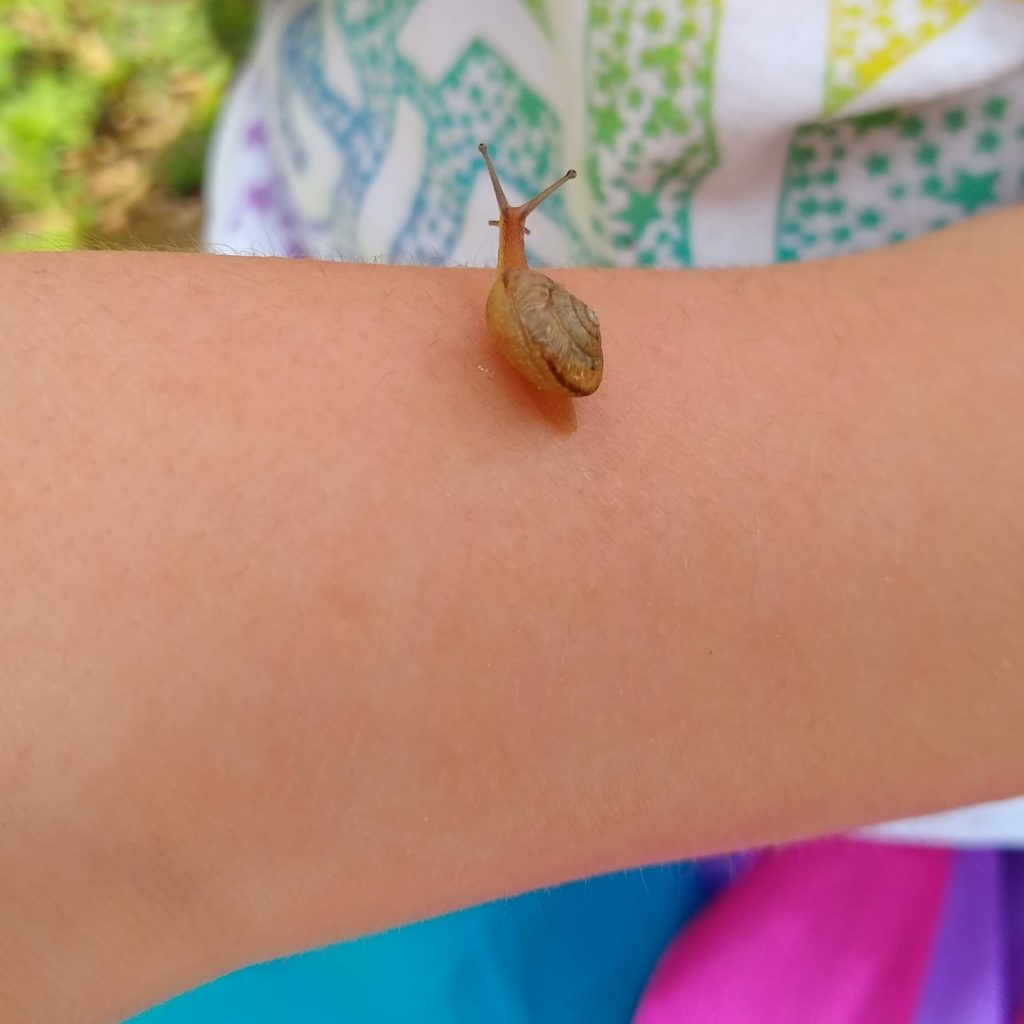 I always like to start our learning day with a good book, and I grabbed most of these at the library before they shut down due to the virus. Snail Trail is a quick easy book great for toddlers, while The Snail House is a beautiful book and adventure story perfect to read with a snack especially if you have toddlers. And you can NOT read Escargot without a French accent. You just have to commit. The What Lives in a Shell book was perfect for our nature study time.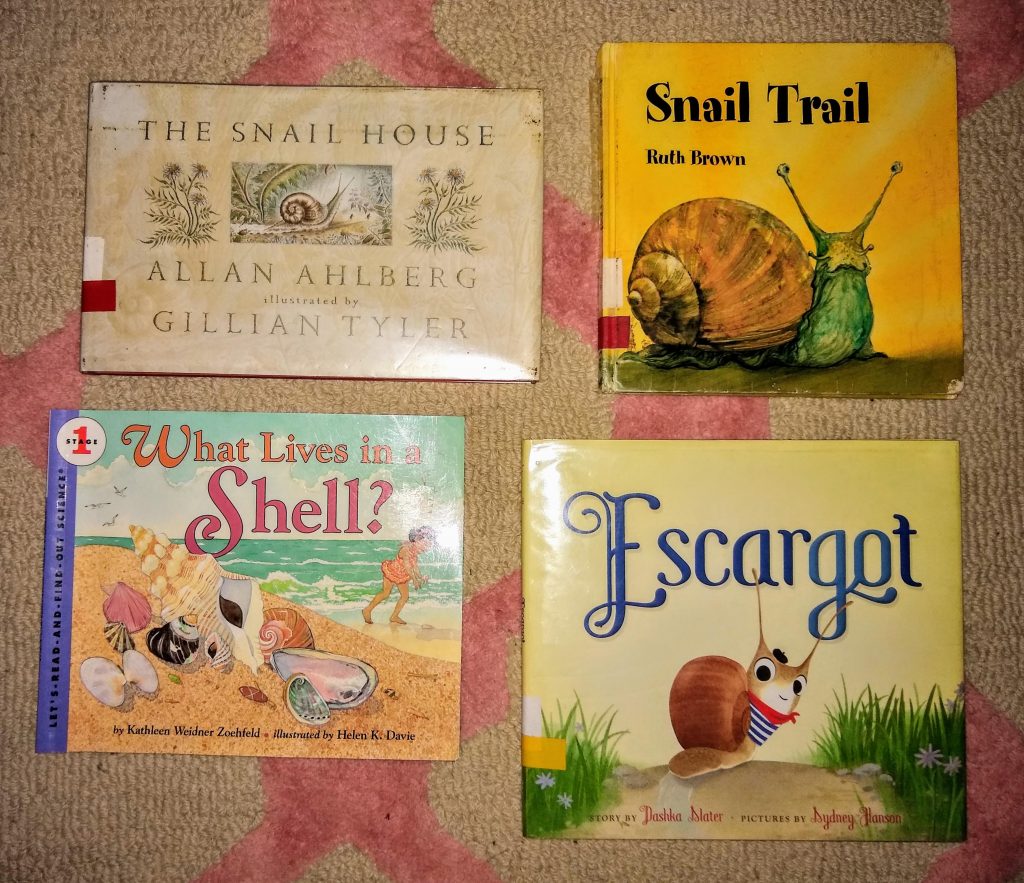 After reading Escargot (in a French accent of course), my kiddos did the math activity in our Daily Discovery Snail bag from Experience Early Learning. I showed them how to make a snail shape from playdough. While my kids worked on making snails and counting them, my girl had some great questions. "Momma, how are baby snails born?" I had to Google that. Did you know they are from eggs? I didn't. I love learning with my kids. We worked on a few addition problems using their playdough snails.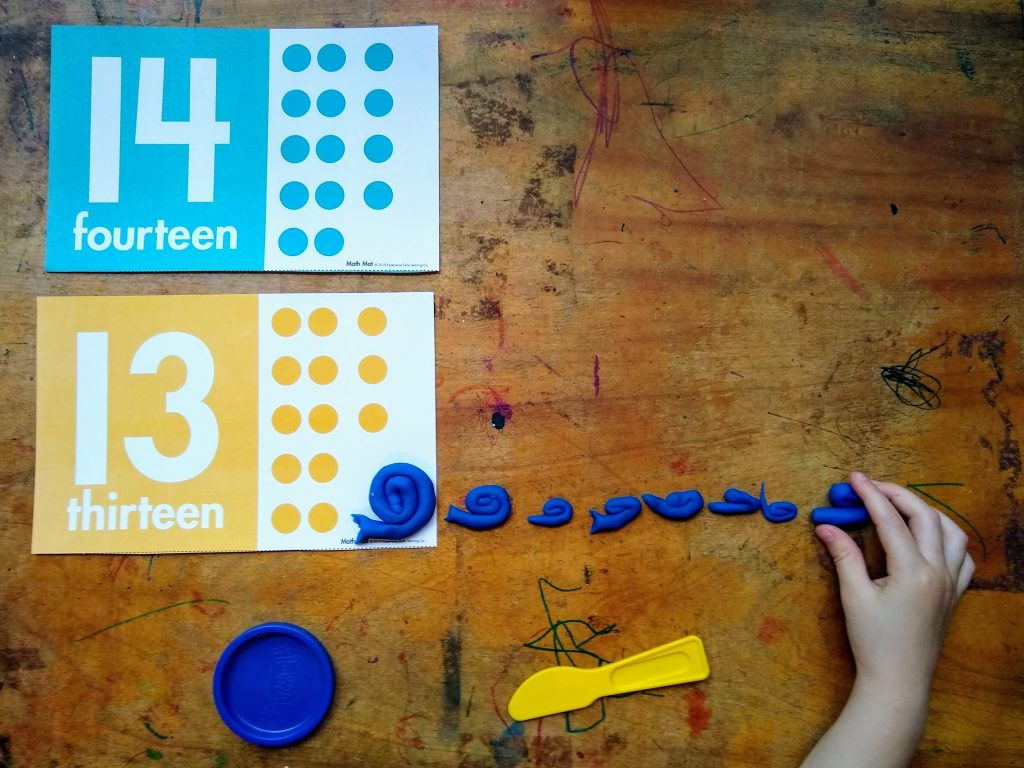 After math it was time to get our creative juices going.
Our Snail Trail book was the perfect read before creating our own Snail Trail during our Invitation to Create. EEL sent us qtips, paper, and glittery brown sand. Can I just say I LOVE how they send all these materials in each bag! It makes it so easy to prep a messy art activity. All I needed to add were the glue and paint. As soon as I put the paint on the table, my 2 year old had his hands in it…of course. Once I cleaned him up and told him to just use the qtips, he obeyed and did great.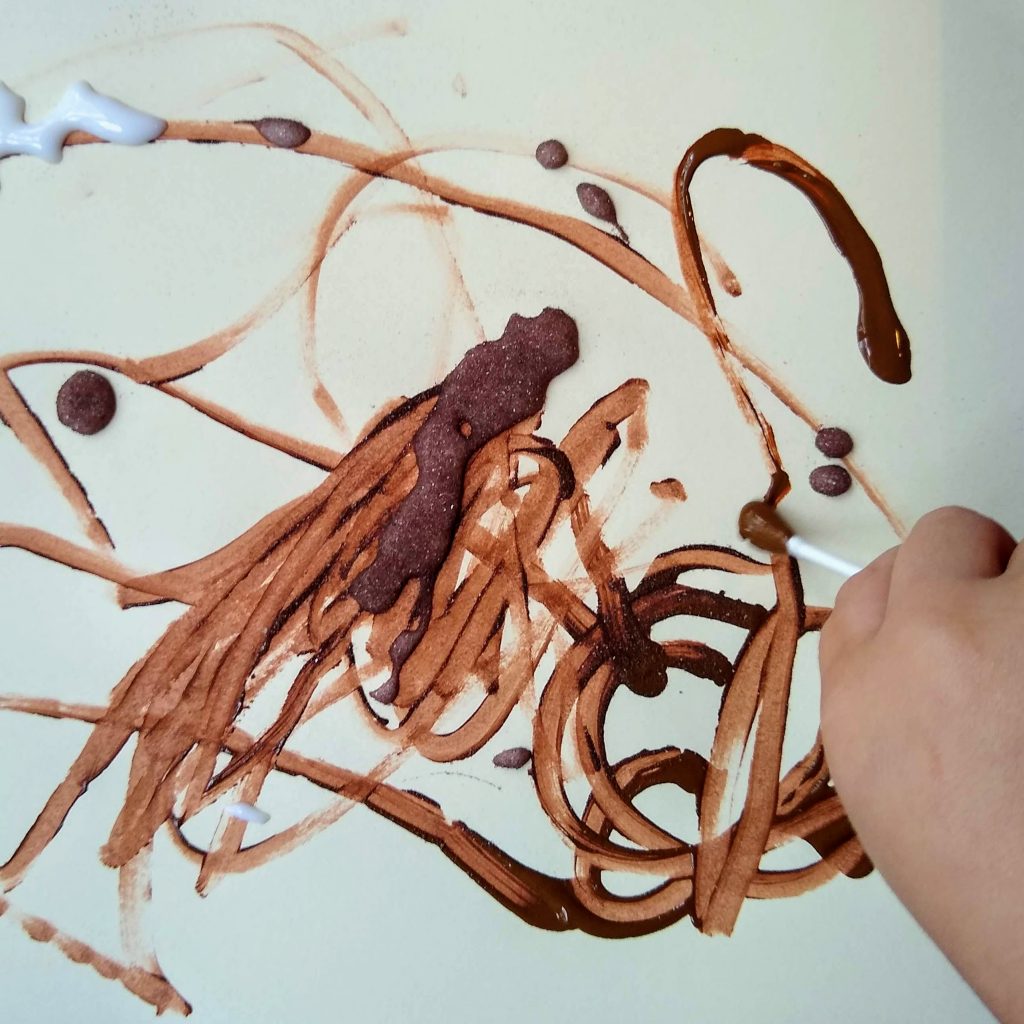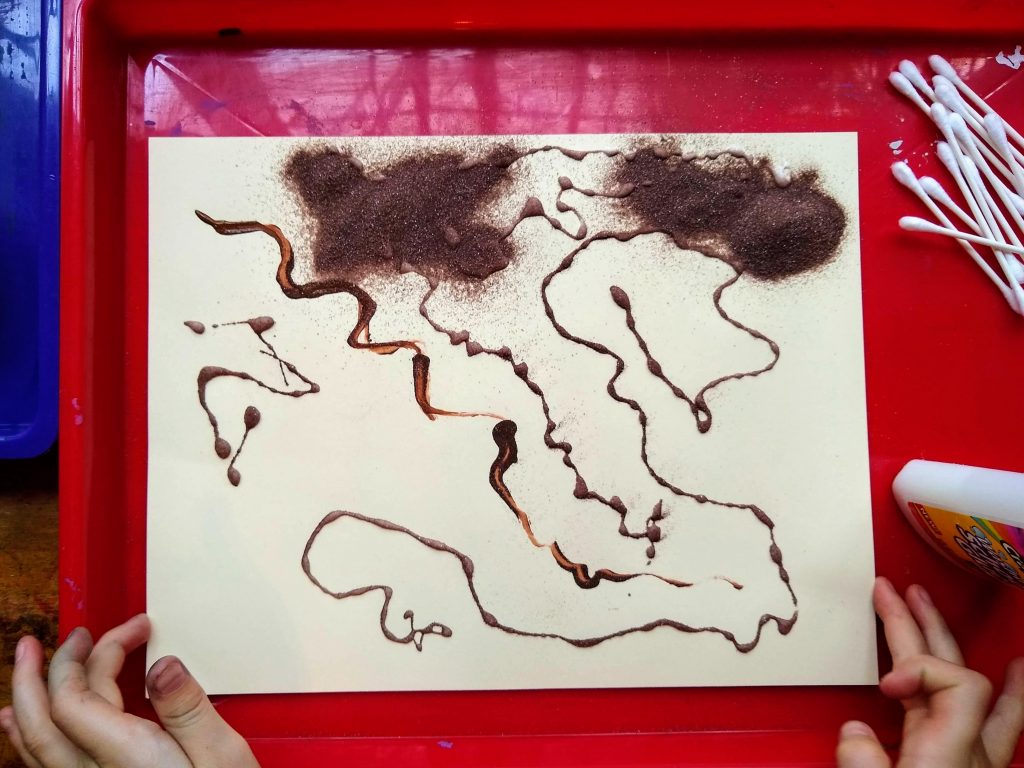 Their work is so different! My 5 year old had a clear idea and as she was creating a trail of glue all over her paper, she was recounting the story in Snail Trail. "This is where he is going through the forest…" My 2 year old was living his best life putting glue all over his paper. It's still trying to dry 12 hours later.
You can't talk about snails without going outside and searching for them! Snails are my girl's favorite outdoor creature. She loves having them mark their slimy trail all over her hands and arms. She decided to create a "Snail Playground" in an old terrarium container complete with rocks, leaves, and a slide (aka a stick). Ha! She found 2 snails that would come out of their shells and named them Snailey and Michael. I laughed so hard when she told me the snail's name was Michael.
After being outside and searching for snails, we went back in to read about them in our What Lives in a Shell book. I walked my 5 year old through how to draw the snail in the book and label her drawing.
What was my 2 year old doing you ask? He was peeing on the floor because when you are restricted to staying home, and there is a diaper wipe shortage, you just put your big girl panties on and your son's training pants on him and brace yourself for all the pee while you potty train.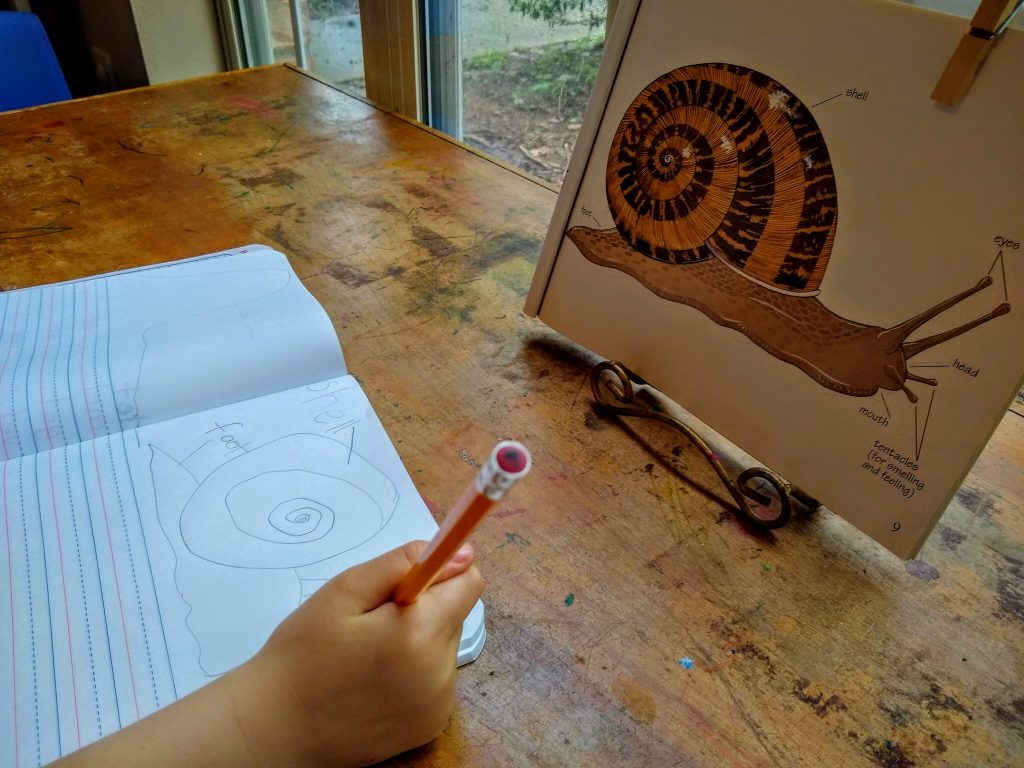 Snail day will turn into Snail week. We will have poetry tea time about snails, make some collage artwork based on Henri Matisse's work (idea from ENWC), The Snail, and we still have some literacy games to play from our EEL discovery bag. I am quite sure we will try to find some more snail treasures in our garden. Although I wish we could get out more, I am so thankful that we have these curriculums to inspire our learning at home.