June and July will be filled with learning adventures provided by our Experience Early Learning EcoVenture box. Want to know what's in the box? Read this post!
Our first week has been all about Trees and we have loved every minute! We have done activities about Climbing Tress, Building with Trees, Counting in Trees, Writing with Trees and today is all about Art Inspired by Trees!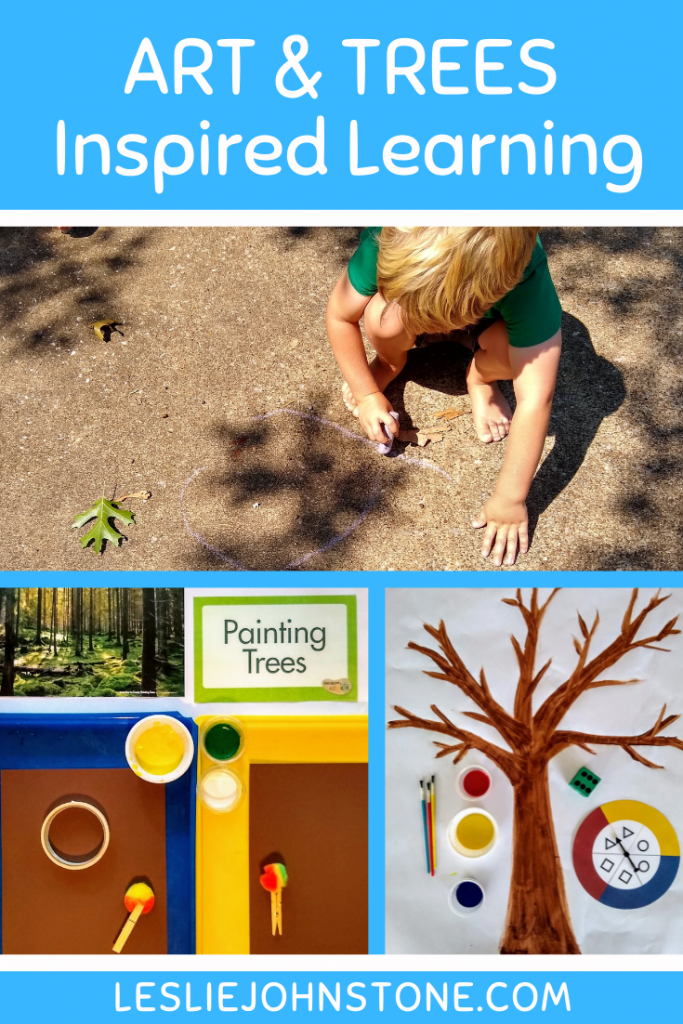 STEAM: Shadow Drawing and Time Elapse
Our day started with us venturing outside before the 95+ heat set in. June shouldn't be this hot. #texasheat We gathered our chalk and started tracing the shadows the trees cast on our driveway. My EEL guide suggested using paper, but we just used our driveway. However if you don't have shadows from trees in your drive or sidewalk, your kiddo could sit under a tree with a clipboard and paper and practice tracing the shadows.
The coolest part about doing this on our driveway though was seeing how much the shadows had moved and changed in just 15-20 minutes. It brought out a great conversation about how the earth rotates, and we don't even feel it! It just points back to our awesome Creator God and brought us full circle to our memory verse for Children's Church this summer:
For since the creation of the world God's invisible qualities—his eternal power and divine nature—have been clearly seen, being understood from what has been made, so that people are without excuse.

Romans 1:20
Math: Tree Colors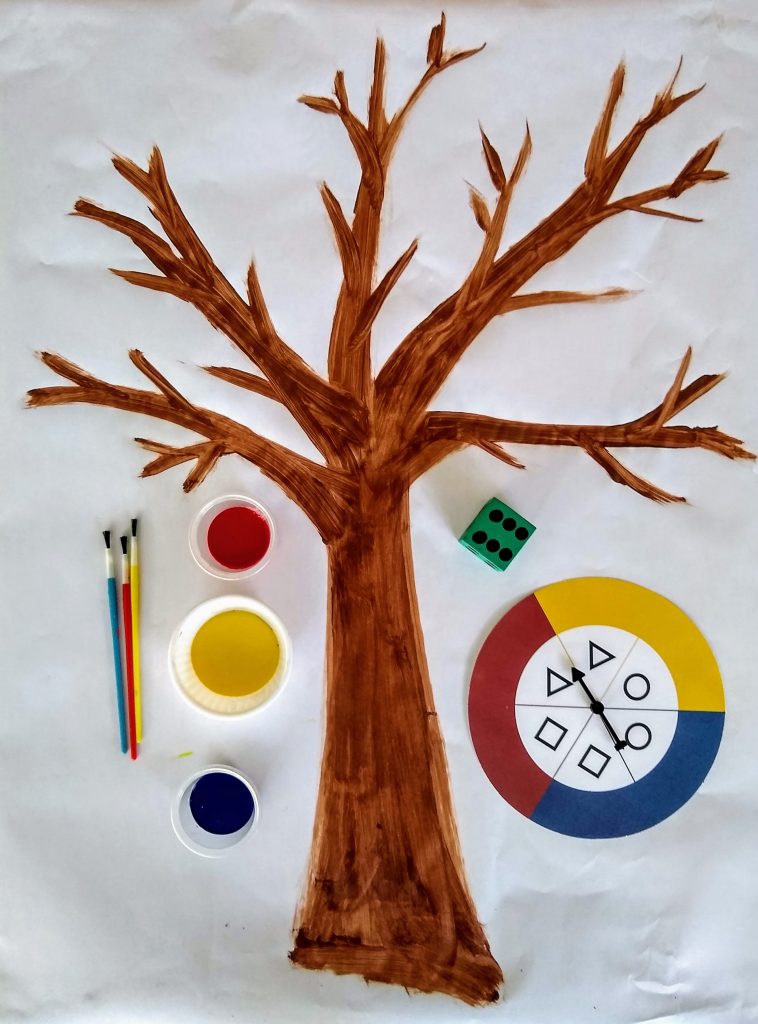 Our math lesson focused on colors, shapes, and counting. EEL sent us this spinner in our Daily Discovery bag and the Teacher guide suggestion under the "Challenge" section stated: "Encourage the child to spin for a color. Roll a die and paint that many leaves on the tree using the color spun."
I painted a large tree on white craft paper, grabbed some paint and paintbrushes that matched the spinner, and a foam die. However, instead of painting leaves my 6 year old painted the shape she spun on the spinner onto the tree, while my 3 year old painted circles only. It's not very easy painting shapes, but my 6 year old stuck with it and both of them really enjoyed the end result. It's still hanging in the hallway.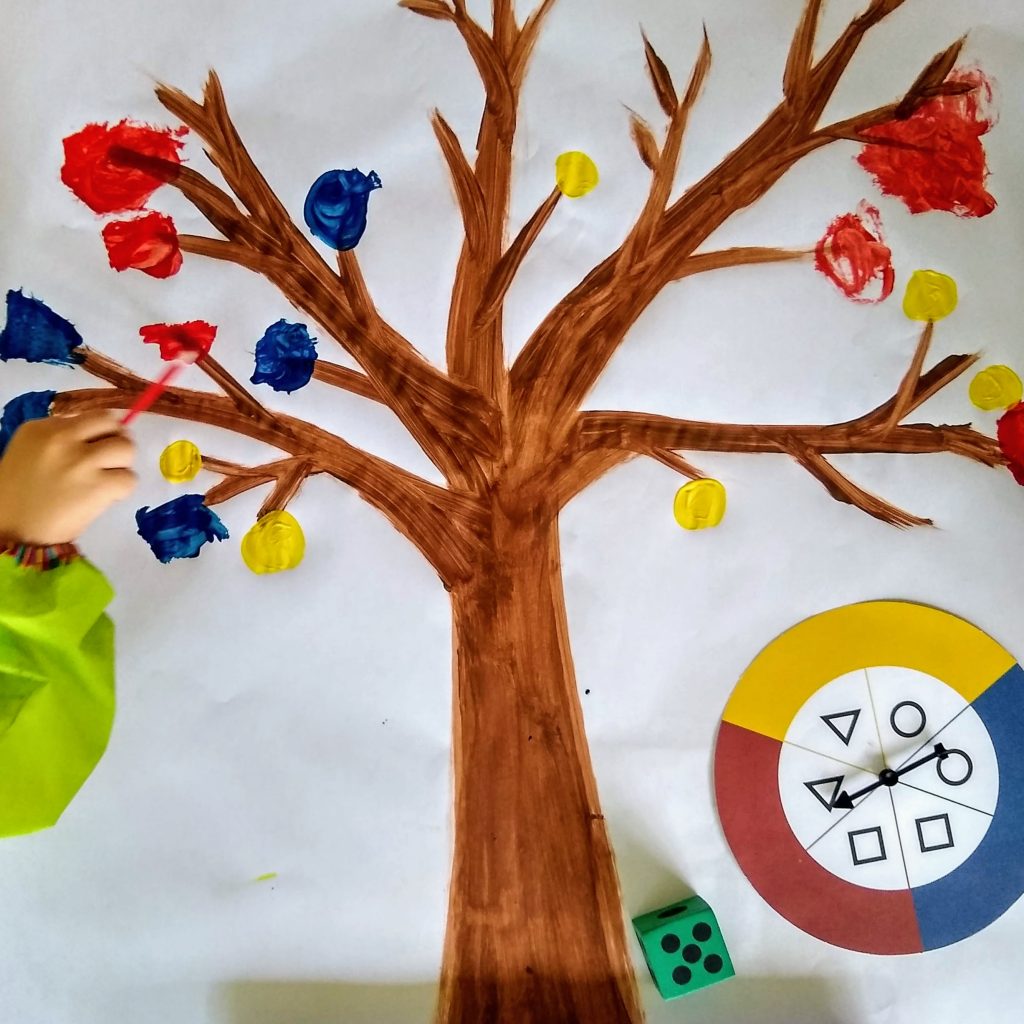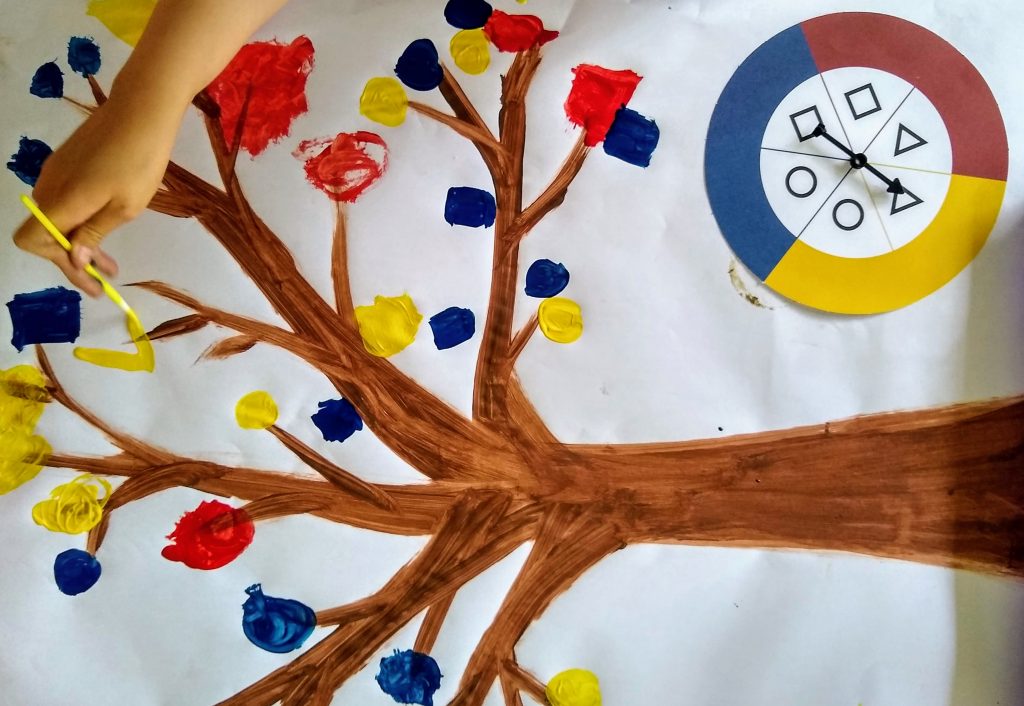 Art: Painting Trees
We love the Invitations to Create that Experience Early Learning sends us and today's was no exception. EEL sent us an inspiration photo, clothespin, large pom pom, and brown paper. All I had to supply was the paint and masking tape.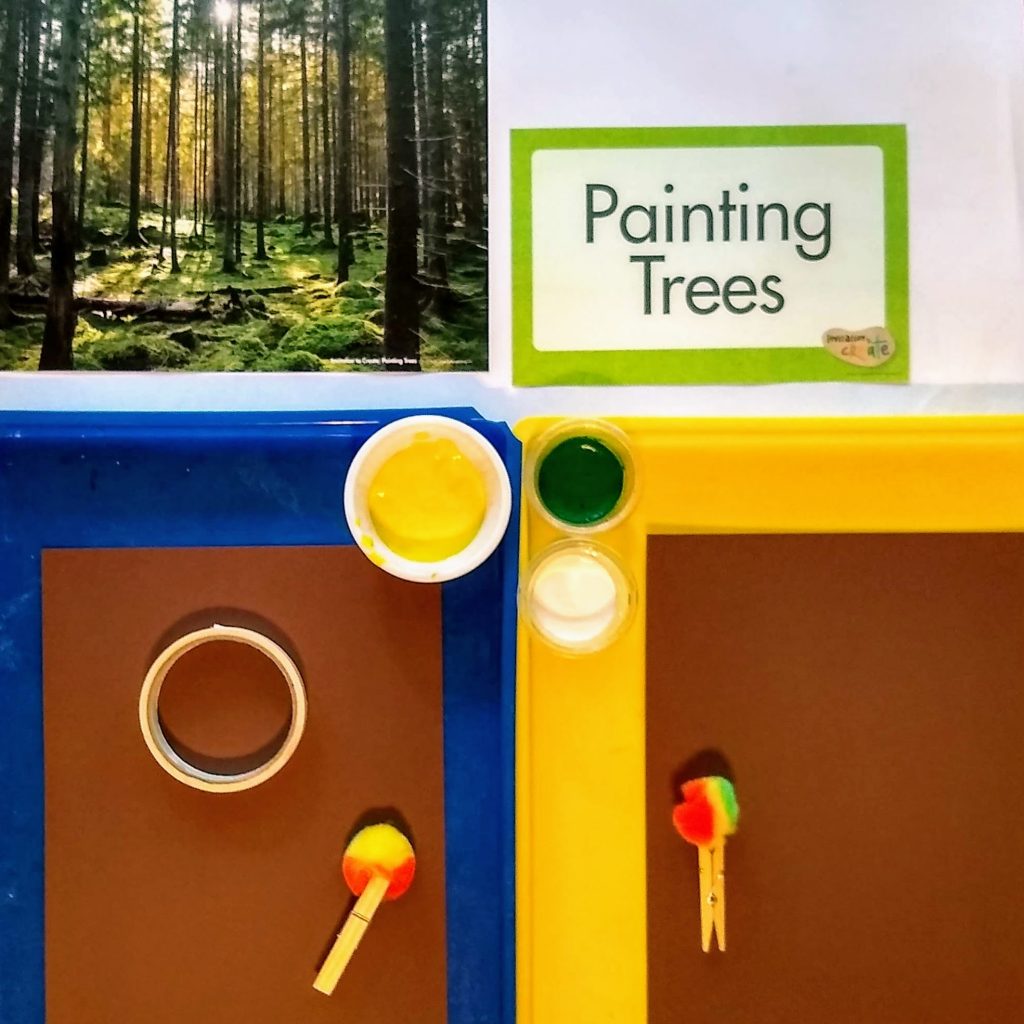 After talking about the inspiration photo (the colors we saw, the kinds of lines made by the trees, and what tape could do on paper), the kids started creating.
They first laid down their tape. My 3 year old just did tons of strips of tape from top to bottom, while my 6 year old decided to add branches by tearing small strips of tape.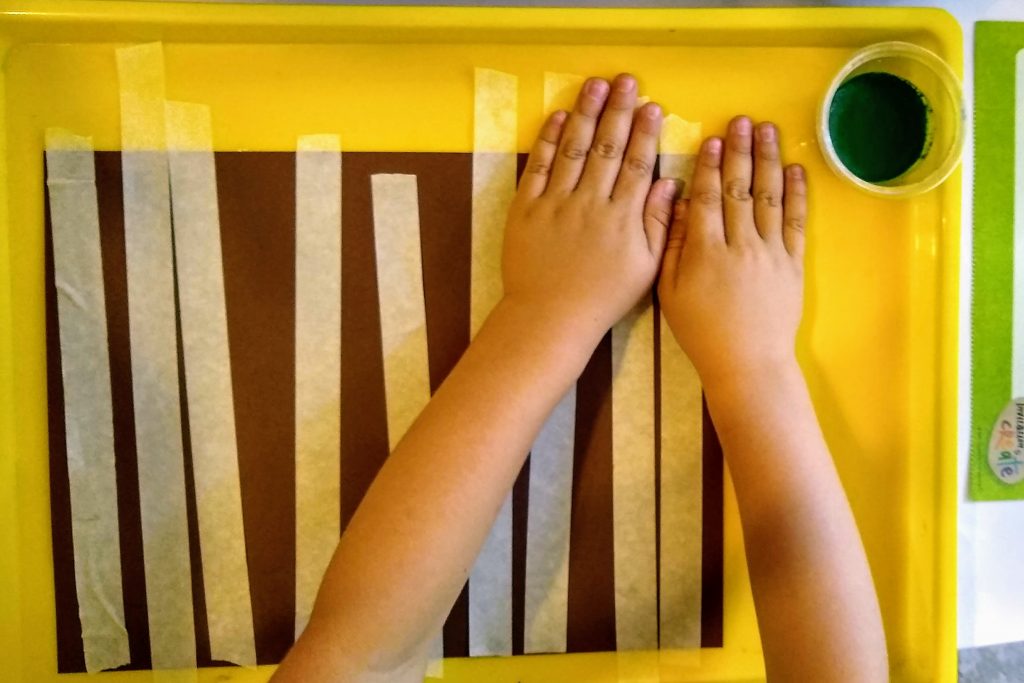 After they had their trees just right, they started to paint. Both of them used their pom pom clothespin paintbrush in different ways. My 3 year old used it more like a sponge while my 6 year old used it more like a regular paintbrush. After watching her brother for a little while, she too decided to add some sponge like areas in her background.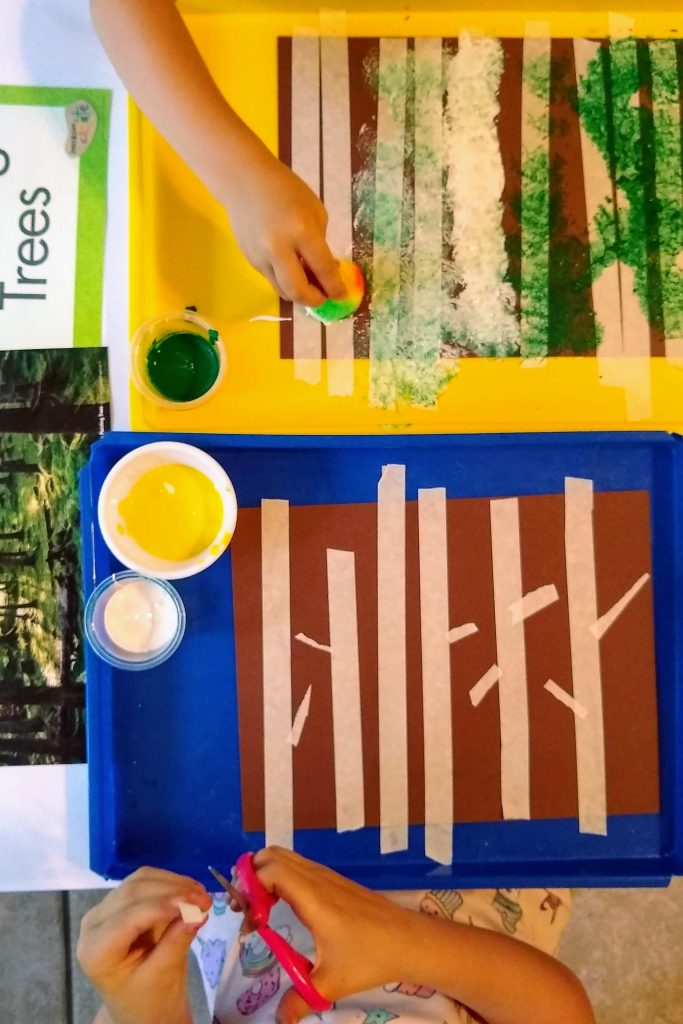 Then came the magical part: pulling off the tape. The paint was still wet but it wasn't so thick that it was drippy, so I let them start pulling the tape off. I wish I could have captured their "ooooohhhhs" and "ahhhhhhs" but seriously, let your littles do this, and you will smile hearing them as they see their trees emerge from the paint.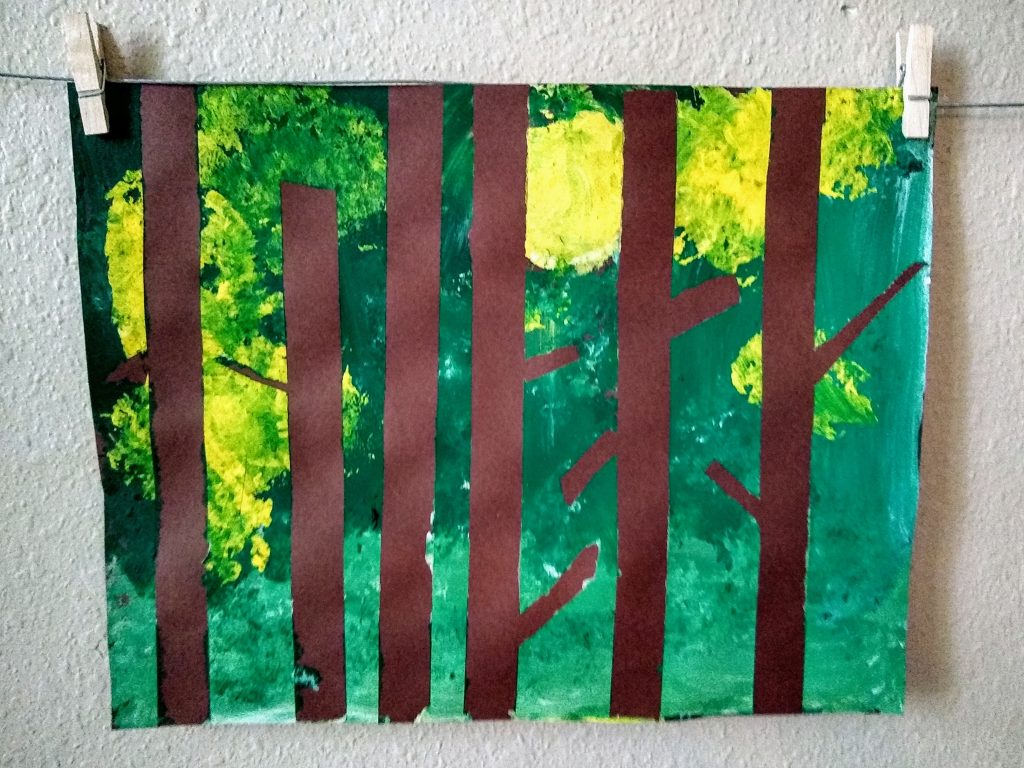 Each artwork is so different and I love how they were talking about what they liked in each others art work. Art critique happening right here in our home. There is so much learning that happens when we slow down to take nature in and let it inspire us. Charlotte Mason said it so beautifully:
"We were all meant to be naturalists, each in his degree, and it is inexcusable to live in a world so full of the marvels of plant and animal life and to care for none of these things."

Home Education

Vol 1. Ch2: Out-Of-Door Life For The Children p.61