We love our little monthly box from Experience Early Learning, and this month's Ocean Dive box has been such fun especially for my 3 year old son. Our week of wondering and learning was all about Large Sea Creatures and at the top of the list for my little boy was…. Sharks!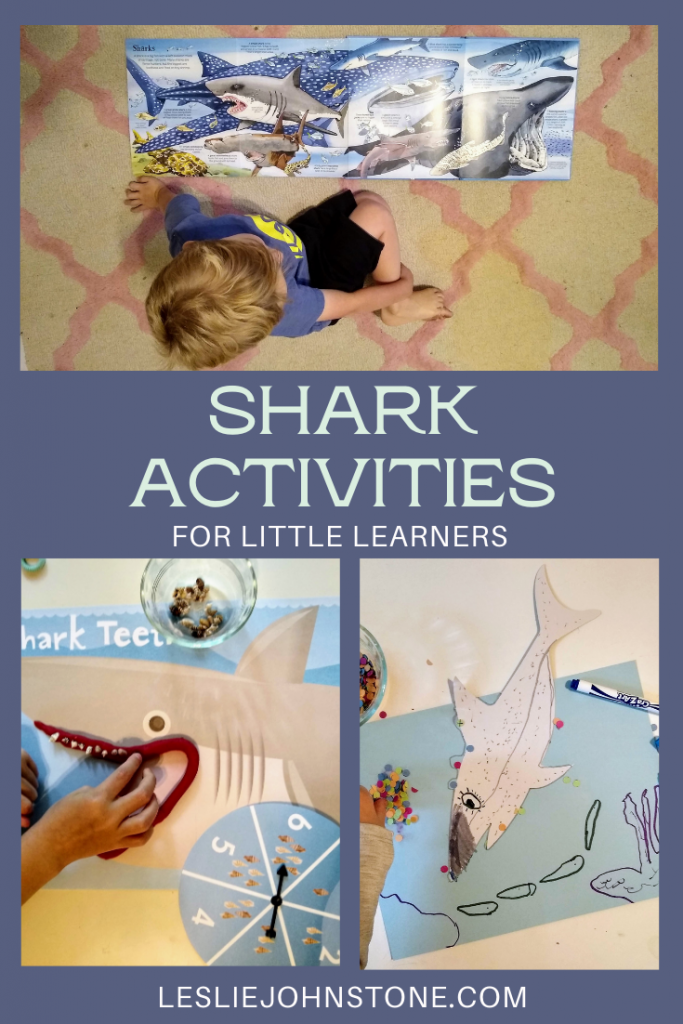 Reading
We read about sharks from several different books, but his favorite was our Usborne Big book of Sea Creatures where he could fold out the pages and bask in the illustrations.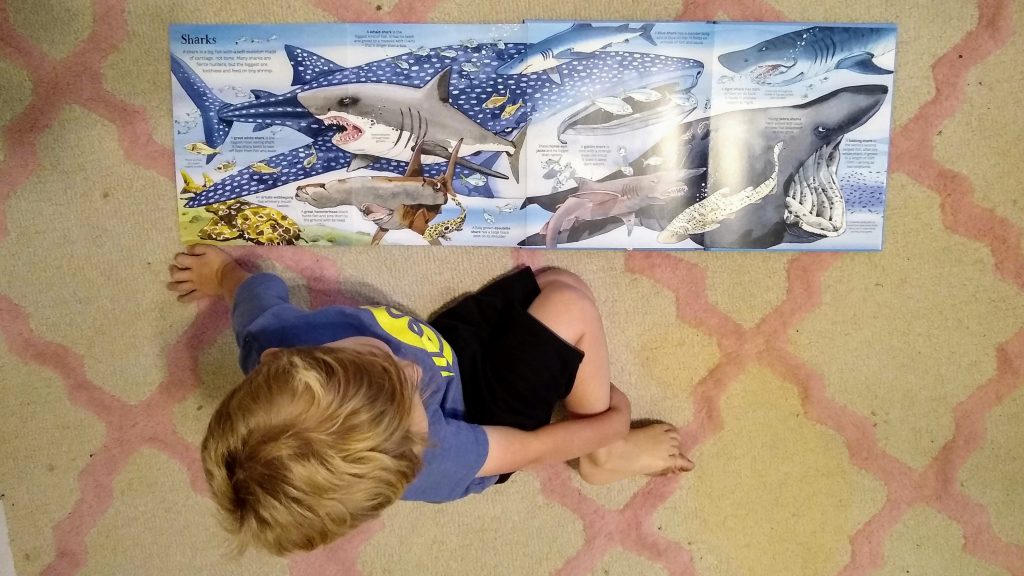 Math
After reading several books on sharks, my 3 year old and 6 year old worked together playing a math game called Shark Teeth. Experience Early Learning sent us the shells (perfect for shark teeth), the Shark gameboard, and the spinner! All I needed to add was playdough, so I used some Apple Cinnamon playdough I had made back in the fall. It looked like it belonged in the shark's mouth. The kids spun the spinner and then worked on their one-to-one correspondence by counting out that many shells and placing them in the playdough to create shark teeth.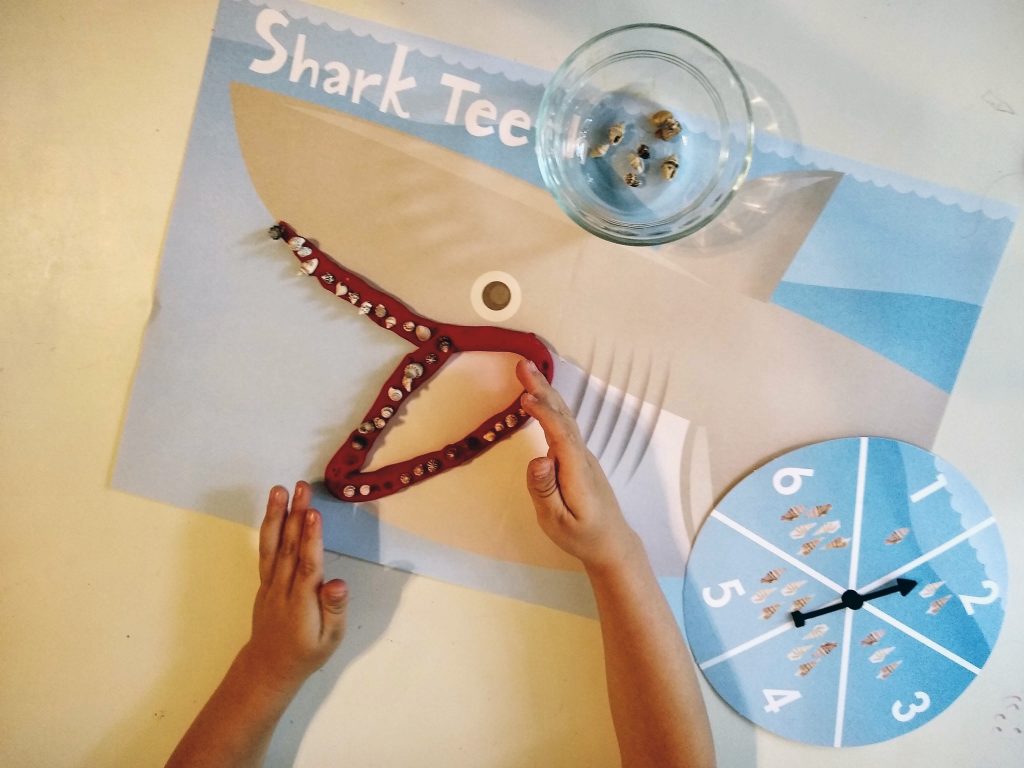 Art
Their favorite activity though was the School of Fish process art that they created.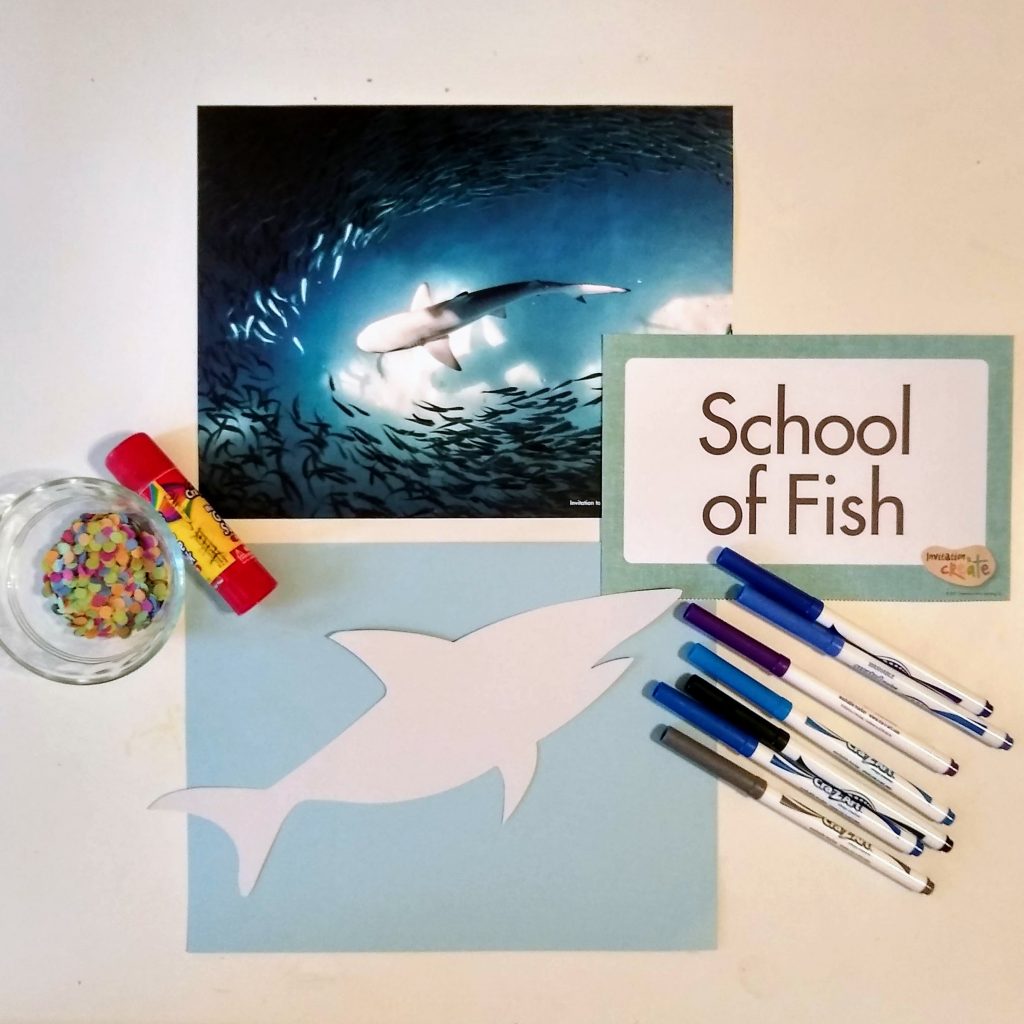 We started this activity with our Inspirational Photo study:
What do you see in the picture?
What do you think the shark is doing?
How do you think the fish feel?
Where will you place your shark?
How can you make a school of fish?
How could you use the confetti?
What else can you add to your picture?
After our discussion, the kids were eager to start creating. I think it is so important to have those picture study questions. It really helps their minds be able to visualize what it is that they as an artist want to create.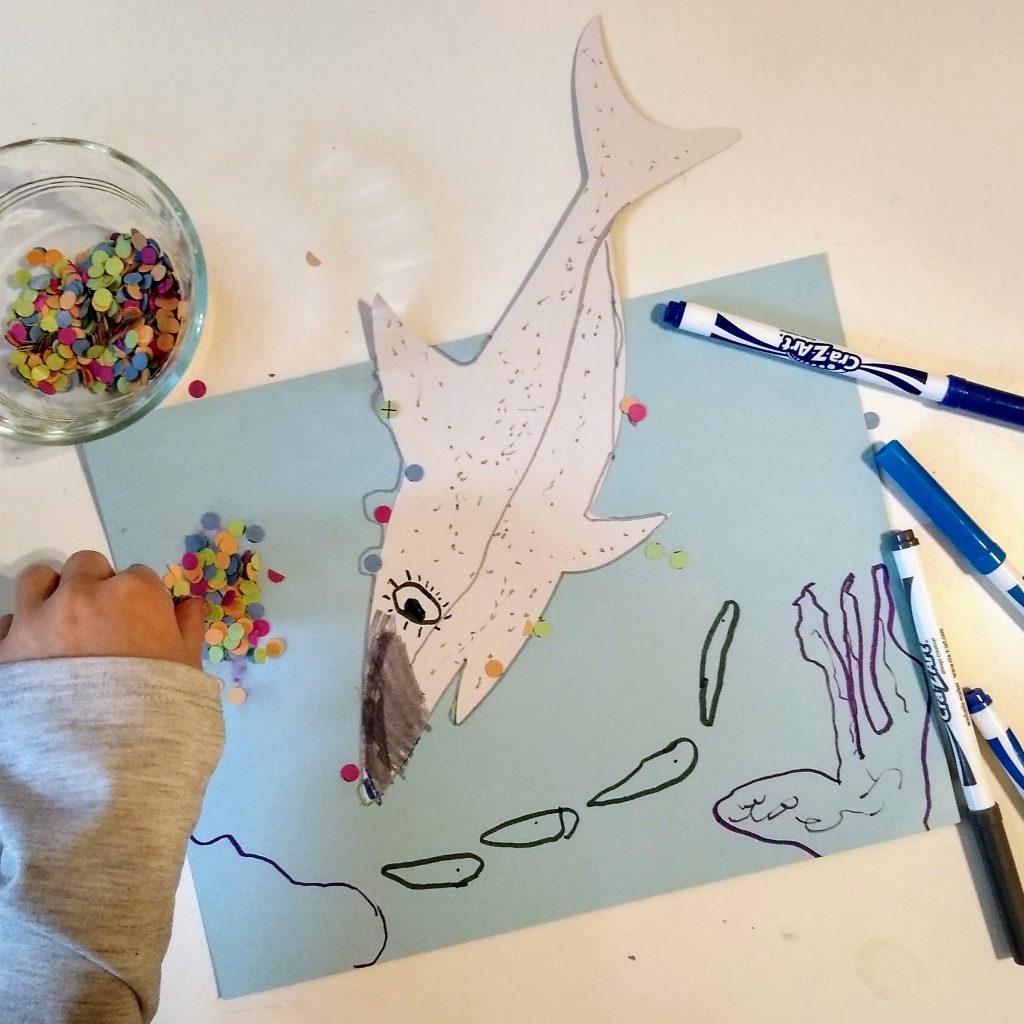 My 6 year old remembered back to our Coral Reef lesson and wanted to draw coral on her picture. She drew some fish, but also used the confetti to create a school of fish. I love how she added eyelashes to her shark so you can tell it is a "momma shark."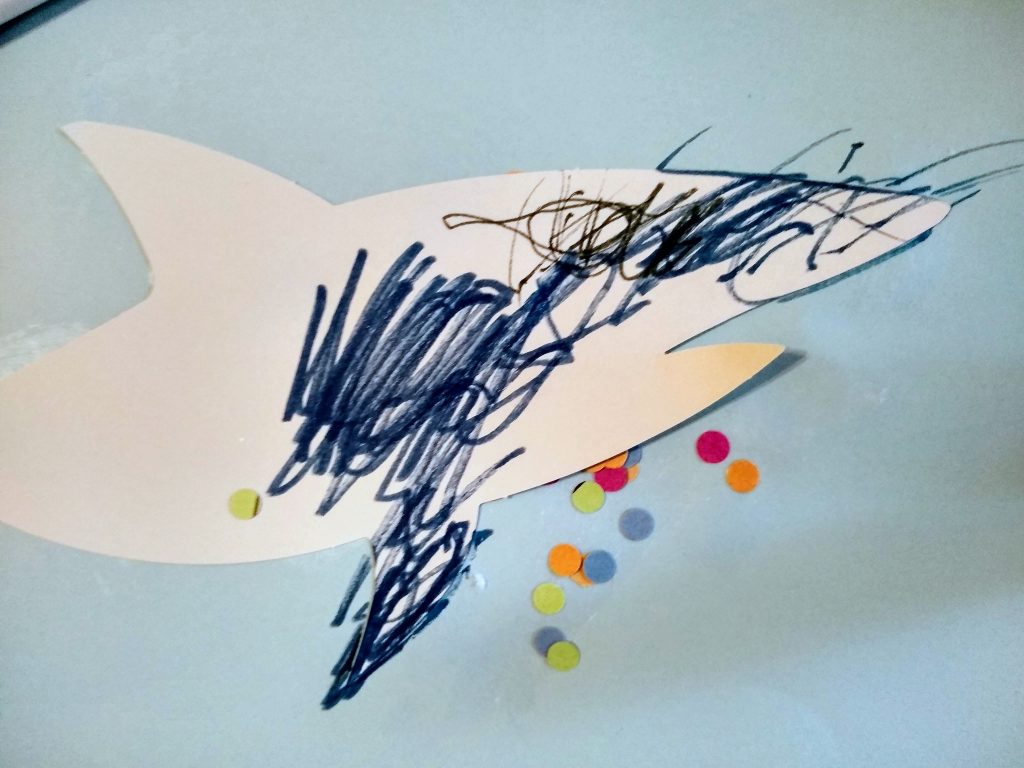 My son always has a great time creating; although I wish he would spend a little more time on it, but even so, he has a blast. Here he drew the shark's eye in black and then added blue marker to his shark. He smeared glue stick all over his paper and then added the confetti fish.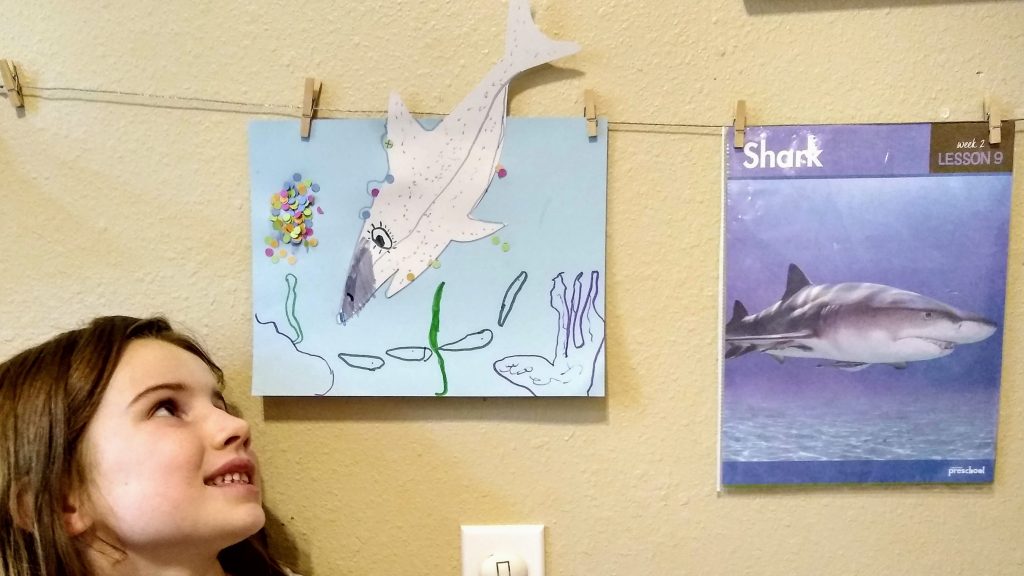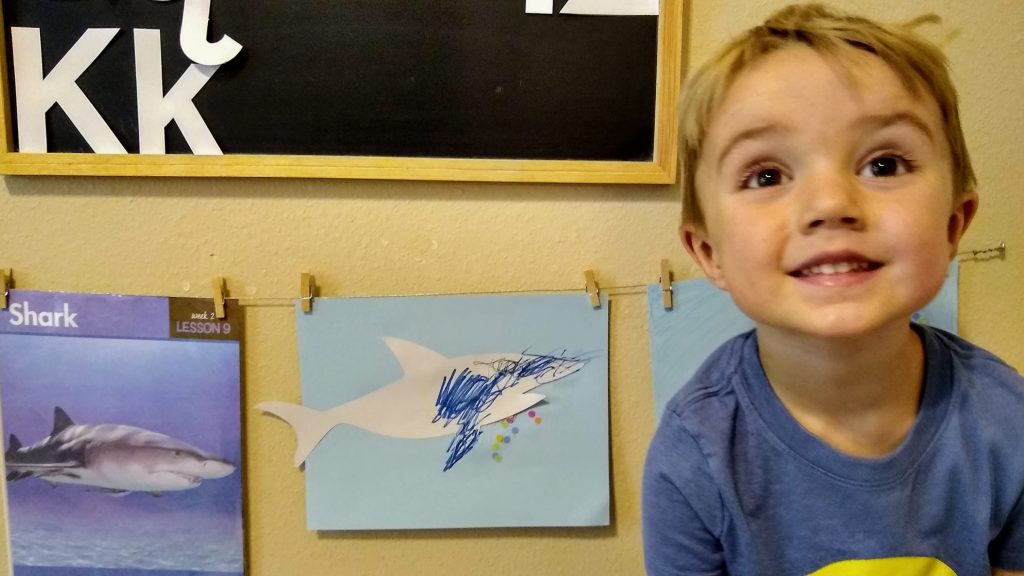 They were both so proud of their work and anxiously awaited Daddy's return from work to narrate all they knew about sharks and show him their latest creations.
Next on the list…. Small Sea Creatures!