"Momma, can we learn about galaxies?"
I pulled out our Galaxy bag from our Space & Sky Experience Preschool box, rummaged though my books from both the library and my own shelves, and we were ready to learn! I love how easy I can flow to their learning desires.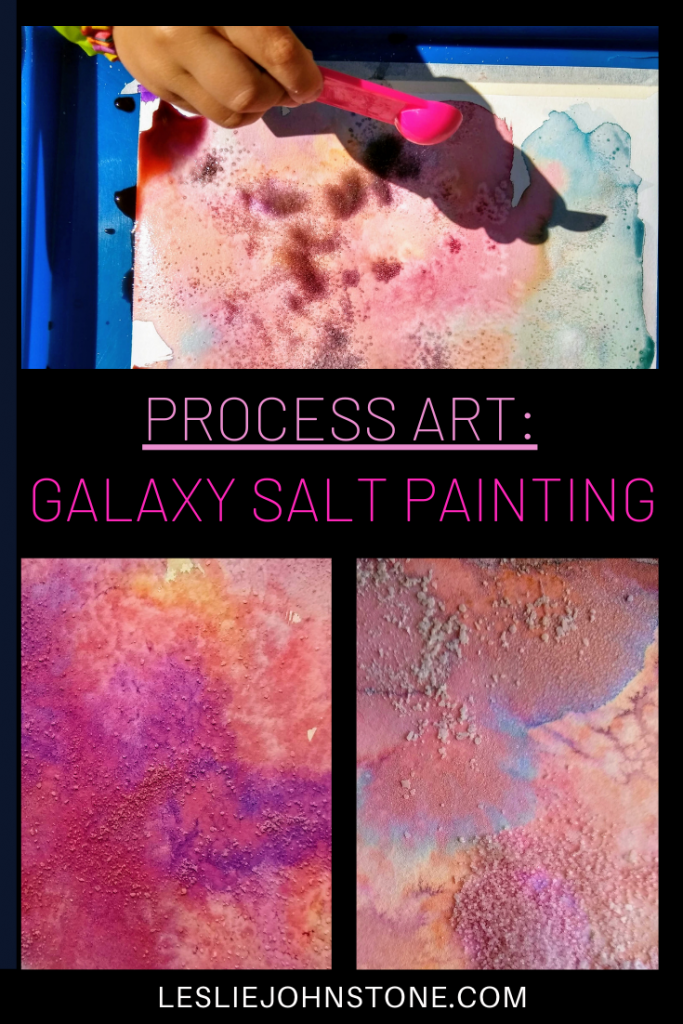 Inspiration through Books
Our learning almost always starts with a book. Experience Early Learning sent us the book Stargazing, a beautiful story about accidents, responsibility, and forgiveness. My kids loved this little story!
The Boy Whose Head Was Filled with Stars is a biography about Edwin Hubble and it is beautifully written and the pictures are fantastic. I loved how there was repetition in his wondering about the stars. Our library had this one on display near the children's biographies and I grabbed it when I knew we would be studying space. Definitely worth reading!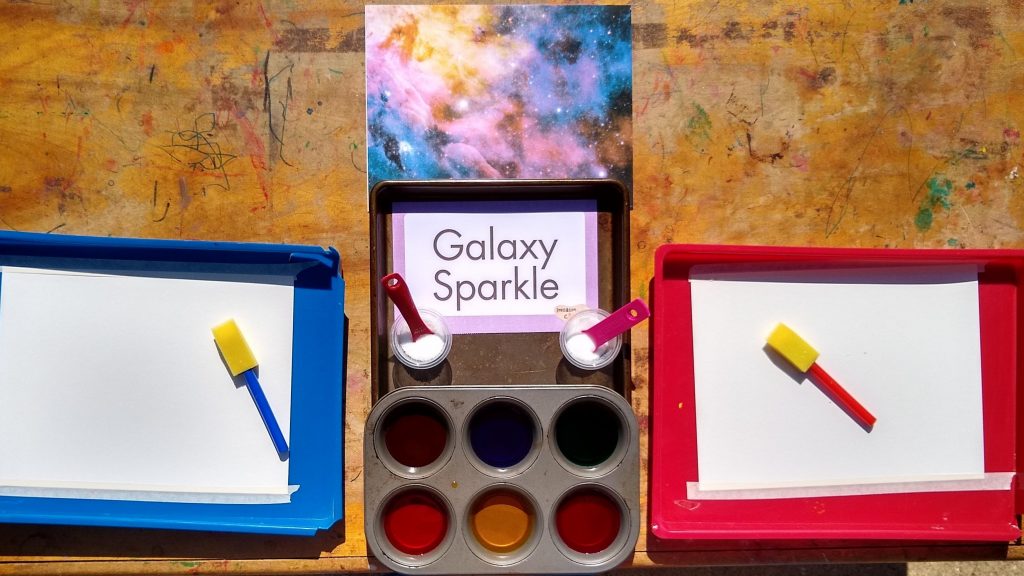 After reading about galaxies it was time to create our own galaxy paintings. The weather here has been absolutely beautiful, so we took out painting outside.
Materials
Watercolors (we use these)
Salt (we used both table and kosher)
Paintbrushes (foam worked great here)
Tray (love these… they have lasted over 4 years!)
Cardstock or Watercolor paper
Inspiration Photo of a galaxy (provided by Experience Early Learning)
Masking tape to create a clean edge and hold the painting in place
Painting- Process Art
After setting up their painting area, we talked briefly about the galaxy picture Experience Early Learning sent us, the colors they saw, and what the white dots in the inspiration photo were (stars). I showed them the salt and how one had smaller pieces than the other and then I let them start their paintings and stepped out of the way.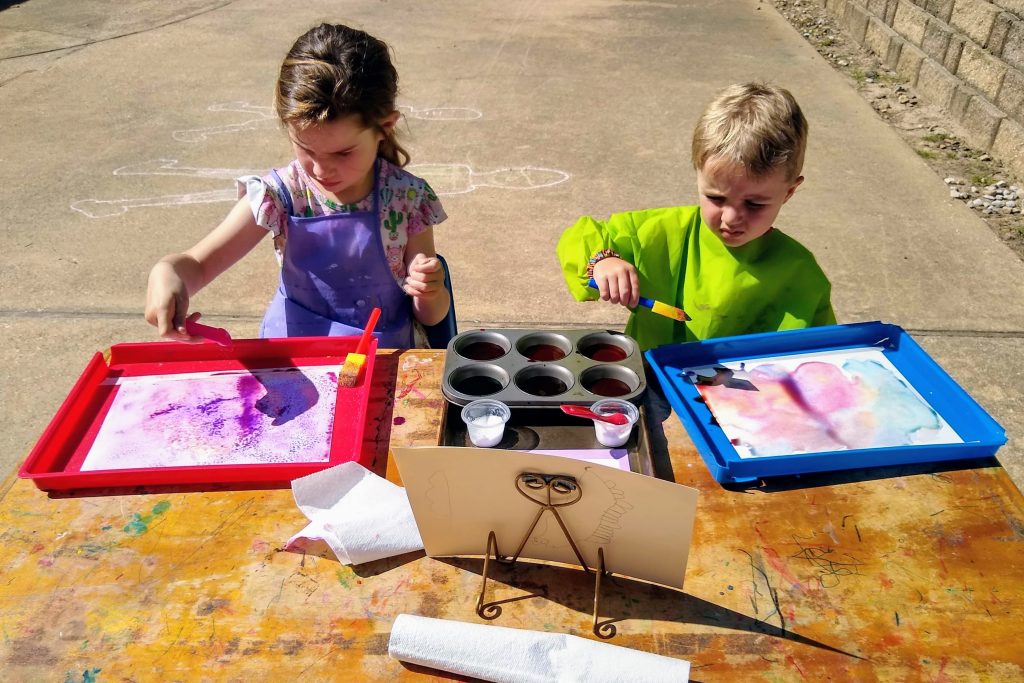 I think that is one of the most important parts of creating art: me getting out of the way and letting my children experience the art of creating something just how they want to. Of course if they ask me how to use something, I show them, but they get to make it all on their own without input from me. The kids giggled with excitement as they watched the salt soak up the puddles of watercolor. Then they oohed and aahed as their art sparkled in the light.
It hardly took any time for the paintings to dry outside. The kids dusted the excess salt from their work, while some stayed stuck to the painting and sparkled, creating a Galaxy Sparkle! I have always loved how their salt paintings have turned out (you can read more about salt painting here and here) and these were no exception. They are now framed and mounted on our living room wall.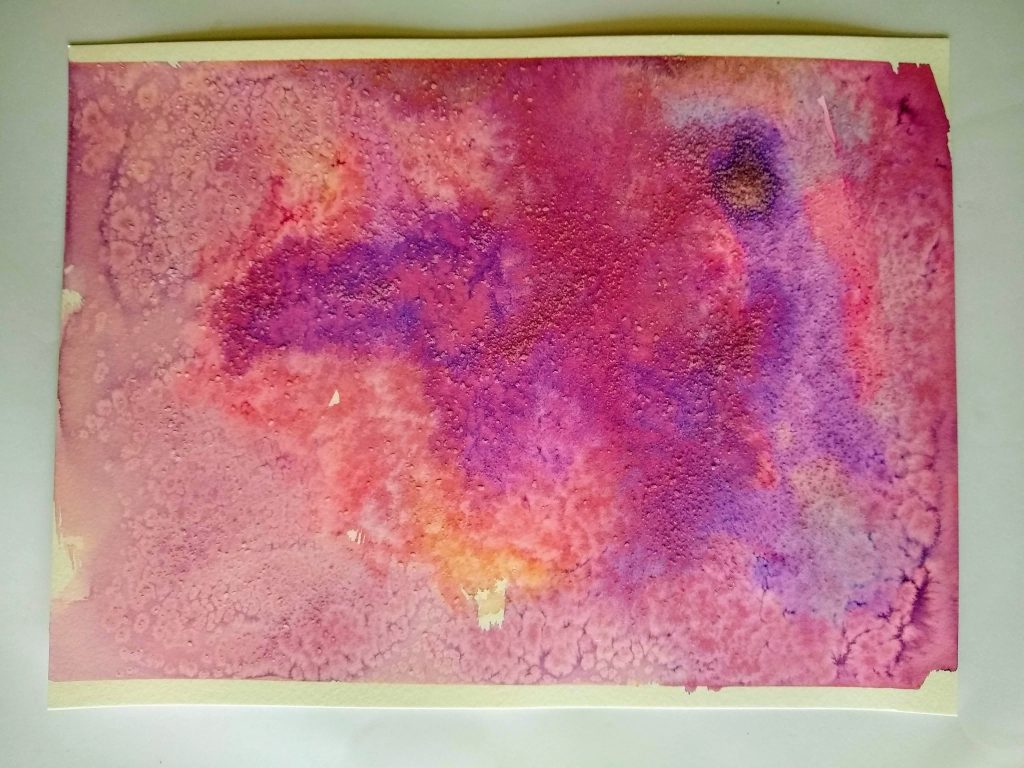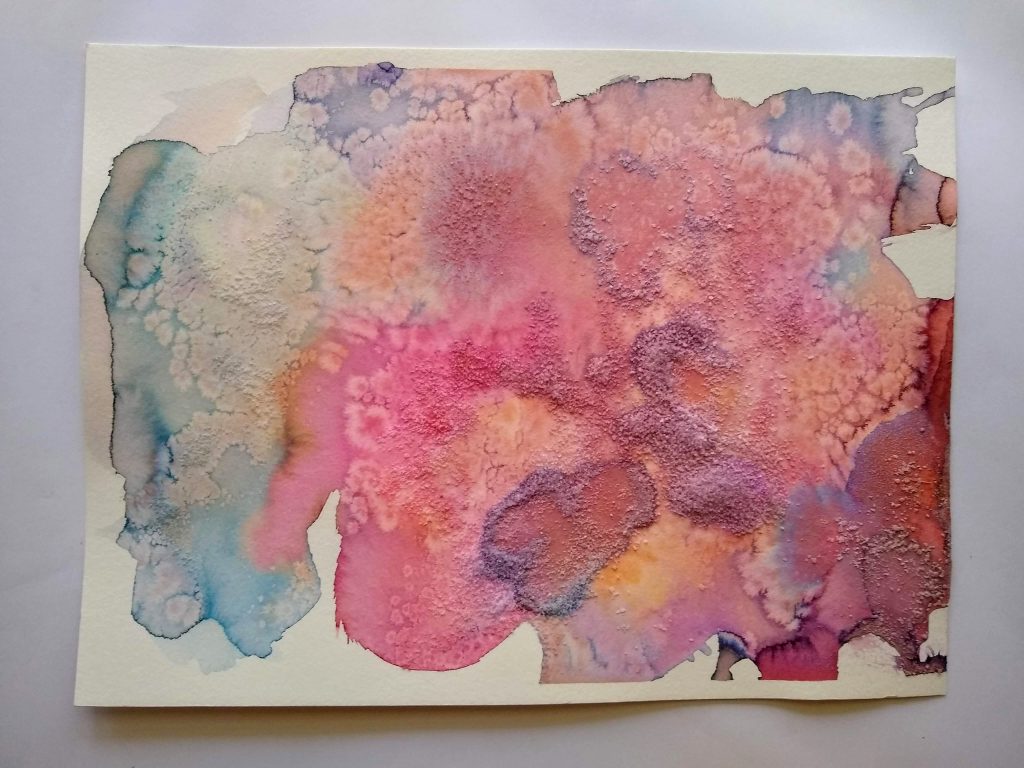 More Space Exploration Ideas
Be sure to check out these posts to inspire you while you teach all about space with your littles!
Saturn Painting for Little Kids
Mars: Learning all about the Rocky Red Planet