Today's global learning adventure from Experience Early Learning took us to Moscow, Russia home of St. Basil's Cathedral.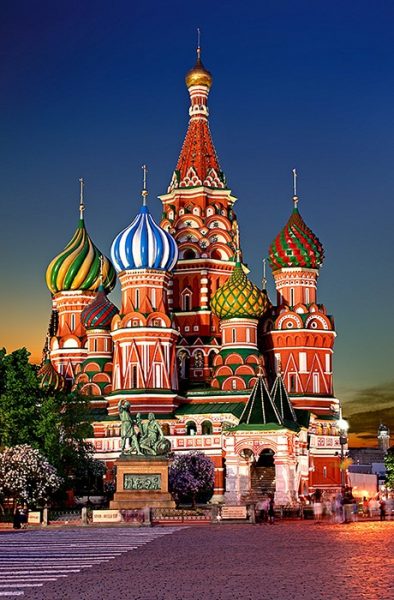 As an Experience Early Learning (EEL) Blogger, I receive the EEL Preschool Curriculum in exchange for my honest opinions and authentic stories about our experiences using the curriculum. All opinions and thoughts are completely my own.
Building Cathedrals took so much time! Saint Basil's Cathedral took 10 years to build, and that was relatively short compared to others. Thinking about cathedral building reminded me of one of my favorite quotes about homeschooling from Sarah Mackenzie:
Just as the artisans and carpenters of old built beautiful cathedrals for the glory of God, so do you. Yes, you- you who work tirelessly day after day over a geography lesson, a math test, a laundry pile, a kitchen sink. Those are the moments wherein you build cathedrals for God.

Teaching from Rest: A Homeschooler's Guide to Unshakeable Peace
Perspective is everything, right? This quote mulled through my head as I watched my kids build their cathedrals today.
Colorful Cathedral: Block Building
My kids have been into these blocks again lately. I rotate many of our toys, keeping them hidden in cabinets so they seem new again when I bring them out. We used them the other day with our Leaning Tower of Pisa Learning and they have been building machines lately. My 6 year old girl decided to build Saint Basil's Cathedral with her blocks. When she announced that she was done and I turned around, I saw this beauty:
Colorful Cathedral: Diorama
Experience Early Learning sent us these beautiful cardstock images of cathedral parts that the children were to cut out and use to build their own cathedrals. After cutting the pieces out, the idea was for the children to glue the pieces however they wanted onto the black cardstock also provided by Experience Early Learning.
However, my daughter immediately requested to have her cathedral pieces STAND UP. She wanted to make this a 3D work of art, so we started brainstorming how to make that happen. Time to find a shoe box…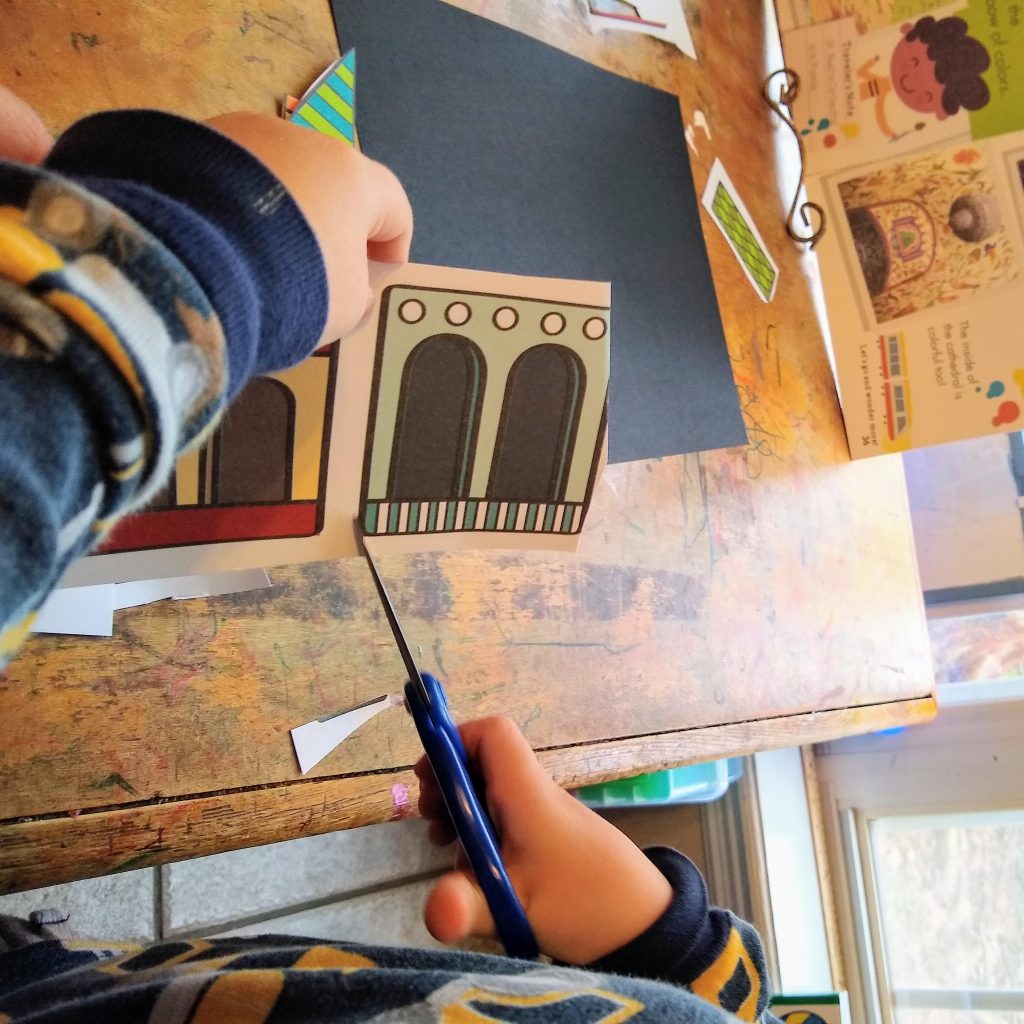 Directions:
Find a box and using black cardstock or construction paper, cover all the sides to create a nighttime scene for your cathedral.
Cut out all the cathedral pieces.
Place them in the order of which you want them to go.
Glue them down on a strip of black cardstock leaving about an inch or black cardstock at the top and bottom of the strip creating "tabs".
Fold back the "tabs" and put glue on them.
Glue them to your diorama base and back.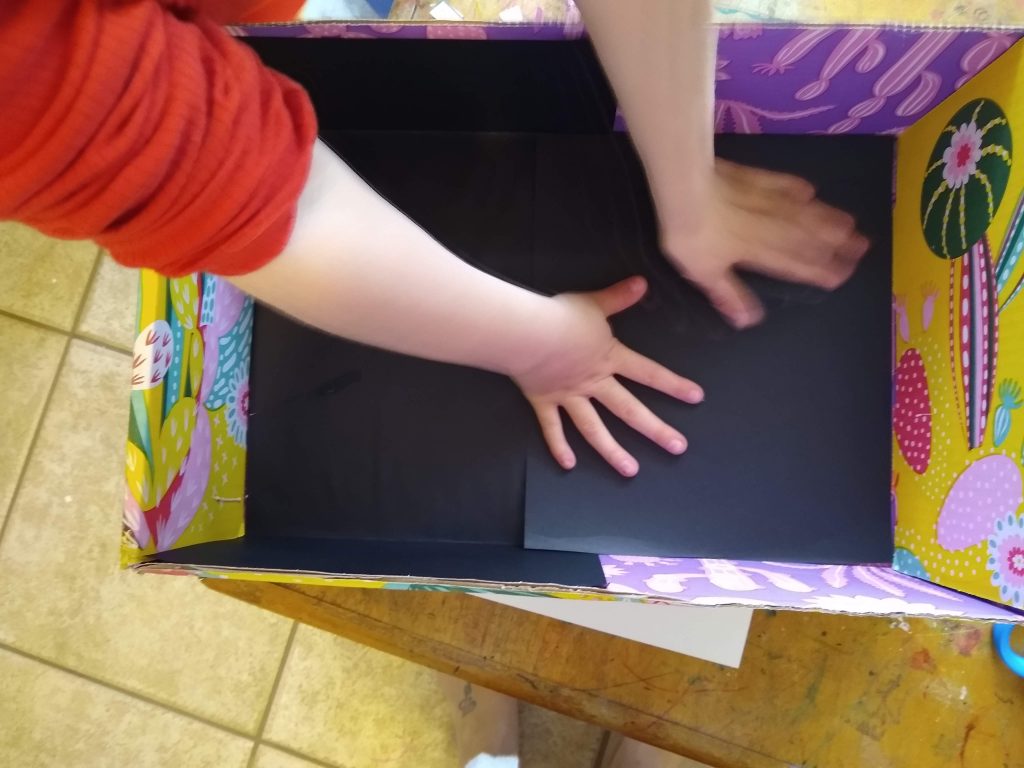 My kiddos decided to join forces to make an enormous cathedral that would fill the box that we had found and decided to use. This was the perfect activity for our morning that could not decide whether it would rain or not. I love how there so many layers in this diorama! They were careful about where exactly they wanted each tower placed- whether it was in front of another or behind.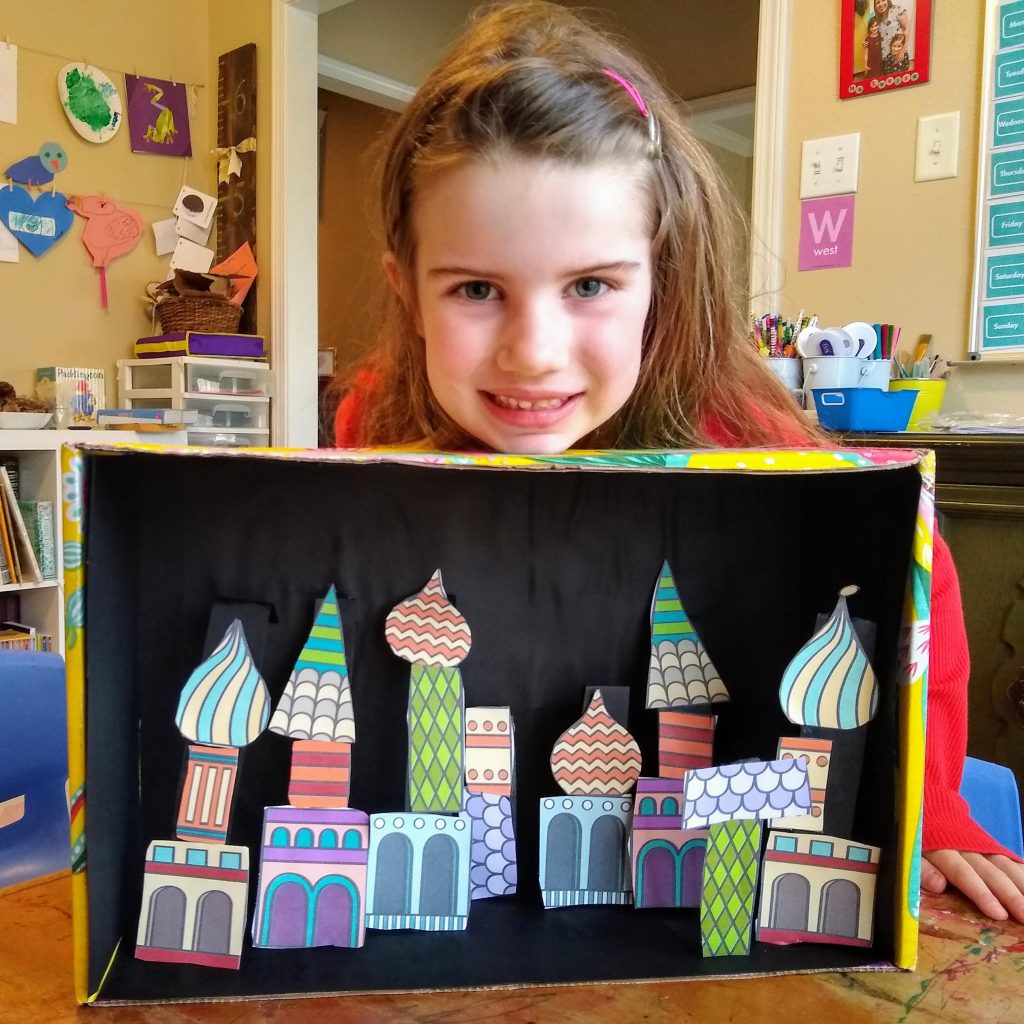 Isn't it lovely!?
It didn't take her long to start playing with her cathedral box once it was completed. She immediately grabbed the little people that came in our Experience Early Learning box this month and started her imaginary world play. My son enjoyed putting his cathedral pieces together, but by the time it was finished, he was ready to crawl into daddy's lap and read a book. My girl was fine with that- she likes to do a lot of her small world imaginary play by herself.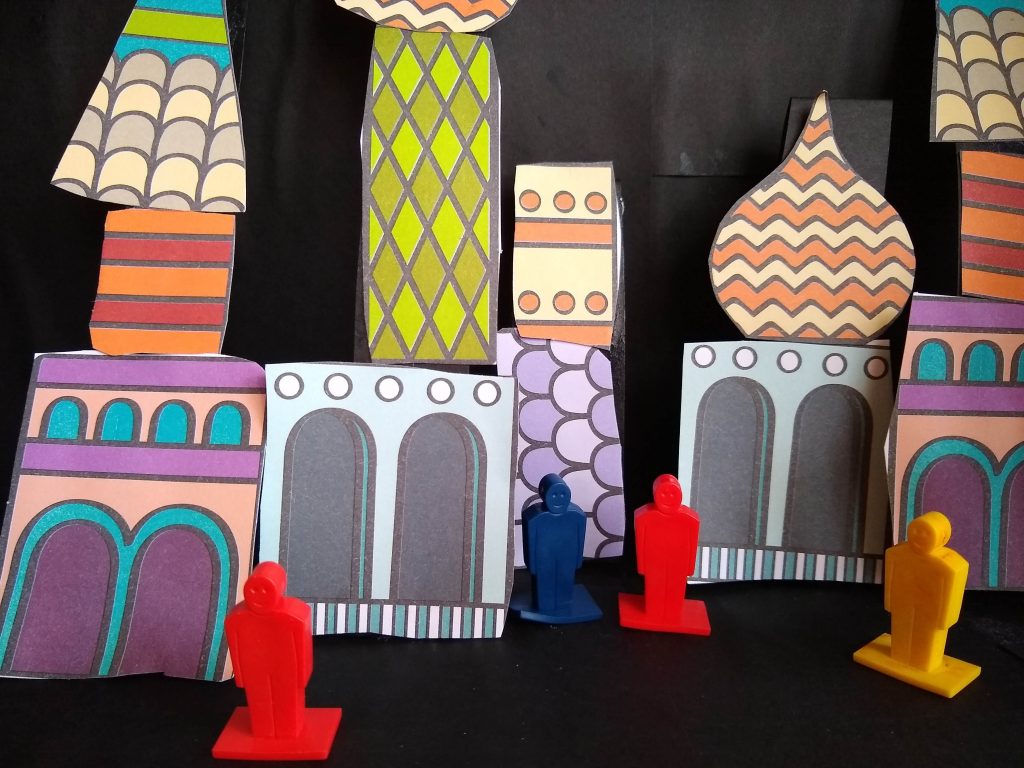 Their new toy was played with so much throughout the day. It is awaiting more adventures in imaginary play tomorrow. Love how their learning took a turn and what an incredible creation they made!