As a Experience Early Learning (EEL) Blogger, I receive the EEL Preschool Curriculum in exchange for my honest opinions and authentic stories about our experiences using the curriculum. All opinions and thoughts are completely my own.
We had the flu this week.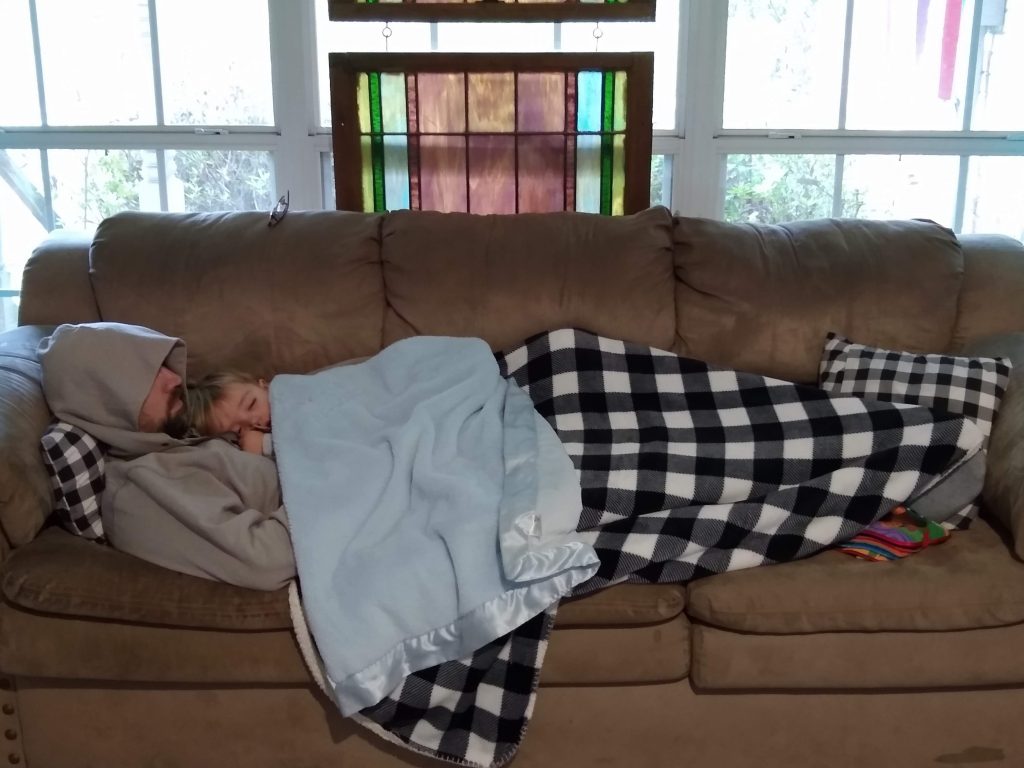 Homeschooling with sickness is tough, but here are a few lessons I learned this week that really helped us survive.
Get Grace. Give Grace.
The Lord gives grace. I spent a lot of time praying this past week. Praying for strength, patience, and grace after not sleeping for 2 days. I didn't have it in myself to give my family the grace they needed nor give it to myself, but the Lord did. He surrounded me with friends who are like family who took care of us, made us meals, and brought medicine. This rejuvenated me. The Lord gave me grace and I in turn could give it to my family as we all went down with the flu.
2. Prep what you can.
I knew we were not going to homeschool well this week, but that didn't mean we were going to veg in front of the TV all day. We were supposed to start our new unit on Nursery Rhymes, but after being up all night with the toddler, it just wasn't happening. I set out our new sheep manipulatives, our writing journals, and new books from Experience Early Learning the night before chaos reigned and I am so glad I did. Leaving our new supplies out allowed my 5 year old to explore and have fun without me leading any learning. She owned it!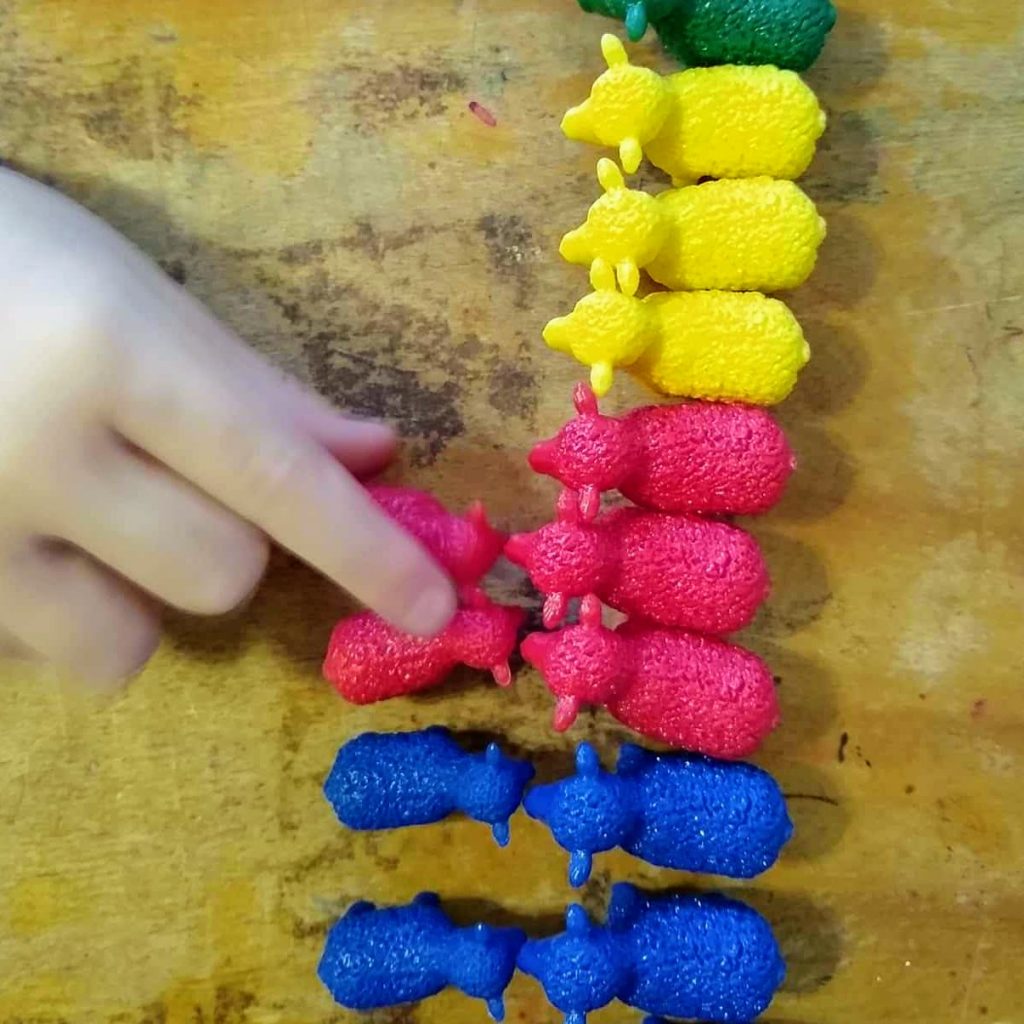 Each month we receive new manipulatives from Experience Early Learning. When we receive animal or object looking ones, they are always played with more often than shapes or something like that. She loves the animal ones best. My 5 year old sorted these sheep in all sorts of ways without me prompting. I love how she not only sorted by color, but also size making sure she matched a "Momma" to it's "baby."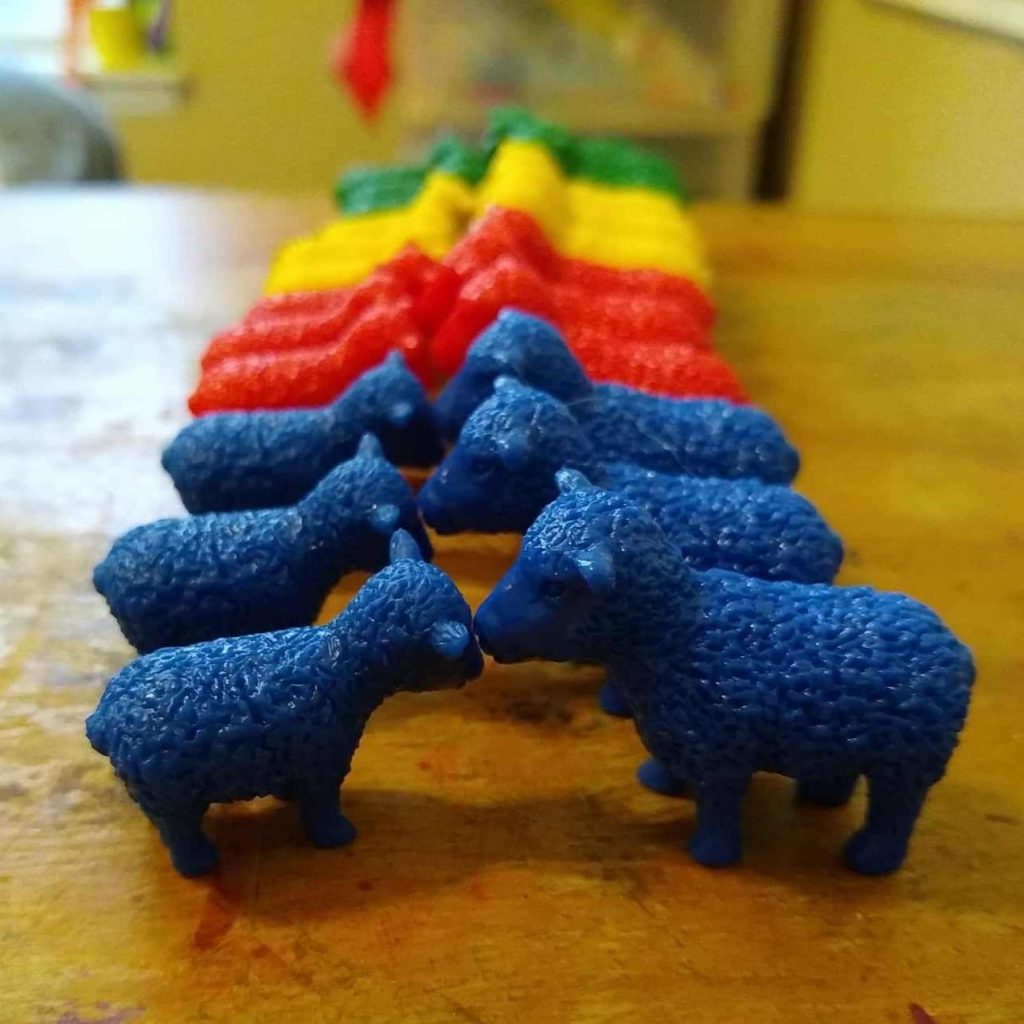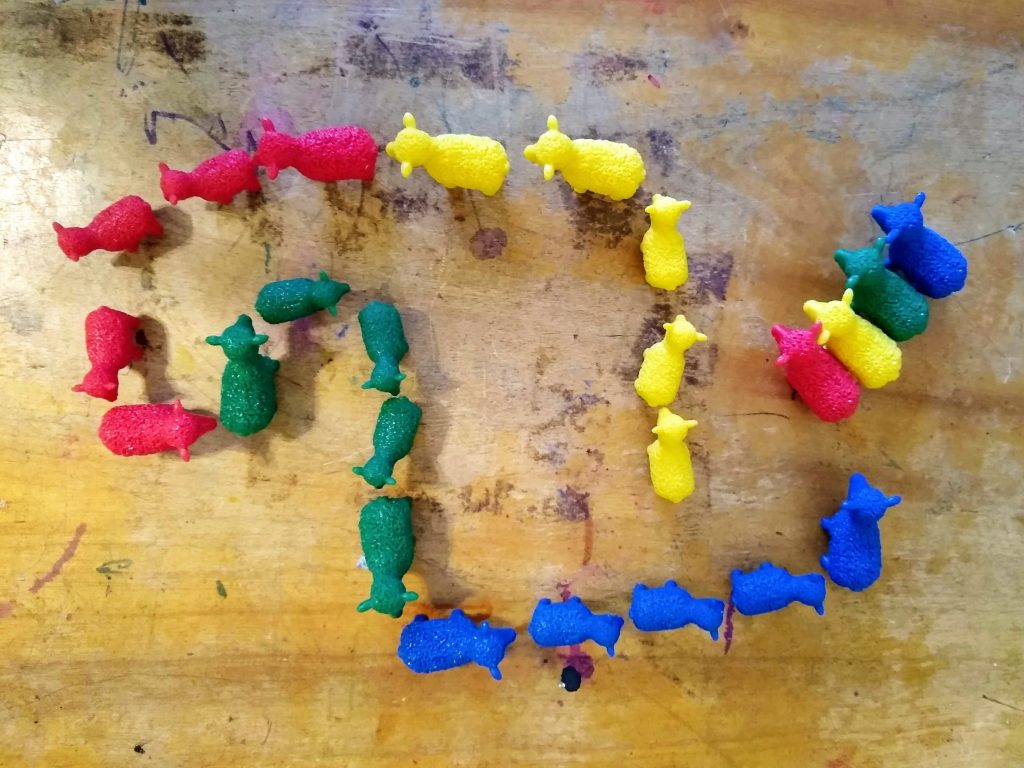 We might have not done the lesson as it was suggested in the Teacher Guide but learning happened nonetheless and I am so grateful for the new items that made a week of being stuck indoors be a little bit better.
3. Play not Pity.
It's easy to throw yourself a pity party (I know- I do it far too often), but what good does that do? (I ask myself this all the time). For me, all it does is put me in a bad mood and I can't take care of anyone well. Instead of a pity party, get down and play.
My poor boy… just because he wasn't feeling the best, doesn't mean he didn't want to play especially with the new sheep and his momma! We worked on building fences with our blocks and colored paper. I wanted him to sort the sheep, but he really didn't care for that. He did however want to load them in his dump truck. He made the sheep follow the letter V line that is still taped to my floor from last month and they hopped into the dump ready to be moved. He and I had a great time playing together even though it wasn't as long as he would have normally played.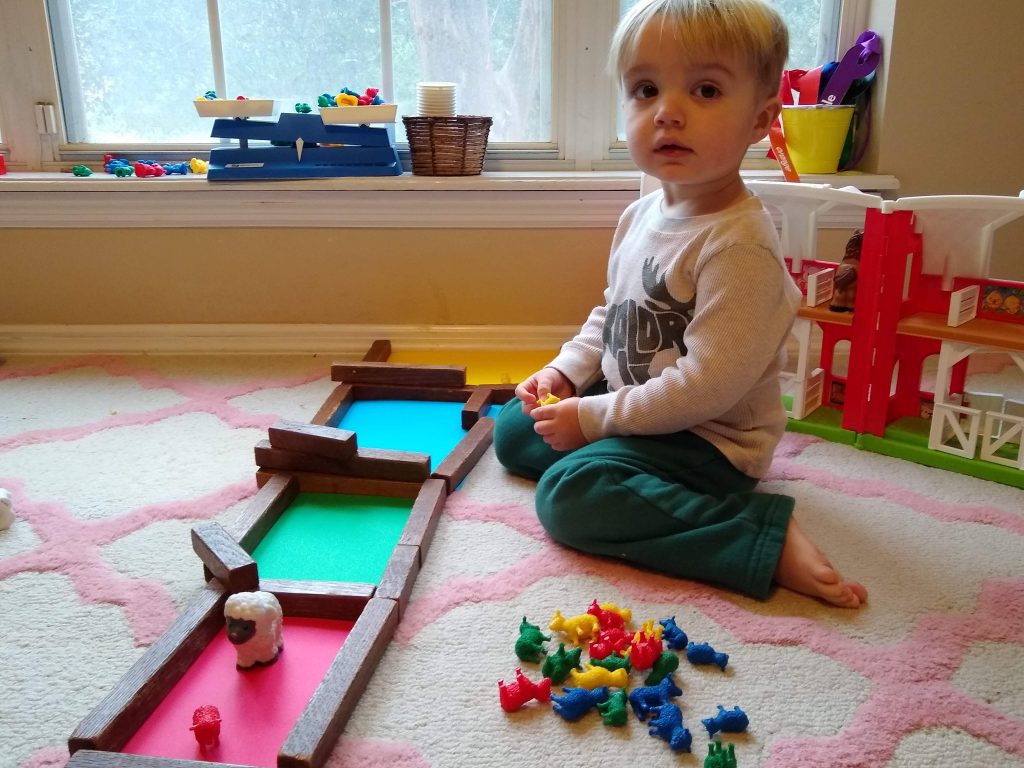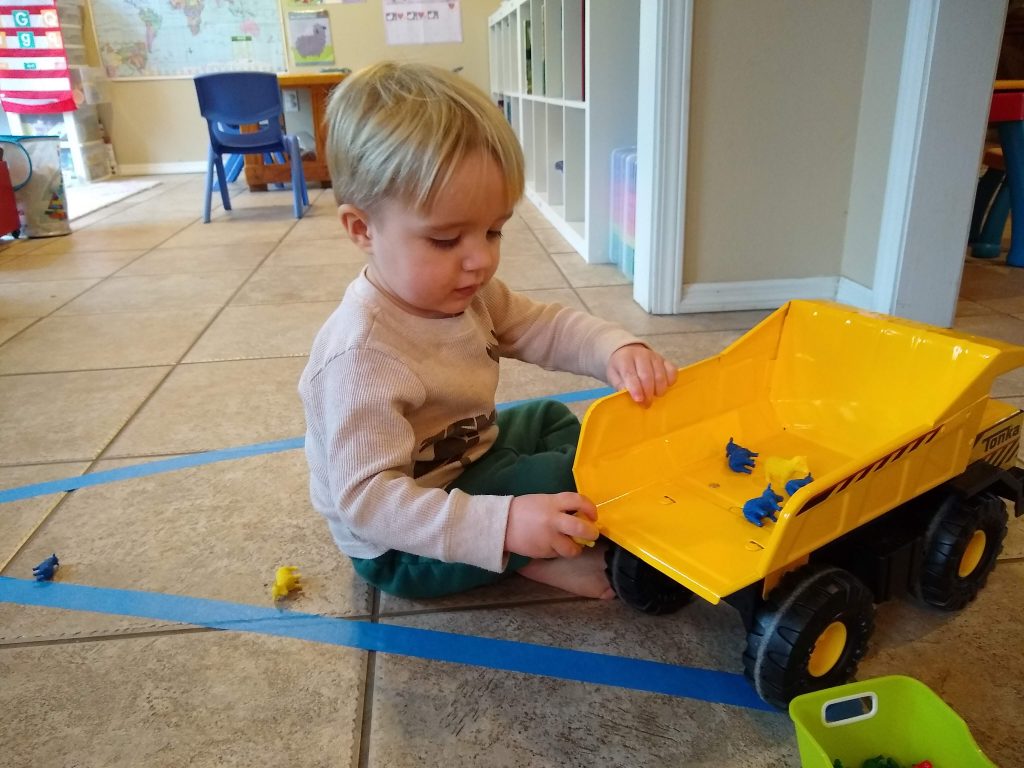 4. Count your blessings.
Reminding myself of all the blessings I have when things fall apart really helps me keep a mindset of peace and love in my house.
"Finally, brothers and sisters, whatever is true, whatever is noble, whatever is right, whatever is pure, whatever is lovely, whatever is admirable—if anything is excellent or praiseworthy—think about such things. "

Philippians 4:8

Yes there is snot all over my shoulder from a crying kiddo, but these are precious cuddles he only wants from me. Yes I didn't sleep a wink, but I am so grateful I can provide some comfort throughout the night as fever sets in during his sleep. Yes there is laundry to be folded, dinner to prep, and dishes stacked all over the kitchen counter, but right now in this moment, there is a little boy who wants me to sit next to him and watch Blippi and tractors. Watch the tractors. Enjoy the moment. Sickness can be a blessing. It is an intentional time to slow down, care for, and love those who aren't feeling well.
So momma, the next time your homeschool plans are wrecked due to sickness remember to get and give grace, do what you can, play instead of pity parties, and count those blessings! This too shall pass.