It's December! Can you believe it!?! Another year has flown by…. I'm pretty stunned. Thinking about how fast time flies makes me so thankful I homeschool our 5 year old Kindergartener and just turned 2 tornado. We've been using Experience Early Learning for 3+ years, and although I have to tweak the lessons a little for both my learners, I love having the thematic study, resources easily available, and coincided learning. They learn TOGETHER and that is something we all enjoy so much.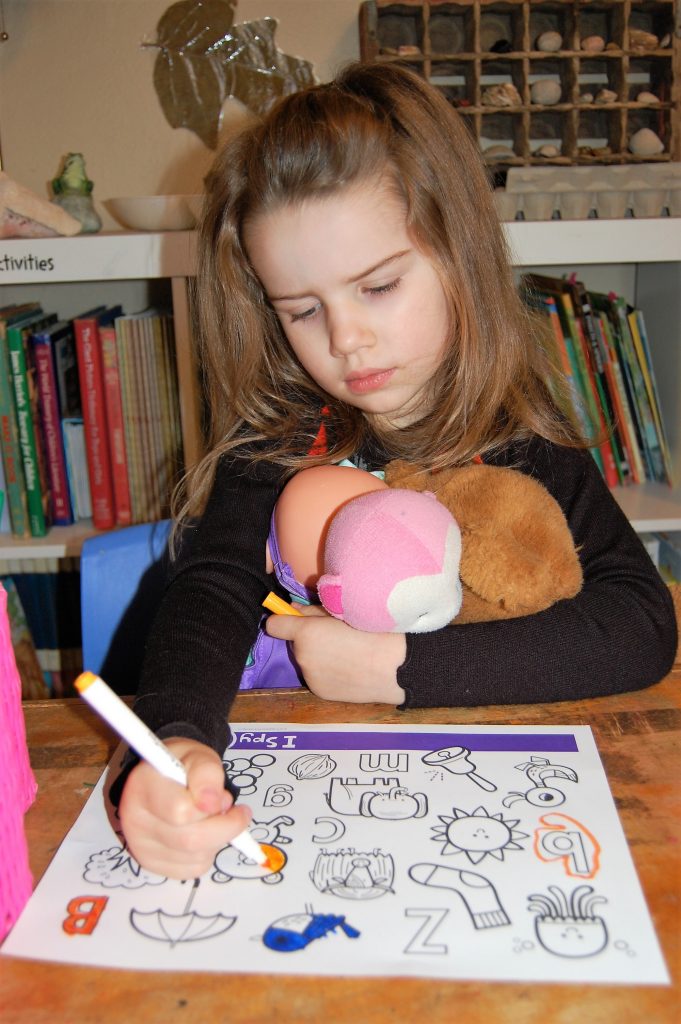 Our Mouse Day started with us using our I Spy Coloring Sheet to locate the "B" sounding words. My 5 year old does great with this. I just tell her what to do and she does it. I tweak it for my 2 year old tot. I asked him to point to the "B" sounding pictures (bird, bear, and bell) and practice making the /b/ sound. "Can you point to the bear?" He then colored the items in colors that started with /b/ like blue or brown. I can't get him to use crayons… he gravitates to the markers. Ugh.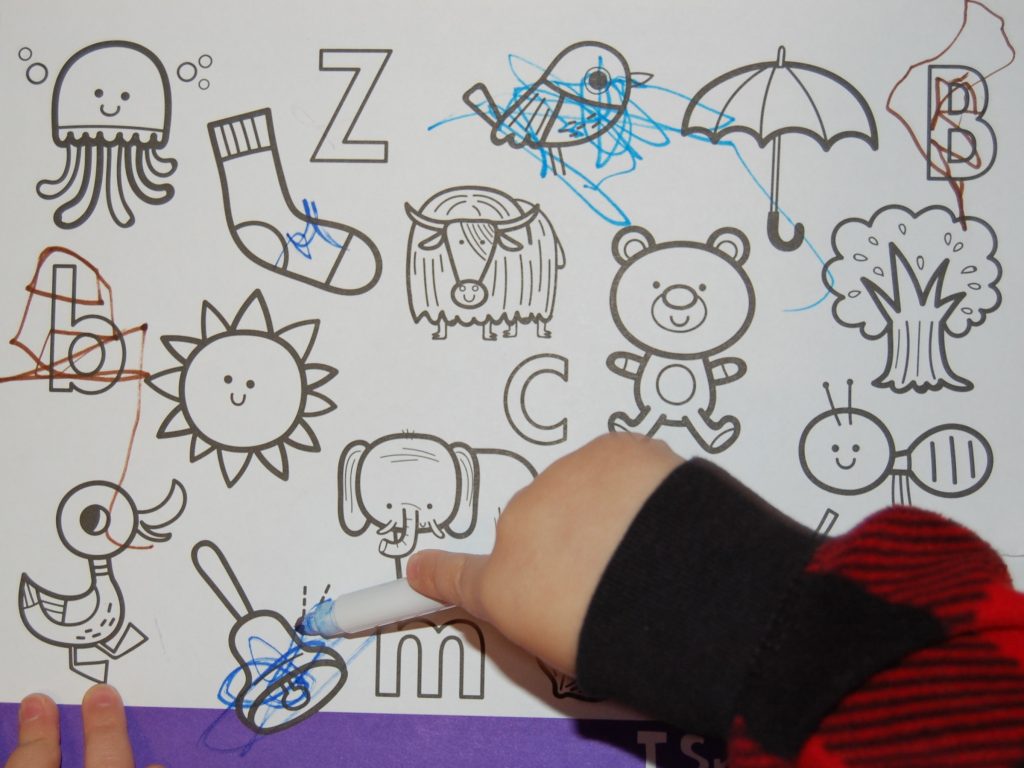 When I asked him to point to the bear, he did and then I asked if there was a bear in his bear den (we studied bears the day before). He scrambled into his bear den and proudly displayed his bear for his sister and I to see.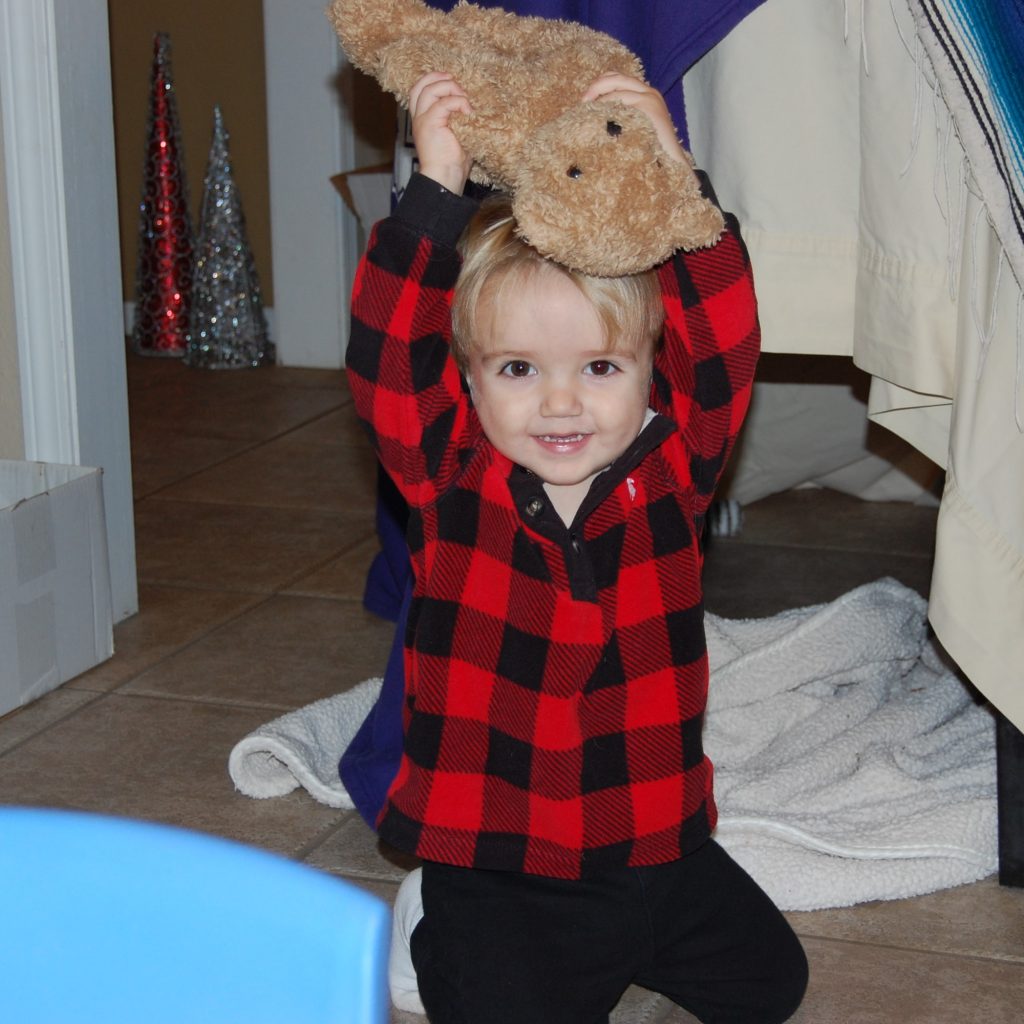 His completed work. Perfect for tot school. That's all I did with him and our Mouse Day. The rest of my girl's learning took place during the highly coveted time of day known as "naptime."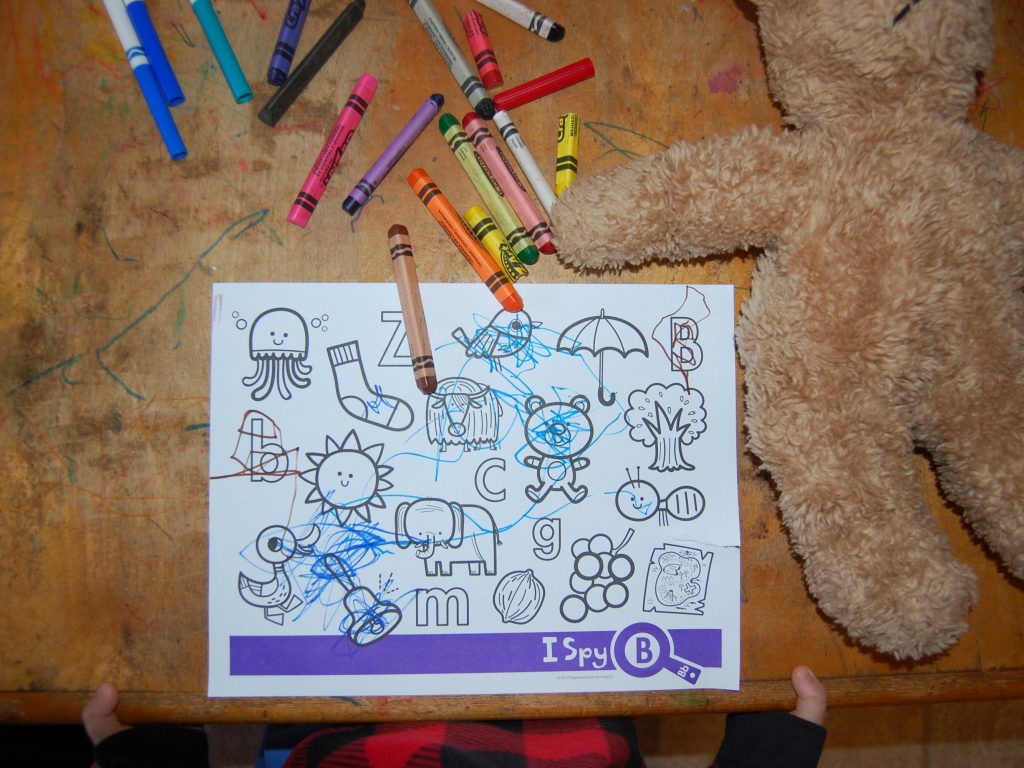 I try to get AAAAALLLL the things done during naptime. Sometimes I overextend my goals so bad. However, a lot of my kindergartener's school time happens at her brother's naptime. He gets included in A TON of learning experiences, but some one on one time with her is definitely required.
I digress… Mouse Day Learning….You can't have a mouse day and not talk about the rhyme Hickory, Dickory Dock! Experience Early Learning has sent us a rhyme poster each month and I love having a little collection of these (especially laminating it so we can mark it all up!) We talked about rhyming words, like "clock" and "dock," and then played a rhyming literacy game.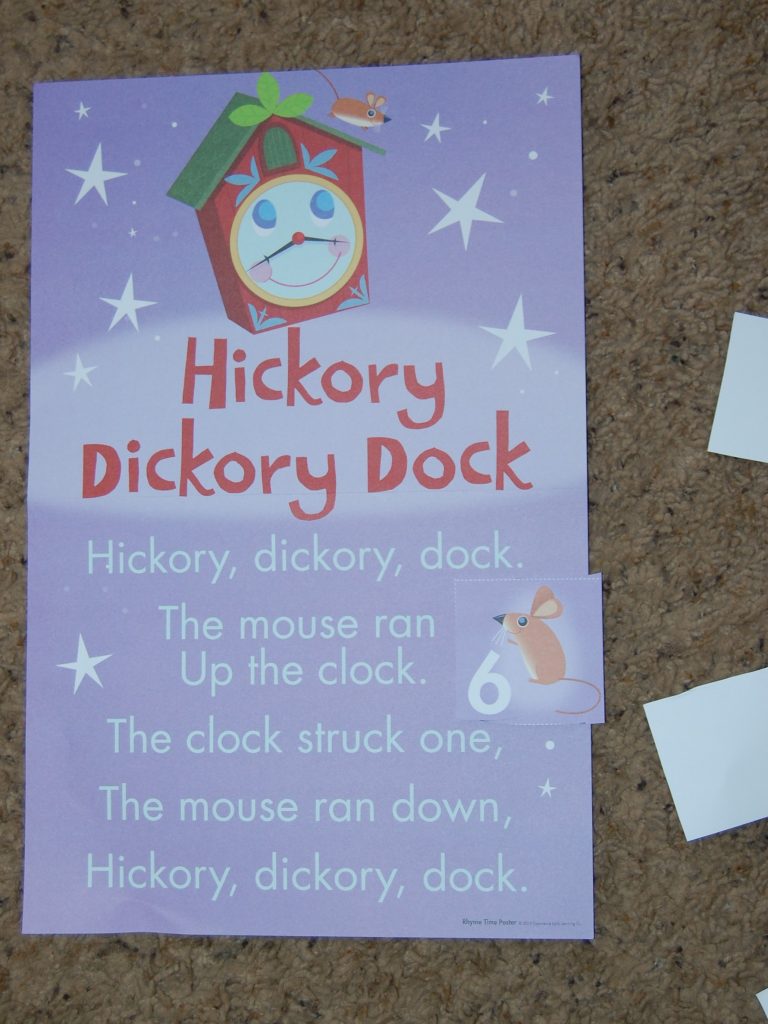 Experience Early Learning sent us 5 sets of rhyming cards. Since we read the book The Shoemaker (a remake of The Elves and the Shoemaker) by Chris Lensch (included in this month's box), I set out 5 different shoes and when she found the rhyming cards, she placed them in a shoe.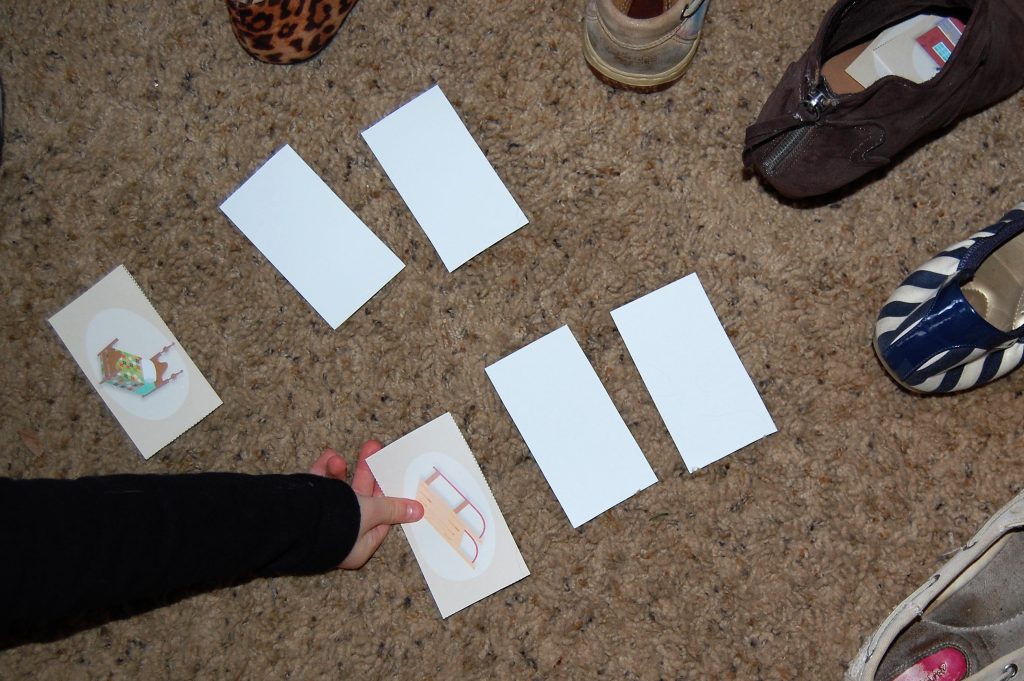 We modified the lesson by adding a copywork element to it. After playing the matching game a few times, I wrote out all the rhyming words and we underlined the ending. She then copied the words into her little journal. I've been really pleased with how she has taken her time to write her letters.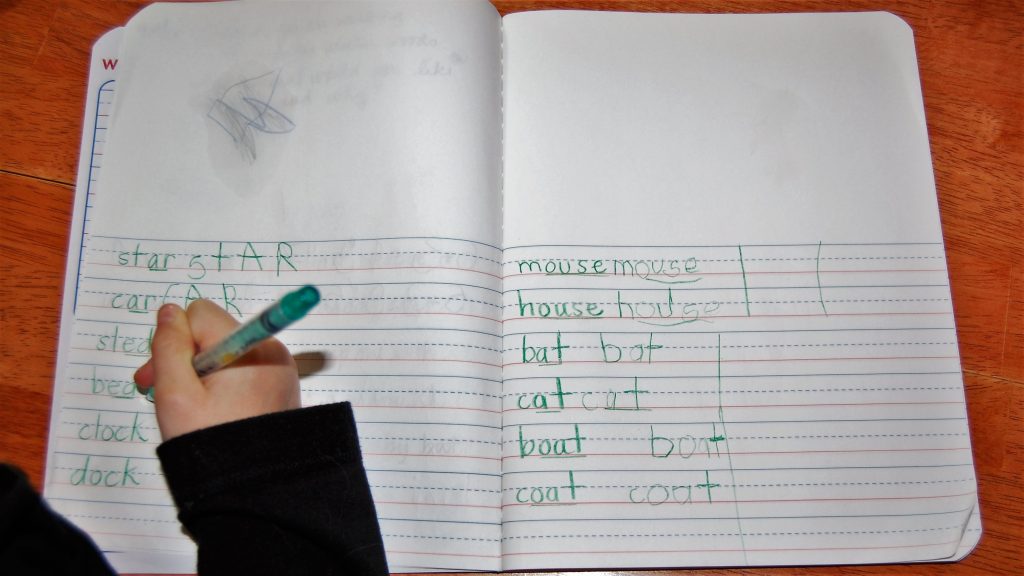 After the copy work, we moved onto math. The teacher guide suggested a game that focused mainly on number recognition. My kindergartener is past that, but is currently into simple addition. So I used the mouse number cards Experience Early Learning sent us, turned them over and had her pick two. Using her abacus, she added the two numbers together. I thought about having her write down the number sentences in her little notebook, but I could tell she was getting tired, so we just worked on adding on the abacus.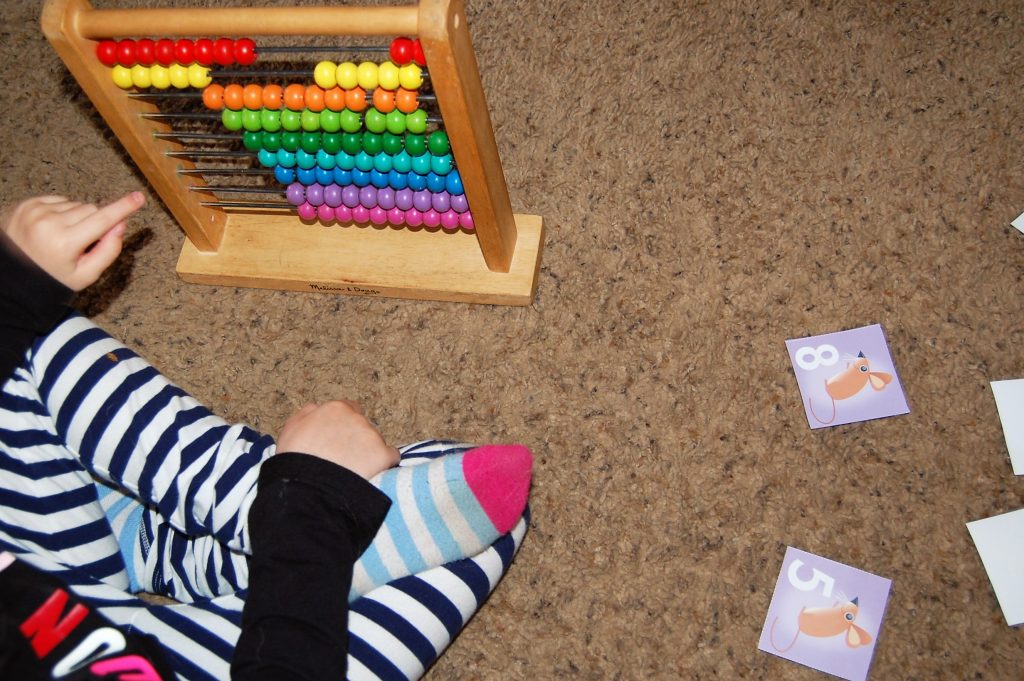 You always hear that you have to make things work for what is best for you and your family. I am so thankful to have such a beautiful jumping off point with our materials from Experience Early Learning. It makes the modifications I do simple, easy, and my kids and myself still get to enjoy the overall aspect that the creators put into this product. Love it.