Hi! I'm Leslie- a homeschooling momma to an almost 5 year old girl and 18 month old boy. The 2 are as different as night and day. I share our adventures here to both inspire learning at home and chronicle our lives, because honestly, I never started the baby books and my kids will just have to look back on their childhood through this blog… ha! #keepinitreal
We have been having so much fun with our A to Zoo theme this month from
Mother Goose Time
!
The last 2 weeks have been non stop busy as our church has prepared for VBS, but being able to pull a bag of our little bus box out, and make some memories with my kids while they learn, is so wonderful!
On this specific day, we went over Wolves and X-Ray Fish.
My girl started her day by making the letters X and W from loose letter parts.
You could use sticks, buttons, blocks, paper strips, or whatever you have to practice making letters without even picking up a writing instrument.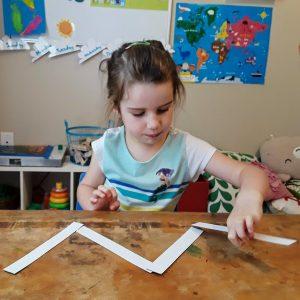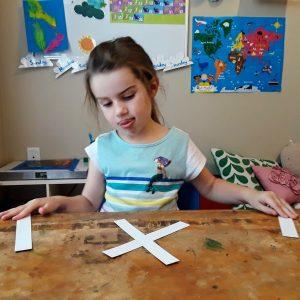 by Gary Fleming for years waiting for my children to reach this age.
The book has rhyme and illustrations that are beautiful. The W and X days happened to match our animals of the day! Perfect!
My preschooler is recently obsessed with the story of The Three Little Pigs.
However, everytime we turn on Netflix, she asks to watch the old Walt Disney version.
When she saw the puppets for our Make and Play craft from
MGT
, she quickly cut them out, and created her own 3 Little Pig scene. She then told me her version, incorporating elements from both the Walt Disney version (the wolf dressing like a sheep), and the classic tale. I didn't even have a chance to read the version
MGT
sent us! Ha!
I am so glad
MGT
sent us these materials!
I might have never caught her retelling this and I love all the details she shared in her story.
Our month of A to Zoo Animals is coming to a close, but next month is the box I have been waiting for for THREE YEARS….
the Art Studio!
Can't wait to share with yall all the awesomeness that is in that box!